Yandang Mountain - Southeast China's creative mountain
created: 2010-06-17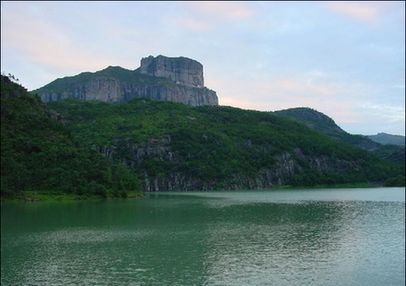 Located in Leqing, Wenzhou City, the southeast of Zhejiang Province, Yandang Mountain is at the list of 10 famous mountains in China and it is believed to be about 120 million years old.
Yandang Mountain is a typical ancient volcano of the Cretaceous period, which began more than 140 million years ago. Over the past 20,000 years, the volcano in Yandang Mountain has had several dozen eruptions. The landscape on and around the mountain was formed by multiple eruptions, collapses and rises, and by erosion from water and weather. Yandang Mountain covers an area of 450 square kilometers; it has more than 500 tourist attractions in eight major scenic areas.
Of all the scenic spots in Yandang Mountain, Lingfeng Peak, Lingyan Craig and Dalongqiu Waterfall are the most famous. Together these landmarks are known as the "three perfections in Yandang Mountain."
With every step, the scenery will change, and the peaks show different shapes when viewed from different angles. Yandang Mountain is mainly composed of peaks, waterfalls, caves and steep cliffs. From the different angles, tourists can see Two Palm Peak, Double Bamboo Shoots Peak, Scissor Peak, Lotus Peak, Heavenly Pillar Peak, Flay Display Peak, Pingxia Peak, Dalongqiu Waterfall and Xiaolongqiu Waterfall.
All the peaks in Yandang Mountain rise abruptly from the ground, and the 100-meter peaks and cliffs can be seen everywhere. The mountain is almost too steep for tourists to climb. While climbing up various paths, tourists can appreciate oddly shaped rocks and steep peaks, which sometimes look like creative rock sculptures depicting many different images, such as people and animals. Tourists don't have to climb the mountain to appreciate the picturesque scenery, and tours are available for all tourists of all ages and abilities.
Yandang Mountain has many caves of varying sizes. The largest cave can hold a concert for several hundred people; some are as high as 100 meters.
Yandang Mountain contains Dalongqiu Waterfall, Xiaolongqiu Waterfall and many streams. The streams start as a lake, flow along winding paths, and then topple over the green waterfalls.
Yandang Mountain boasts the oddly shaped peaks and exquisite waters, emphasizing the balance between the strong and the gentle characteristics of nature.
Because the area is cool in the summer and warm in winter, Yandang Mountain is a great destination for tourists to visit all year.
Admission Ticket
Each of attractions at Yandang Mountain has a separate charge for admission. Please note that to visit Lingfeng Peak, tourists must buy one ticket for visits during the day and another for night visits.
Lingfeng Peak: 41 Yuan
Lingyan Rock: 40 Yuan
Dalongqiu Waterfall: 40 Yuan
Three-layer Waterfall: 15 Yuan
Wild Goose Lake: 15 Yuan
Sheep Horn Cave: 15 Yuan
Xiansheng Gate: 15 Yuan.
Shuttle buses go directly to all the scenic spots, and tourists may reach all the scenic spots by car. All the stone paths in the mountain are safe, with gentle slopes, so old people and children can walk along the paths safely.
Transportation
The best way for tourists to travel to Yandang Mountain is to take a train from Shanghai to Yandang Mountain. The trains from Shanghai South Railway Station to Yandang Mountain include D377 (08:10-12:15), D3203 (10:50-15.01), D5585 (10:58-15:35), D5555 (13:18-17:27) and D5589 (15:00-20:06). After getting off the train, tourists may go to Yandang Mountain by taxi, which will only cost about 10 Yuan.
However, for those who prefer to fly, it is not a piece of good news that there are no scheduled flights from Shanghai has to Yandang Mountains. Instead tourists may fly to Wenzhou, which takes about an hour, and then take a bus from Wenzhou to the mountain.

Recommended China Guide: