Guilin Mountains

Guilin has a typical karst landform, where mountains are lifelike, precipitous and beautiful. Most of the hills in Guilin city rise from the ground, some look like elephant, some camel, and some moon. Not only are rolling mountains in sight, but also isolated peaks. Usually, the hills stand in harmony with the surrounding environment, unfolding breathtaking natural scenery before visitors' eyes.
Elephant trunk Hill

Elephant trunk hill, 200 metres above sea level, 108 metres long, 100 metres wide, is made of limestone of 360 million years ago. Due to its vivid resemblance to an elephant, popular legends related to it, and breathtaking scenery, elephant trunk hill now has become such a name card and the emblem of Guilin city that it can be seen on most souvenirs. What is worth appreciating is the remarkable phenomenon of the moons in the water and above the water. Besides, other attractions of the elephant trunk hill such as Moon over the Water Cave (Shuiyue Cave), Puxian Pagoda also impressive visitors with stone inscriptions and ancient architecture.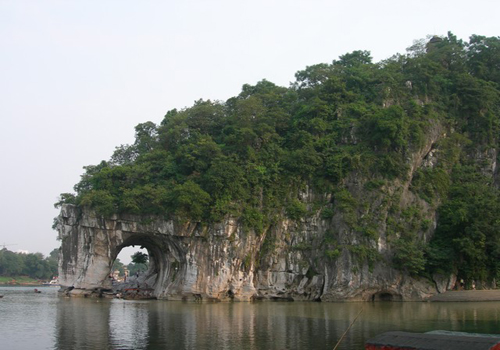 Fubo Hill

Due to the characteristics of karst landscape, downtown Guilin sees few ranges of mountains but more isolated peaks. And Fubo hill is one of the representatives, and now has become one of the most popular attractions in Guilin. Being 120 metres long, 60 metres wide, and reacings a height of 213 metres above sea level, Fubo hill has its half immersed in the Li River and half on the land. Therefore, during the flood season, Fubo hill can successfully reverse the direction of the water.
Diecai Hill

Seen from afar, Diecai hill looks like folding brocade, hence the literally meaning of Diecai. The hill consisting of rolling Yuyue Peak, Siwang (All-Direction-Looking Hill) Peak, miraculous Crane Peak and sheer Ming Yue (Bright Moon) Peak, is made of limestone and dolomite limestone of 367 million years ago. Among the peaks are well arranged pavilions, caves, and priceless inscriptions. Standing on this tallest hill in downtown Guilin, visitors can have a best panoramic view of the city.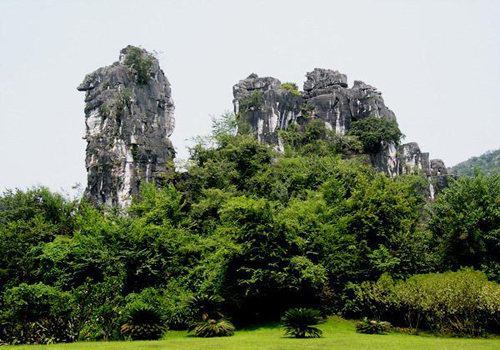 Camel Hill

Lying in the Seven Star Park, Camel hill was made by erosion after crustal movement. Surrounded by the nearby Park's zoo, bonsai gardens, souvenir shops and teahouses, Camel hill often draws visitors to take photos here by virtue of its delightful serenity .In the morning or night, when sunglow of sunrise or sunset shines, the attraction looks spectacular. In 1998 the then US president Bill Clinton made a speech themed environmental protection here, so a stone in remembrance of this even was placed before the hill.
Duxiu Feng (Solitary Beauty Peak)

Rising abruptly in Wang Cheng Ancient Mansion of Prince Jingjiang in downtown Guilin, the magnificent Solitary Beauty Peak is compared to a "pillar under southern heaven", pulling visitors to climb to have a panoramic view of Guilin city. The most quotation "桂林山水甲天下" (East or west, Guilin scenery is best) is just carved on the Solitary Beauty Peak). And its Solitary Beauty Peak Pavilion and Taiping Cave also grab visitors' attention due to its architectural and historical value. >> Read More.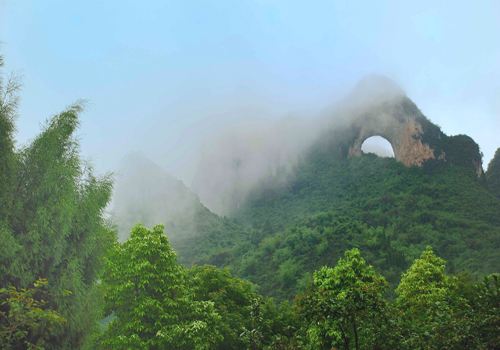 Moon Hill
Located in Yangshuo County, Moon hill, standing as tall as 380 meters, is considered the wonderful scenery. As there is a big hole through the mountaintop, it looks like a bright moon hung high in the sky seen from afar. And the shape of the hole changes from different angles, sometimes a full moon, sometimes crescent. Visitors who climb to the hole via an 800-stair path can surprisingly find while the hole is 50 metres long and wide, the edge of the hole is only several-metre thick!