Yangshuo Idyllically Beautiful Countryside Leisure Tour
2010-06-13China travel Guide
Some staff from VisitOurChina paid a visit to Yangshuo with two international students of Guangxi Normal University last week. And we were extremely attracted by the beautiful sceneries by the riverbank and in the countryside of Yangshuo. A different experience and impression of Yangshuo, I must say.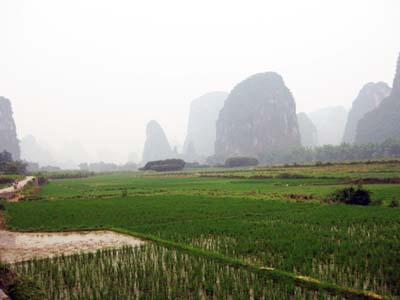 9:40-11:30 Guangxi Normal University-Yangshuo

We picked up the two international students from Guangxi Normal University: a handsome boy from Australia called Brett (Chinese name: 悠扬) and a Russian girl named "婉丽" in Chinese.

11:30-13:20 West Street / Li River

Arriving in Yangshuo, we walked along the West Street to the riverbank of Li River. There were lots of boats in the river. And we were told that the Li River rising in the Mao'er Mountain in Xing'an Country of Guilin. On the other side of the river, there was a small island, where some people are riding horses on the green grassland. The island was so beautiful that we decided to reach there by boat. Standing on the island, we had a relatively overall impression of Yangshuo: the West Street and grand mountains enhance each others' beauty, inverted reflection can be seeing in clear waters... A couple was taking their wedding photos. And we all admired the professional dedication of the photographer!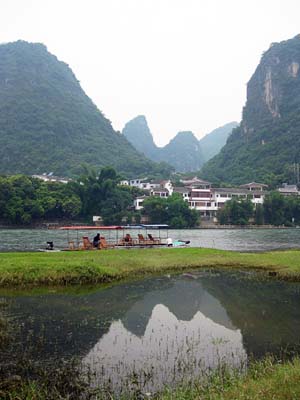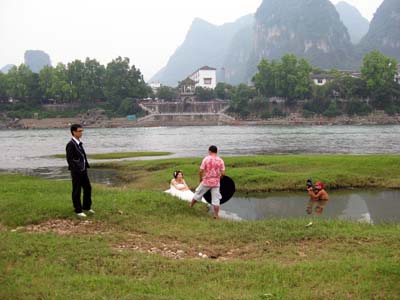 13:20-14:30 Lunch at Meiyou Restaurant


We chose to have lunch at Meiyou Restaurant in the sightseeing corridor on its second floor. It was quite near the entrance of the West Street and the
Beer Fish
there was authentic.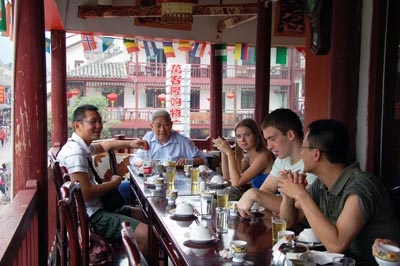 14:40-16:00 Visit the Idyllically Beautiful Countryside
Transfer: battery vehicle
Sightseeing: Aishan Village

After lunch, we went to the Aishan Village by battery vehicle. And we visited the old houses there. On our way to visit the local family, the beautiful idyllically sceneries there greatly tempted us.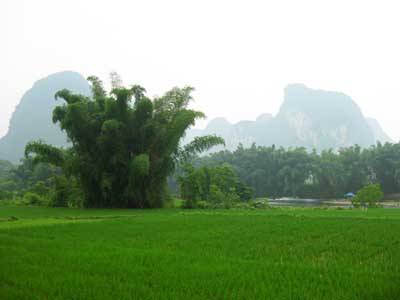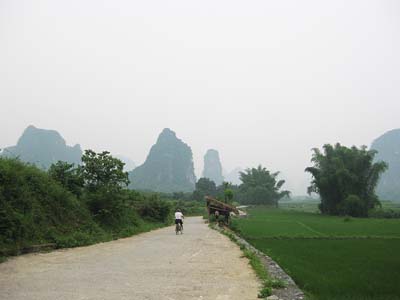 After arriving in the destination, we paid a home visiting to a local family for about half an hour. The stone mill there seemed so special that we had a try to make soybean milk. The soybean and water should be put into the hole first. Through the grinning, the ground milk can flow to the ware under the outlet. And finally you will have natural soybean milk after boiling the raw milk.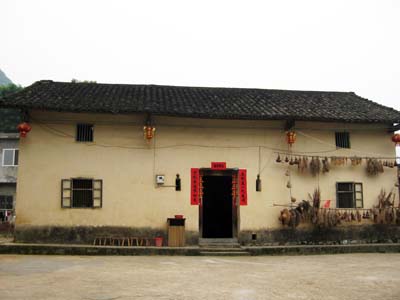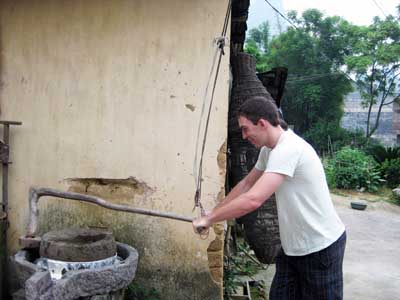 In fact, it was not the first time that all of us went to Yangshuo, but definitely a distinctive experience, not relevant to the shopping stalls or the highly-concerned Impression Sanjie Liu. Trying to discover different aspects of life is wonderful. If you had chance, you can see thousands kinds of Yangshuo!

--- By Haphine (VisitOurChina)
Comments
Comment