VOC's Travel BLOG
Our Travel Blog is the place to share our real life, travel experiences in China with you. Besides, we will provide information related to Chinese culture and China travel guide. "A bosom friend afar brings a distant land near." Traveling makes us to be closer, let's discover China together!
Intangible cultural heritages in Guilin -costume and long hair of Red Yao people
2020-04-03 | Cultures | Comments(0) Views(135)
Guilin city has a history of more than 2,130 years, the integration of multiple cultures has formed rich and colorful intangible cultural heritage resources. Among them are traditional festivals that have become local cultural brands, such as the River Lantern Festival in Ziyuan county and the Fishing Fire Festival in Yangshuo; the traditional musics, dances, operas, techniques and others developed to this day based on the traditional life of Guilin people; the unique costumes and customs of ethnic minorities; the various food-making skills that reflect the love of life of the locals, and so forth. At present, more than 400 items have been included in the protection lists of intangible cultural heritage at the national, provincial, municipal and county levels. These intangible cultural heritages have greatly enriched the culture and tourism of Guilin.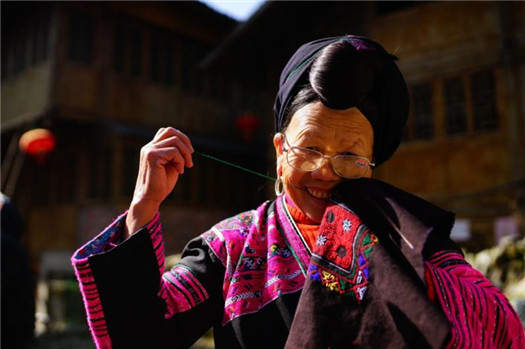 In Longji town, Longsheng county, northwest of Guilin, there is a group of Yao people named Red Yao who like to wear red clothes. As a branch of the Yao ethnic minority in China, on the sixth day of the sixth lunar month every year, the Red Yao families here hang their beautiful traditional ethnic costumes out to dry in sun, and the colorful clothes embellish every corner of the Yao villages. The costume carries the history and culture of the Red Yao people, and was selected into the national intangible cultural heritage protection list for their exquisite craftsmanship and rich cultural deposits.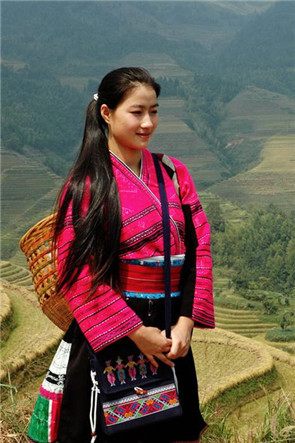 The main traditional techniques of making Longsheng Red Yao costumes are textile, batik, and embroidery, all of which are handmade. Pan Jifeng is the representative inheritor of Red Yao costume making craft. According to her introduction, although the loom is ordinary, it requires a high degree of concentration to coordinate the operation of the warp, weft, shuttle, and pedal with eyes, hands, and feet. In addition, the cloth should be dyed through batik, and finally embroidered. Red Yao's embroidery has various methods and patterns due to different objects. For example, cross stitch and reverse embroidery are usually used for clothes. The patterns on clothes are animals, flowers, fish, and birds. There are also some other patterns, such as the tiger paw prints commonly embroidered on the back of upper garments. The cloth of the Yao's clothing is based on cyan, which needs to be embroidered stitch by stitch on the cloth eye. The process is very complicated, and there is no relevant written record, all of which are passed through word of mouth. For a skilled Red Yao woman like Pan, it takes about three years to make a complete set of Yao costume, including headscarf, clothes, waistband, cloth shoes and so on.
In Huangluo Yao Village of Longji town, Red Yao women have the customs of keeping long hair and dressing hair. They have "secret recipe" for hair care, which by putting orange peel, camellia oil residue and some Chinese herbs into rice-rinsing water to boil and ferment. After cooling, they immerse their long hair in this kind of water to absorb nutrients, then wash it with mountain spring water. The lustrous black and silky long hair that has been treated with this special hair-care method is a beautiful scenery in the Yao village.
The Red Yao women here only cut their hair once in a lifetime, no matter how old the women are, they all have long hair. The average length of the women's hair in the village is more than 1.5 meters, with the longest one more than 2 meters, thus it is called the Village with Most Long-hair People in the World. The Longsheng Red Yao's custom of keeping long hair was listed in the provincial intangible cultural heritage protection list. If you come to visit Huangluo Yao Village in Longji Terraced Field Scenic Area, you will have chance to see the Long Hair Show, which is performed by the Red Yao women through combing long-hair dressing with local folk customs.
To be continued…

--by Sophy Zhang(VisitOurChina)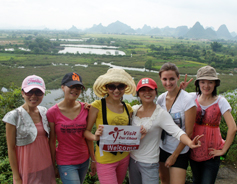 Calendar
Categories