Charlie's China Tour— Day to Longji Rice Terraces and night cruise in Guilin
2018-04-13China travel Guide
Awoke at 6:50 AM. Breakfast at 7:20 AM. All of the trappings of back home. Facebook and the news outlets are blocked so we definitely aren't up to speed on the latest of international news. I phoned Valerie before breakfast and she filled me in a little. In Hong Kong, these sites were not blocked. So China has also taken over our search engines. The weather in Guilin is milder than in Shenzhen or Hong Kong, lower temperatures and less humid.
Hurrah! Julie promptly picked us up at 8:25 AM. Sandy (the person who planned this tour) is flying to Hong Kong I believe for a meeting. Her flight is at 10 AM. I'm so happy that I had the opportunity to meet her before she left.
It is illegal to have a gasoline engine powered motorbike in the city center. It is still OK in the country. One can ride their motor bike for about 2 days or 60 KM (38 miles) before it needs to be recharged. In Guilin as well as other cities in China, some restaurants have robots that deliver the meals. Limestone mountains surround Guilin. Only 10% of the land in the Guilin vicinity is suitable for farming. The area receives about 1900 ml (75 inches) of rain per year. Right now this is the dry season and the Li River is very low. In many ways, the mountains of Guilin resemble Ha Long Bay in Viet Nam. The farmland is owned by the government however the farmer can choose what they please to grow on the land. The population of China is 1.4 billion. There are 23 provinces, and Mandarin is the official language. Thank you Julie. In China there are 9 years of compulsory education. Pomelos (similar to a large grapefruit) are being sold along the road as we we travel northeast. In Hong Kong, the age when men marry is 32 and 29 for women. In China the average is 24 for men and 21 for women. We're driving on a 2 lane road. Cars pass whenever they choose. They cross the center time quite randomly. The cars coming from the opposite direction just swerve to the right and a 2 lane road suddenly becomes 3 lanes. The divorce rate in China is 40%. Luo han guo mangos help prevent cancer we are told. There are certain teas that help prevent coughing. Do cars pass on the curves in the roads? You betcha.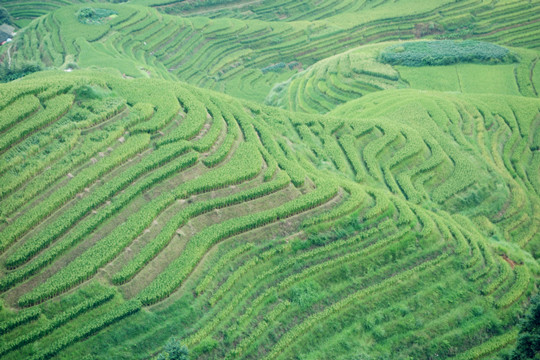 Terraced fields
We are now up in the Yao Mountain, or Yaoshan. We've been told that for the minorities in the mountain region, it is important for the young woman of 16 years of age to be part of an arranged marriage. We've also been told that it is a desirable quality for this young woman to have a 'big ass' for more of an ease in a child delivery. The wife in these mountain minorities often deliver their own baby. As our driver approaches a turn they hit the horn in order to let any oncoming traffic know that here I am. One can procure a drivers license at the age of 18. We have arrived at the Long Ji Terraced Fields Scenic Area. It's time for a bathroom break. We enter the area and continue our mountainous assent. We have just finished a performance by the Yao minority women in the village of. These women have long shiny black hair and is often thought of in China as some of the most beautiful hair in the world. Their dance performance is all about their beautiful hair. Hair is the essence of life for these women. These women put on an entire very colorful dance program for the many in attendance and it's all about their hair.
Local people on our halfway up to the Yao Mountain Peak
On the way to our destination we sampled some passion fruit. I found it to be very tasty. The elevation at our destination is about 4,000 feet. From late November through the month of February these roads are closed because of the snow. We just visited the village of Ping'an where about 170 minority families live with more than 700 people. All of these people have the same family name "Liao". There are two attractive sites in Ping'an Village called "Moon with seven stars" and "Nine dragons and five tigers" separately. It has been over a 2 hour drive to get here. We then climbed the mountain. At the time it seemed to be an endless but spectacular climb to the peak. Photo opportunities where everywhere. We later enjoyed lunch in a spectacular setting. This area is favorite for the Chinese in their own country.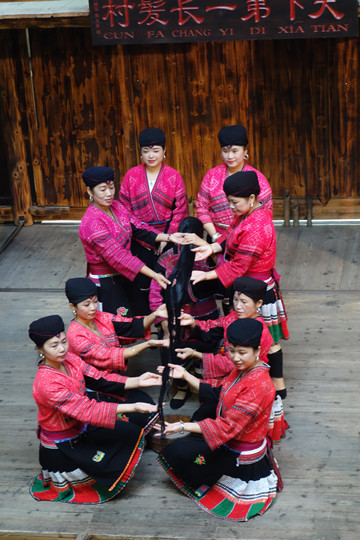 Yao ethnic minority women and their beautiful black hair
It's 3:15 PM and we are now on our way down the mountain. The peak was at 4,000 feet. It's been cloudy and overcast all day. It's humid but not particularly warm. It is now 5:15 PM and we are back in Guilin. The many apartment buildings in the city appear to be about 20 stories in height. All apartment no noticeable single family dwellings. Once again we are noticing all of the electric scooters. They're everywhere. Both men and women of all ages. Eight years ago the gasoline powered motor scooters were banned in the city some 8 years ago. This evening we dined at a very nice restaurant by anyone's standards, anywhere. Following dinner Julie, Jay and myself walked to the nearby pedestrian mall.
We continued our walk to a lake where an evening boat ride was in store for us on a pretty fancy boat. What a boat ride it was. What an experience it was. The two rivers and four lakes included Li river, peach blossom river, Rong lake, San lake, Gui lake and Mulong lake, they are connected and linked-up each other. actually, it's a waterway transportation which made up of Guilin downtown round the city water system. So hence the name. There has fomed a complete moat river system in Guilin since over 1,000 years ago. The lakes were colorfully lit up as were the bridges. Dancers were at various places in enclosed by glass. Colorful entertainment on the shores. Words are lacking to describe this magnificent boating experience. The night boat cruise passed the two river and four lakes. Many different kinds of beautiful lights are all opened and makes the two river and four lake looks more wonderful and colorful. There are some music fountains and folk song show you can see on the way.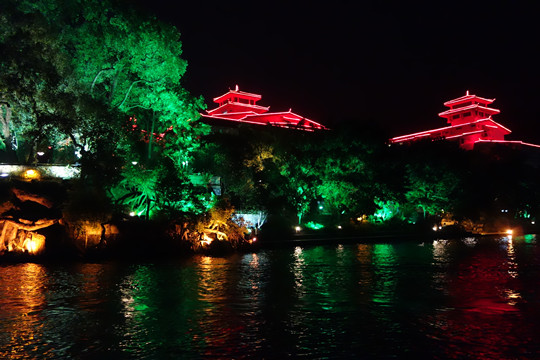 A scene from the lake evening cruise in Guilin
This cruise will give you a new and deeper impression of Guilin which you won't find in the daytime. Following the boat ride, a walk through the pedestrian mall and we arrived at the Lijiang Waterfall Hotel where there was a waterfall on the side of the hotel. Beautiful music added to the splendor of this beautiful spectacle. Back to our hotel. I know with good reason why China is my very favorite travel destination. The Chinese people, they are 'THE BEST'. It's 10:50 AM and it's time to get some sleep.
Yet another....WHAT A DAY!! THANKS for everything, Julie!!
To be continue...
--by Charlie Kath (customer of Visit Our China)
Comment