VOC's Travel BLOG
Our Travel Blog is the place to share our real life, travel experiences in China with you. Besides, we will provide information related to Chinese culture and China travel guide. "A bosom friend afar brings a distant land near." Traveling makes us to be closer, let's discover China together!
Charlie's China Tour—Guilin, here we are
2018-04-09 | China travel Guide | Comments(0) Views(588)
I again awoke way to early. Feeling great!
Today we depart pretty much on our own for Guilin. Last night Jay had a serendipitous while on his way to get something to eat. He met some of the locals and had dinner with them. Jay indeed has a curious mind and last night it once again served him well. A very positive experience for him. Today, another nice breakfast. Went online by way of a hotel computer in the lobby. We will depart from our hotel at 8 AM. We are now in a taxi heading for the Hung Hom train station. Today's weather in Hong Kong, sunny and warm. We are again in merging, slow moving traffic. We will be driving through the Harbor Tunnel. The traffic ahead as we near the tunnel appears to be about 8-10 rows of slow moving vehicles, constantly merging. It seems as though this congestion is about a mile long. I'm exaggerating. We finally passed through the tunnel and arrived at the Hung Hom train station. We took the commuter train to the Shenzhen train station and arrived at 10:30 AM. We then passed through 4 security, passport control, or customs areas.
We found some chairs and are waiting for 'Nilson', the person who we will meet at 11:30 AM. Nilson will then take us to another train station where we will take a high speed train to Guilin, our final destination for today. The people in the train station are all nicely dressed, helpful and friendly. I exchanged some currency, both Hong Kong and US to Chinese Yuan. Nilson met us at 11:30 AM.... SHARP. We are now in a van and are heading towards the next train station. While in the van, Sandy Ren, the English speaking tour administrator from Guilin phoned Nilson and asked to speak to me. Tonight in Guilin we will be meeting Sandy in person as she will be joining us for dinner this evening. We have about a 40 minute drive to the other train station. Nilson is referring to Jay as 'Justin'. Yesterday he was 'Jackson' as David referred to him. Today he is 'Justin'.
The population of Shenzhen is 13 million. The population increase from 1985 to 2015, some 30 years later is an astounding 6,040 % increase. The population of the city in 1955 was 5,000. The city's transformation from a fishing village to megacity is well documented. It attracted massive investment after its designation in 1980 as China's special economic zone. We're driving along a tree-lined boulevard. Three days ago a typhoon hit the city. An observation, we are now driving on the right side of the road as opposed to the left side in Hong Kong and it's British influence. The traffic constantly merges her also. There are now loud aggressive horns or 'one finger' salutes. While walking with our luggage while in Shenzhen and heading towards the train station we walked for a long distance down a wide narrow outside roofed corridor. We finally reached some steep steps. Nilson was helping me with my luggage up some steep stairs. Jay has 3 pieces of luggage and while climbing the stairs a young woman picked up the lower part of Jay's ample suitcase and helped him up the stairs. She did that just because it needed to be done. Once she reached the top of the stairs she merely went on her way. That was so nice of her. I was dumbfounded.
Shanghai is the most important business center in China. Shenzhen is the 4th largest city at 13 million. The increase in population is from the northwest of China. Again, in Hong Kong, Cantonese is spoken. In Shenzhen and most of China, Mandarin is primarily spoken. Jay and I had a light lunch at the KFC restaurant at the train station. It's on the second floor of this massive, clean, and very busy train station. I've never seen a train terminal such as this. Very likely there isn't another one like this unless in another city in China.
It is now 1:35 PM. Our train departs at 2:26 PM. There are many long lines of people approaching the gate in an orderly fashion. When Jay and I last visited China we had a different train experience at the train station in Chongqing. There was indeed a queue but when the gates opened it was every man (and woman) for themselves. Everyone merged through that gate entrance. Quite a scene. No one seemed upset with all of the merging and chaos that day.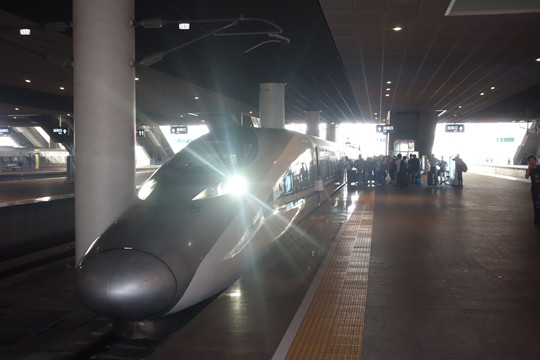 The high-speed train from Shenzhen to Guilin
Today, another story. All of this is just part of the culture and way of doing things. They're used to it. It works. Today, here in Shenzhen, everything is quite orderly. We promptly departed at 2:26 PM. We are on our way. We are seated in very comfortable reclining seats. It's fairly quiet and everything is orderly. The train will travel at speeds up to 300 km/hour or 180 miles/hour. A very smooth and quiet ride. The train is an electric train and not a diesel. We are now close to arriving in Guilin. The terrain has changed. We now see many green and high pointed hills with terraced vegetation. It is grey and misty but not raining. We have arrived in Guilin and were met by Julie and her friendly welcoming smile. Julie will be our local guide while in Guilin.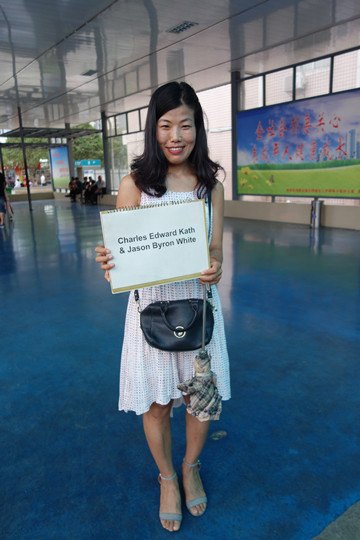 Julie greeting us at the train station
The population of Guilin is 500,000. Julie said the drivers here are 'terrible'. We're already used to the driving style in China. Julie spoke of the 'Osmanthus' trees and their special tea fragrance. Osmanthus tea is a 'ladies tea'. There also is an Osmanthus wine. Jay noticed that the motor scooters in Guilin were all electric scooters..... silent. As we understand, gas powered motor scooters are no longer allowed in the cities and are all electric. Motor bikes are everywhere. In Hong Kong we only saw one of two motor bikes. School begins at 8:30 AM and ends at 5:30 PM with several breaks in between. Guilin is famous for its rice noodles. There are 4 lakes within the city. We arrived at our hotel at 6:15 PM. It is the Hotel Universal. We are having dinner at 7 PM with Sandy Ren (again, the person responsible for this trip) and Julie (our local guide) at our hotel. Jay and I returned to our hotel room from dinner at 8:45 PM. Jay immediately crashed.
It was so good to finally meet Sandy after our first correspondence some 2 1/2 years ago. The 4 of us dined at the hotel restaurant. Sandy chose about 6 of the local delicacies for us. So good! What a meal! What a dining experience it was with these two wonderful ladies. The food was tasty and so was the wine and beer which I had for the first time in 15 months (NSAID issues). The 4 of us had a delightful chat. Lots of laughter.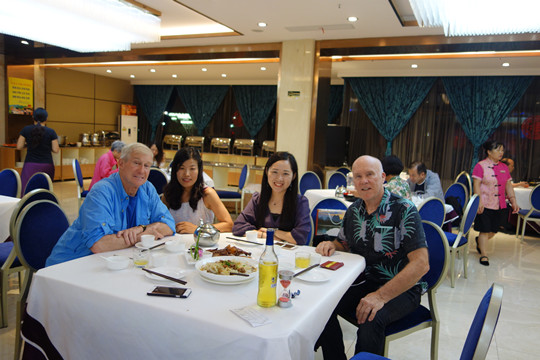 Jay, Julie, Sandy, and myself at dinner at the Hotel Universal
Later for me, to bed at 10 PM. As far as getting to sleep, please wish me luck. I'm also tired.
To be continue...
--by Charlie Kath (customer of Visit Our China)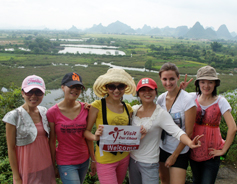 Calendar
Categories