Charlie's China Tour—Li River and Yangshuo
2018-04-27China travel Guide
CORRECTION: YESTERDAY WE VISITED LONGSHENG AND NOT YANGSHUO AS I STATED.
I awoke at 5:30 AM and soon enjoyed a very satisfying breakfast. We will be departing the hotel at 8:20 AM for the Li River cruise. Yesterday was just magical.
The day was capped off by that colorful boat cruise. Just wonderful. Julie greets us with a big smile and we are off. She tells us that President Clinton was here in 1998 and also took the Li River Cruise. People who are applying for their driver's license are required to spend 1 week on a very busy street with flags helping to control the traffic. Julie is teaching us (trying to teach us) some Chinese words. I'm afraid that I flunked. While walking on the pedestrian mall last night I'm confident when I say that I was the oldest person out there.😄
90% of high school graduates go on to attend college. The most important festival in China is the Chinese New Year. Everyone goes home to be with their family for the 'New Year' celebration.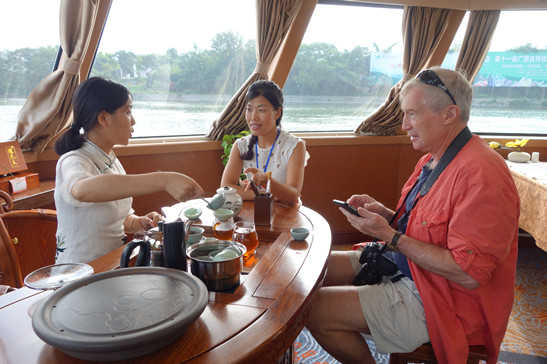 The tea ceremony aboard our 4 Star river boat. Pictured are the lady who demonstrated what the tea ceremony was all about, Julie, and Jay
The Li River Cruise is from Guilin to Yangshou. It is the most important tourist event in this part of the world. I first when on this cruise in 1996. I remember purchasing a bottle of wine aboard the river boat that had a snake in it. The Li River flows into the South China Sea. The cruise is 63 km (39 miles) long. As soon as we boarded our 4 Star ship we were privileged to participate in the tea ceremony. It's 11:35 AM and we've been cruising for a couple of hours. One spectacular view of the Li River followed by an even more spectacular one. We past sharp peaks, valleys, cliff faces, and villages along the way. In many ways, this topography is very similar to Ha Long Bay in Viet Nam. Sharp peaks and valleys are on both sides of the boat as the boat is navigating the many curves of the river.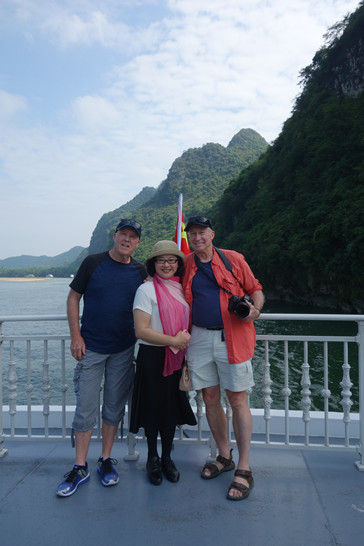 Myself, a tourist, and Jay on the Li River
We pass more villages and wild life on the shores of the river. There are many boats on the river, both large and small. Some rafts also. A very nice buffet lunch was served along with a glass of beer. As of 2 days ago, I had my first alcoholic beverage since 7 June, 2016. Can hot coffee not be far behind ??
The spectacular topography continues. It's 1:20 PM and we are at the end of our cruise. The cruise was 5 hours in length and ends in Yangshou. After disembarking from our river cruise ship we walked around this old town. Jay made some additional calligraphy purchases at a West Street shop.
Later our driver picked the 3 of us up and we made our way back to Guilin where we visited some of their city parks, Elephant Trunk Hill and Love Island. Jay has 'picked up' a nasty head cold.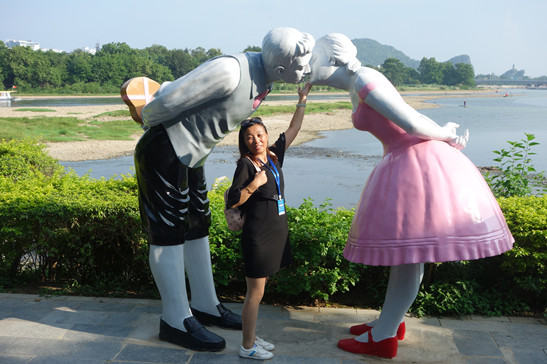 As seen on Love Island, Elephant Trunk Hill Scenic Area, Guilin
This evening Julie dined with us at another very nice restaurant. The food there was extraordinarily delicious.
To bed earlier this evening.
To be continue...
--by Charlie Kath (customer of Visit Our China)
Comment