Charlie's China Tour—Another Big Day in Hong Kong
2018-04-04China travel Guide
Awoke at 5 PM! Slept well! We're ready for another... BIG DAY!!
It's time for breakfast. I'm trying to keep up with the some news about Hurricane Irma in Florida. A mini-bus promptly picked us up at 8:45 AM. David, our local guide for the day is pretty funny. He has a great sense of humor. This is the 2nd of our tours that has been a Greyline Tour. The sun is brightly shining with few clouds in the beautiful blue sky. We have just visited Victoria Peak. The 'locals' now just call it 'the peak'. To get to 'the peak' we took a ride up on the Peak Tram, a fixture in Hong Kong for over 125 years. On our way to Victoria Peak we enjoyed the city of Hong Kong literally opening for us. What a panorama.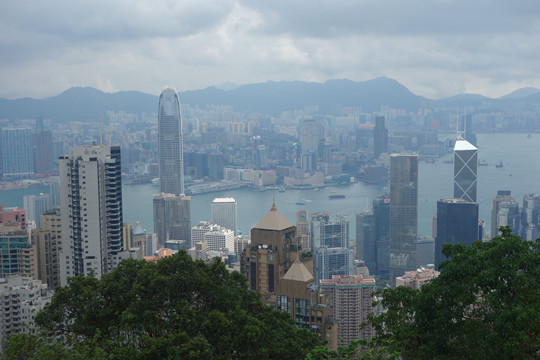 As seen from Victoria Peak
As I visited Hong Kong in 1996, I thought about the splendor that was awaiting us at the top. But along the way, wow, look at those skyscrapers, check out Victoria Harbor.... way below!! I'm thinking so much has changed since 1996. I vaguely remember the ride to the top. At the peak at that time as I recall, it was just several paths to several views of the city below. At the peak today there are coffee shops, many (as in many) small shops and a beautiful building that houses them. There used to be a grand hotel at the peak, aptly name 'The Peak Hotel'. It was destroyed by fire in 1938. Lots of activity today at Victoria Peak. We had ample time for photos that were a must from this splendid site. It felt so good to return to 'the peak' this morning.
We are on Hong Kong Island. Across the harbor is Kowloon. Kowloon is an urban area in Hong Kong comprising the Kowloon Peninsula and New Kowloon. Years ago Kowloon was a walled city that was largely ungoverned heavily populated settlement in Hong Kong. I asked David about the location of Hong Kong's former airport, Kai Tak on Lantau Island. Lantau Island is the largest of the 262 outlying islands that make up Hong Kong. Climate wise, Hong Kong is a sub-tropical area. David, our local guide has been referring to Jay as 'Jackson'.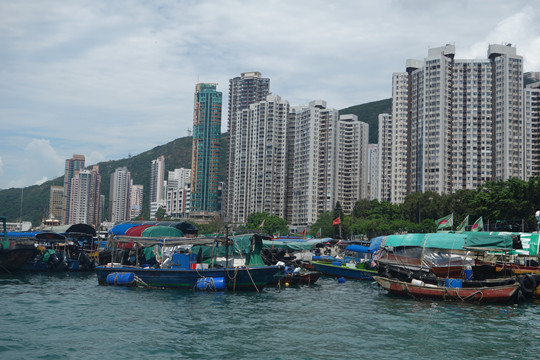 Aberdeen Fishing Village
Before Hong Kong experienced the growth that makes it the city that it is, Hong Kong used to be a small fishing village. At that time Aberdeen used to be 'the place' when the first British explorers landed. Aberdeen continues to be a 'fishing village' with a population of 80,000. Some people continue to live in their fishing boats as part of Aberdeen. We took a boat ride in the harbor and passed by many of the fishing boats where people both fish and reside. We passed 'Jumbo Kingdom', the world's largest floating restaurant. David informed us that fewer of the younger generation want to continue to live on a fishing boat and be a part of that profession. We just finished a stop at Dynasty Jewelry and showroom where we had the opportunity to make some purchases at 'good prices'.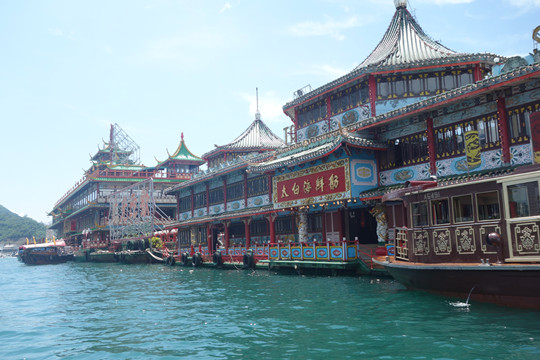 'Jumbo Kingdom', the world's largest floating restaurant
Back on the bus, we are now driving by what appears to be a beautiful sandy beach at Repulse Bay on Hong Kong Island. English is the official language but most of the residents of Hong Kong speak Mandarin. We have arrived at Stanley Market on the southern side of Hong Kong Island. I vaguely remember visiting Stanley Market in 1996. I did know that I enjoyed my previous visit. Stanley Market is one of the must go places for tourists when they visit Hong Kong. There we found an interesting array of little shops selling silk garments, sportswear, art, and of course Chinese costume jewellery and souvenirs. Right now, the market is oppressively HOT. That didn't stop us from having a lot of fun at this exciting market. It's a very crowded area and when one wants to make a purchase you are 'expected' to bargain.
Back to our hotel at 2:30 PM. We caught our breath, checked for messages, and planned for our entry into the mainland of China tomorrow. We will be in Guilin tomorrow night. Jay is out in the city right now in search of getting something to eat. Upon his return he passed along to me his adventure in a restaurant and the people he met, more wonderful Chinese people. I'm now ready for bed. I feel that my sleep patterns are getting back to normal. Thankfully, a rather quick transition.
Good night and THANKS for joining me on this journey.
To be continue...
--by Charlie Kath (customer of Visit Our China)
Quick Questions
Our team is waiting for you questions. Please feel free to ask us any questions you might have about our China package tours, Chinese culture, or the sites available. We will gladly help you with any special needs you might have and all questions, like our trip designing is completely free of charge.