Charlie's China Tour—Tour in Macau
2018-03-29China travel Guide
This morning I awoke at 3 AM. I didn't even need a wake up call. I stayed in bed and deleted some photos that I took yesterday. I fell asleep again and woke up at 6:15 AM. I then shaved and showered and enjoyed a 7 AM breakfast. Down to the lobby at 8:15 AM where we were picked up for our bus tour. A representative was waiting for us and off we went. The people of Hong Kong visit the local markets twice a day to get their fresh veggies.
The temperature at 8:30 AM. is 82 F and the sun is really shining. It's going to be a HOT one. The pedestrians appear to be respectful of red and green lights and wait patiently at the corners for the green light to cross. Our driver drives very quickly on the narrow side streets. Very few horns. As was the case yesterday, we were picked up and by way of a small van we were driven to a designated site where we then boarded the tour bus. There were 46 people on this tour to Macau.
It's 9:15 AM and we are on board the 'jet boat' for our ride to Macau. At the boat terminal we had to go through security and fill out appropriate forms for Macau. The jet boat is air-conditioned and quite large. We were broken down into smaller groups and in our group, 2 were from Australia, two from Canada, and Jay and myself. There are 8,000 sky scrapers in Hong Kong, more than any other city in the world. Macau, also known as the Macau Special Administrative Region of the People's Republic of China, is an autonomous region on the western side of the of the Pearl River.
We arrived in Macau at 10:30 AM. We went through customs, were met by our local guide, and were on board of our bus by 10:45 AM. It's a bit cloudy, partially sunny. Our group of 6 is together on the bus which appears to be full. Our local guide is Cheryl. We will be visiting several UNESCO sites. Macau is a peninsula that is connected to mainland China. There is considerable land reclamation in Macau. The population is 640,000, 94% which are Chinese. Macau was a colony of Portugal for 450 years. Portuguese is not spoken here. The most commonly spoken language in Macau is Cantonese, similar to the neighboring Guangdong province. But Mandarin has been gaining ground since Macau's handover to China in 1999. Macau has its own currency and is a very colorful 'town'.
We're back on the bus at 12:40 PM. We visited the Ruins of St. Paul, the Mount Fortress, a section of the Old City Wall, and Leal Senado Square, It is now raining a bit. We visited the 'Old City' or 'The Christian City', The City Wall separated 'The Christian City' from the Chinese population. The Portuguese used the city as a platform for trade. Vasco de Gama, the Portuguese explorer's sea route to India allowed Portugal to establish a rich trade with India and southeast Asia. Portugal was also able to expand its empire to include provinces from India (centered around the state of Goa, whose largest city is Vasco da Gama) to China and Macau.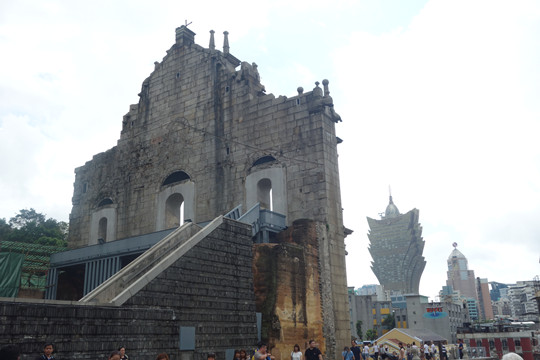 The Ruins of St. Paul, the site of St. Paul church that was considered as the greatest church in Macau
There are many Roman Catholic buildings in the Old City. Macau has the identical status as Hong Kong as an autonomous state. There are 38 casinos in the city. 75% of the total income of Macau is derived from gambling. There is also some manufacturing and light industry.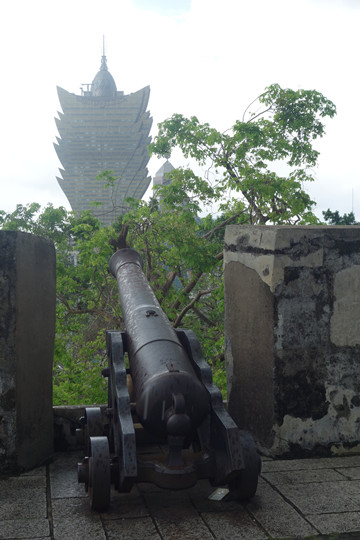 The Mount Fortress...
notice the canon is pointed towards the casino in the background
It is now REALLY RAINING.
Today we will have lunch at the Riviera Hotel. The lunch was buffet style and it was outstanding, so tasty.
This afternoon we visited the A-Ma temple. We made it to the temple without getting rained on. The credit for this goes to 'the gods'. The A-Ma temple is over 500 years old. It is a Taoist Buddhism building. The Chinese city of Zhuhai is just across the river.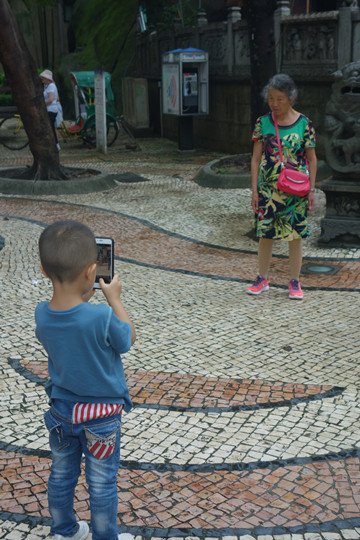 A small boy taking a picture of his grandmother at the old A-Ma Temple
A structure that cannot be missed is the Macau Tower. To bungy jump from this 1108 ft tower will cost you $500. It is the world's highest bungy jump. The Grand Lisboa Casino is the most imporant casino in Macau. The dress code for the casinos is in general, no flip flops, shorts or sleeveless tops, for either women or men. We have been dropped off across the street from the Grand Casino and we have 45 minutes and choices to do a number of things on our own. I chose the 10 minute walk to visit the old colonial buildings in downtown Macau. There is a square or plaza that is surrounded by these magnificent old buildings. The plaza is a hub of activity. I walked back to the Grand Casino and briefly stuck my head inside the building. A very busy place.
Voting for parliament in Macau takes place every 4 years. At a predetermined place near the casino we were picked up by our bus and driven back to the terminal building. It's now 4:25 PM and we will soon board our jet boat (hydrofoil) to take us back to Hong Kong. At 5:30 PM we are back in Hong Kong. At 6 PM we once again are met by our Hong Kong bus. The traffic is extraordinarily heavy. The bus moves along every so slowly. Hong Kong appears to be one giant construction zone. It took us an hour and a half to get back to our hotel.
This evening Jay is meeting one of our friend Anhy's friends at our hotel. It's now 8:35 PM and Anhy's friend still hasn't shown up. At 9 PM, Anhy's friend did show up at the hotel where Jay met her in the lobby. Jay phoned me in our hotel room and I met up with them in the lobby. Alexus is originally from Indonesia and has lived in Hong Kong for 7 years. It's 10:10 PM and I'm ready for bed.
It's been quite a day.
To be continue...
--by Charlie Kath (customer of Visit Our China)
Comment