A Bite of China II - Footsteps, Accompanied By Familiar Hometown Flavors
2014-04-30China travel Guide
Ready or not, life always press people step forward. From the migration of individual life to the transportation of food materials, the footsteps of people and food nerver stop. In the times of traffic inconvenience, people take food can be long-term preserved when they go on a long journey. Those so called "road food" not merely to fill the stomach, but console the lonely trip with its familiar hometown flavors; where people pause for a short stay, their oven are even set for the most familiar hometown dishes. Read more about Chinese food
Wheat, a crop occupying the largest cultivated area in the world, is even the footstone of Shaanxi Province, a kingdom of wheaten food. Wheat emerges on Shaanxi table as daily steamed buns, Guokui (smaller wheat cake), noodles, Chinese hamburger, mutton soaks, and various mouthwatering snacks. However, the most primitive scent of wheat is tasted from new harvested wheat with the highest sweetness. Shaanxi people usually process the wheaten noodles into 3cm wide, then seasoned by Sao Zi, a special sauce cooked from diced agaric, carrot and soft tofu; besides, the heavy flavored hot pepper sauce is also the immutable faith parter of noodles.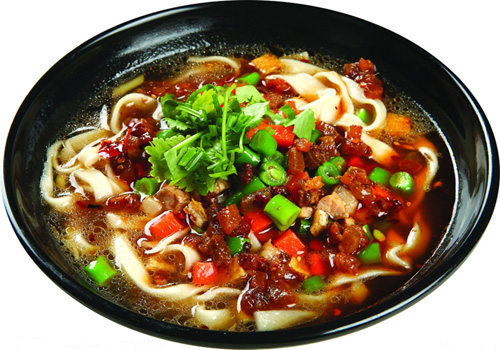 Shaanxi Sao Zi noodles

Griddle, 2 meters long in diameter, is the tool to make the symbolic staple food of Shandong people, thin pancake. The main ingredient is sweet potato powder, or other grain powders, such as soybean, wheat, sorghum or corn. To make the pancake, the fire, neither too high nor too low in temperature, is the key. Heat the griddle first, evenly spread out the paste, then the paste form rapidly. The fresh pancake is crisp and fragrant, while turn to soft with toughness when cool down. Today, pancake rolls are splendidly developed to thousands of types and can envelop any food from fish and meat to pickled vegetables from place to place; Chaozhou's Spring Roll is deep fried with stuffings of bean mash, onion, dried shrimps and fish sauce, Guiyang girls' favorite Si Wa Wa, though tiny in size, accommodates more than 20 kinds of vegetable plates and 4 spoons of sauce, while, the favorite stuffings of a Shandong people's pancake is always the scallions.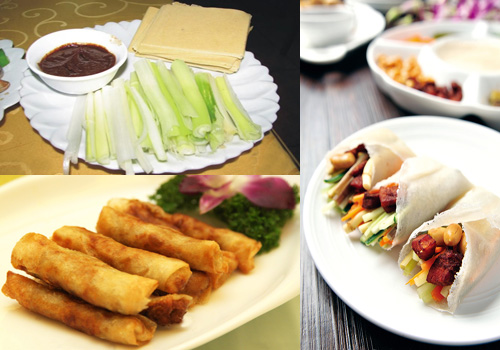 Diversified pancake rolls

It is long since human have changed the survival habit from hunting to collecting, except in the last hunting field, the sea. People live in Sanmen Bay in east Zhejiang Province, a place once abound in fish resources, is estimated can only provide sea food for less than 50 years. Here today, fishermen only obtain sea food after transnormal pains and patient waiting. Such rule plays also in mountains. High qualified mushroom is widely cultivated today though the wild mushrooms in high altitude mountains are most precious; they are hard to acquire and only exist for about 1 month a year. Delicious dishes are the best reward for those people's hard work. Mountain people make mushroom with stuffings for the family, while fishermen in Sanmen Bay are satisfied after a day's toil when Octopus and mudskippers on table.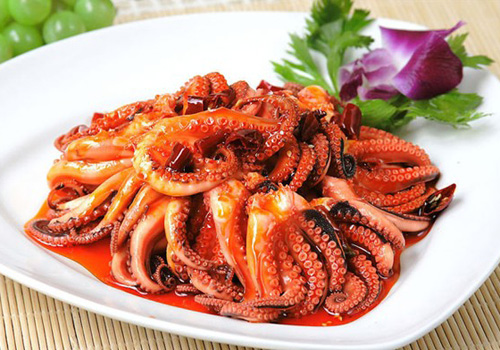 Braised Octopus

In Yunnan-Guizhou Plateau, rice are the basic crop, and its flowers feed the most sweetest carps. In the remote mountain village Leishan in Guizhou, pickled fish is the specialty. To make it, sweet rice wine need to be made first. Wash the sticky rice and steam it, then add in yeast for fermentation. Kill the carps and take out all entrails, smoke the fish on weak charcoal fire for one night then dry them by the air. The finished rice wine is the refreshing sour and sweet, together with salt and pepper, they are stuffed in the fish belly, then pickled carp is done. No matter eat directly, or after steam or fry, the tempting flavor of carp and sticky rice diffuse. But for Leishan Miao people, their proudest delicious are fish sauce, which can be only made once a year in August from rockfish, pickled in jar with salt, new chili, fresh ginger and pungent litse fruit, a peculiar condiment in southwest China.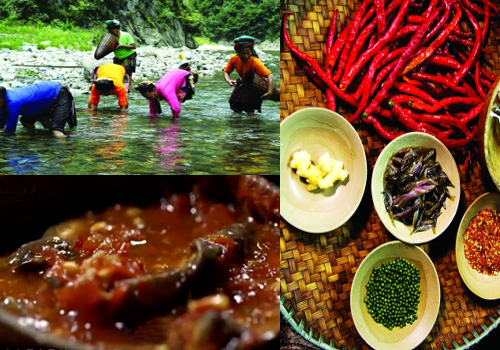 Leishan fish sauce of Miao people in Guizhou

Now, such delicacy are taken out to other cities of the country by migrant workers, and one day, it may appeared as a new form. For thousand of years, this is the way food to be evolved to be diversified types following people's footsteps. No matter how far people going out, the familiar flavors stubbornly connect hometown in their minds. Many overseas Chinese from Fujian Province return to their hometown when they are grey and old after dozens of years striving outside. They are called back by family ties but more by the unforgettable hometown flavors. Quanzhou radish rice roll, a plain but rich in contents dish made from Quanzhou specialty sand radish with pork, mushroom, oyster, dried shrimps and rice, is the uncontrollable insanity of Quanzhou people.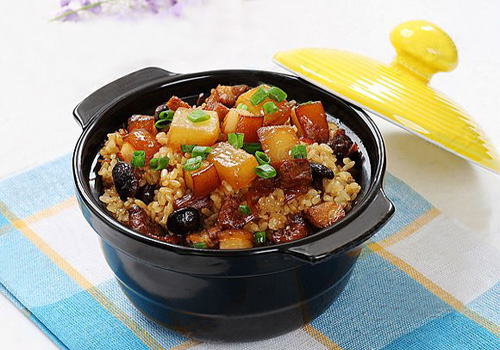 Quanzhou radish rice roll

In this ever-changing country China, people and food, flows faster than ever. No matter how haste of our footsteps, there is always a flavor, in a particular way and three times a day, reminds us our starting point and destination, in the long run are both the place of our home. This is Chinese's simple but powerful belief, has been persevered for thousands of years.

--- By April (Visit Our China)

Quick Questions
Our team is waiting for you questions. Please feel free to ask us any questions you might have about our China package tours, Chinese culture, or the sites available. We will gladly help you with any special needs you might have and all questions, like our trip designing is completely free of charge.