Experience the Most Intense Flavor of Beijing in Nanluoguxiang
2014-04-09China travel Guide
Please don't be surprised to see visitors go to and fro in Nanluoguxiang (Nanluogu Lane or literally South Gong and Drum Lane) in constant streams all day if you pay a visit to it during your Beijing tour. People with different colors across the world are attracted here: they may wander around the lane on feet or by bike, or look for their favorite bars or delicacies and take a rest in the lane. Those who yearn for old Beijing love the lane since it is filled with most authentic flavor of Beijing, while foreign friends like here for their usual tasteful sentiments and romantic feelings.
Experience the Flavor of Beijing in Rickshaw Performance at Laoshe Tea House
Nanluoguxiang is actually the only traditional one in China with the features of residential area in ancient Yuan Dynasty (1271-1368AD) that preserved intact nowadays, and it is the lane with richest old Beijing styles. Various shapes of mansions and houses are in the Hutongs around the lane, massive and graceful. Every Hutong has profound cultural accumulation and each house is going to tell old stories.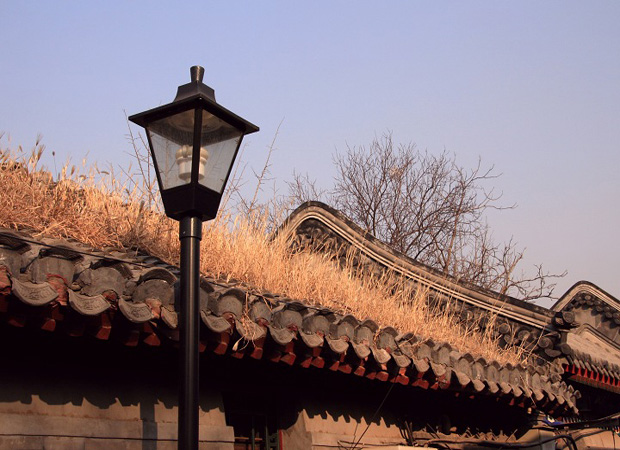 Roof of Ancient House in Nanluoguxiang
The reason why Nanluoguxiang has been continuously chosen for seven years as the place to hold Hutong festivals is not only because it is one of the oldest residential areas in Beijing, but also for the orderly distributed Hutongs surrounded. The overall layout of Nanluoguxiang and surrounding area is just like a big centipede. Stretching from north to south for about 800 meters, Nanluoguxiang is surrounded by 16 Hutongs on its west and east sides. Among these the most famous at the moment must be Yu'er Hutong, which was visited by President Xi Jinping in February.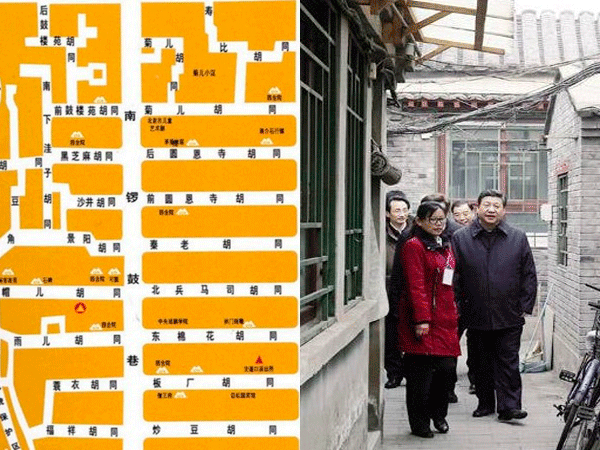 Layout of the Hutongs in Nanluoguxiang Photo of President Xi Jinping Visiting Yu'er Hutong
Nanluoguxiang and its surrounding area was the center of the capital city in Yuan Dynasty, and it was even grouped in by the dignitaries in Ming (1368AD–1644AD) and Qing (1644AD–1911AD) dynasties, though merely legends are left about these dignitaries in grey architectures. In recent years, Nanluoguxiang has become the focus of fashion magazines, lots of TV plays have been shot here. Many foreign travelers list it a must-see in Beijing, even Time, which is considered to be a picky weekly news magazine in America, selected Nanluoguxiang as one of the twenty-five most interesting places in Asia.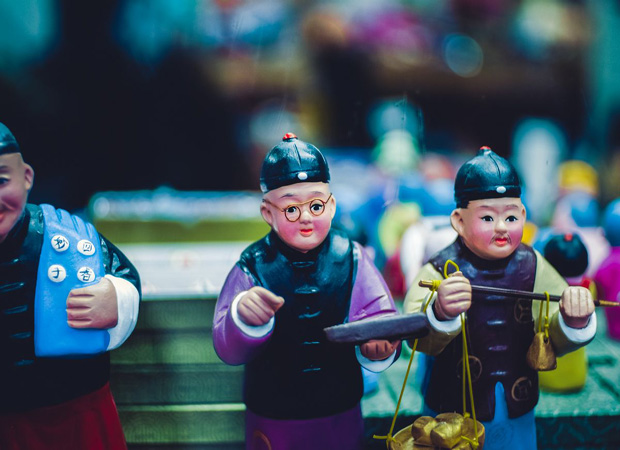 Artwork Sold in Nanluoguxiang
Over 130 stores are located in Nanluoguxiang, welcoming guests from home and abroad for alcohol drinking, reading, surfing internet, tea tasting, etc. All kinds of businesses surely will meet your needs and make you dazzled. From the name, design and decoration to scope, every store has specific features of its own and creates an exotic sight. The FANCY-ME, grifted, Match Quotes and PLASTERED8 are just a few of these unique stores.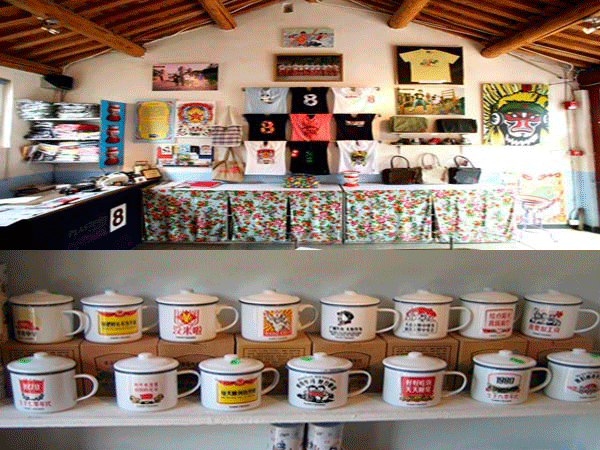 T-shirts Sold at PLASTERED8 & Cups Sold at Match Quotes
Many bars settled in the lane also attract attention from trendsetters and foreign travelers--Nanluoguxiang has become another bar street in Beijing after Sanlitun and Houhai. PASS BY BAR is the first one of the lane, in the meantime, it is the first touring theme bar in China. On opening a thick black-painted door of the bar, you will see a greenery courtyard full of old Beijing flavors. The entire ceiling is covered with grape vines and the bar is separated into two parts by tall bookshelves. The smallest one must be 12SQM Bar & Cafe, with an area of only 12 square meters. Large bar counter and wine cabinet take up most of space of the bar, making the windowsill a popular seat. A big characteristic of some bars here is that foods should be served at restaurants are also provided, and TASTE must be the biggest one by now. It is a wine bar, however, in it you can enjoy delicacies such as Fish-flavored Shredded Pork Pizza, Kung Pao Chicken Pizza, Roast Duck Pizza, etc. which combine Beijing traditional flavors with modern techniques.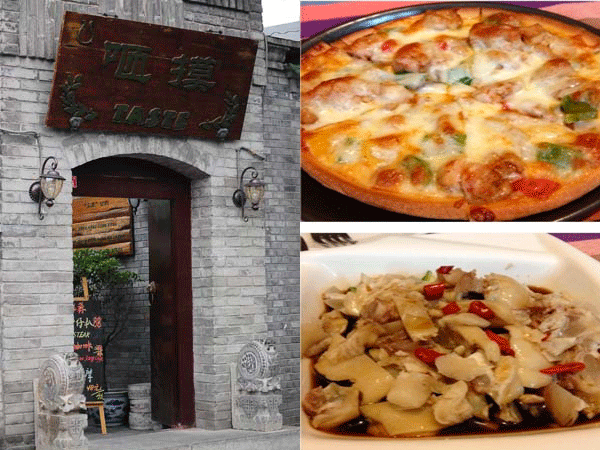 TASTE and Its Food
A resident of Beijing said: "The Hutongs of Nanluoguxiang is the soul of Beijing; the exhibits displayed in Beijing Museum are still alive here..." When you stroll in Nanluoguxiang, you will feel lucky that such a lane has been preserved from the buckish city. Thoughts swarmed in your head will be not only on the hundreds years of vicissitudes but also the desire for leisurely life. The beauties of Nanluoguxiang really deserve constant explorations and everlasting recollections.
- By Sophy (Visit Our China)
Comment