Biking Tour in Shanghai- a new retro and vogue way
2014-04-17China travel Guide
Bicycle was a remarkable symbol of Chinese streets in last century. Thousands of people wore work clothes biking on brands Forever or Phoenix is a typical picture of any a Chinese street at that time. Bikes, serve as a daily transportation decline in recent years but quietly vogue among travelers somehow especially among foreigners. During Spring Festival this year, foreigners cycling on the streets in the cosmopolis Shanghai even occupied the headlines. For them, cycling is the effective way to blend into local life, and furthermore, a good chance to re-take this retro and eco-friendly transportation because such friendly cycle tracks still maintained in China today but barely found in western countries.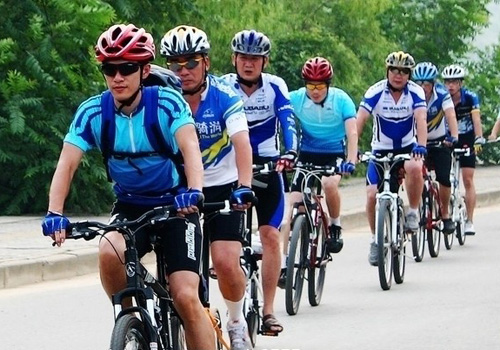 It is in this charming season in spring and early summer, cycling, with an old-fashioned bike or a cool mountain type, becomes a vogue in Shanghai chosen by many travelers to explore this world-known metropolis. Here are two recommended biking routes for your reference. One to explore the old Shanghai style, the other to embrace the refreshing nature in the suburb.
Route 1: Old Shanghai biking tour in Wukang Road
In Shanghai, it is amazing to break into a tranquil alley suddenly from a noisy road, to get an elegant view of old Shanghai style, the historical vestiges of old foreign-style houses of all sorts. Wukang Road, a street of serenity but connects Shanghai's two most bustling road, is a typical one.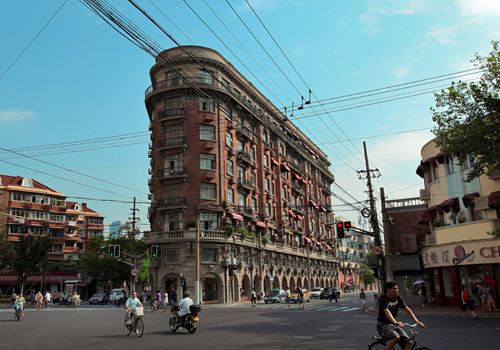 Wukang Building, the landmark of Wukang Road
Wukang Building, designed by a famous Hungary architectural designer Ladislav Hudec in 1920s, the earliest exterior-corridor type apartment building in Shanghai, is the start of this interesting Wukang Road cycling experience. Wukang Building was inhabited by Euramerican people with prominent background in the past and now home to common people just as this city's other old buildings.
Over 1 kilometers of Wukang Road from Wukang Building are all old style villas on both sides to feast your eyes. Most famous include No.113, a British rusticity garden house and the last residence of China's great master in literature of 20th century Mr. Ba Jin; No.390, a Mediterranean Style with red top and white wall, was the foreign embassy and now an office building; Ferguson Lane, No.376 is a popular dating stronghold for locals which houses a dozen of cafes and boutiques.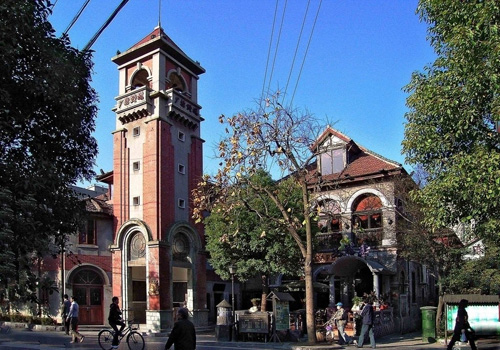 Old foreign-style builings on Duolun Road of Shanghai
Tips:
1. Bicycle renting: No.393 Wukang Road, the Tourist information center, offers bike renting when your valid ID card or documentations are provided. Other renting agencies are also found in Hengshan Road, Tianping Road, the Christianity church of Xuhui District.
2. Other recommended biking routes for Old Shanghai View are Baoqing Road, the well known Duolun Road, the most beautiful road in Shanghai Taojiang Road, the old houses of Jing'an District, and the Suzhou Creek with architecture of primitive simplicity.
Route 2: Natural cycling to Sheshan Mountain
Sheshan Mountain beyond all question is the best choice for a pleasant biking tour accompanied by natural landscape in Shanghai. Take subway No.9 and get off at the station of She Shan, rent a bike just at the exit, then you can cycle along the avenue. The first scenic spot on the way is Shanghai Sculpture Park, a large scale outdoor art gallery exhibiting huge sculptures created by artists from Mainland China, Taiwan, and other countries of Japan, England, Italy....Adjacent to the park is the Le Meridien hotel equipped with a tropical scenery of manmade lake and sandbeach.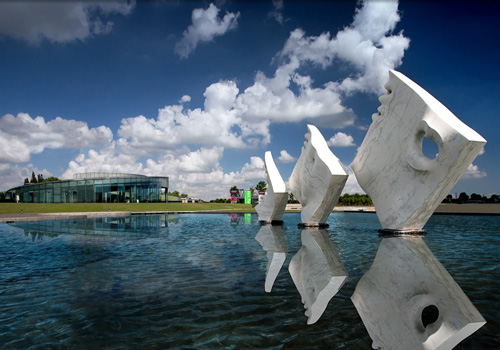 Shanghai Sculpture Park
Continue to cycle along the avenue is the large Chenshan Botanical Garden, which contains couples of small theme gardens, a greenhouse and especially beautiful in late Spring with flourishing flowers and plants.
Out from the botanical garden and turn to the Qingsong Road in the right, it is the Sheshan National Forest Park, which is divided into eastern Shanshan zone and Western Shenshan zone, both offer superb sceneries.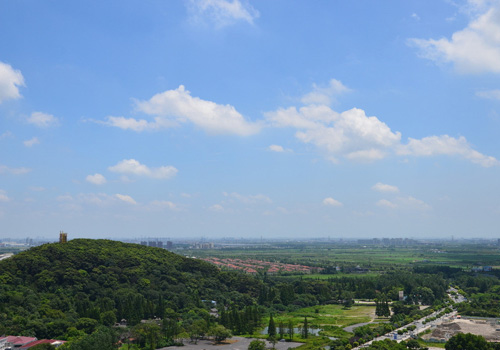 An overview of Sheshan Mountain
Tips:
1. Bike renting: start from Sheshan Station of No.9 subway along the avenue, there are totally 5 agencies, in order, Sheshan Station, Happy Valley, south gate of Eastern Sheshan, north gate of Western Sheshan, and south gate of Chenshan Botanical Garden. To rent a bike, your valid ID Card or documentations are required.
2. Bicycles are not allowed to enter scenic spots.
--- By April (VisitOurChina)

Comment