Sunrise at the dreamlike Lovers' Road, Zhuhai
2013-05-30China travel Guide
My campus locates in the north part of the Lovers' Road, Zhuhai, a city faces Hong Kong and Macao across the sea.
I have been hiding most of my hopes and dreams away. However, I always consider it the silliest pity that I did not watch a sunrise at the sea for four years college life beside the sea. Lovers Road is one of the most famous landmarks of Zhuhai, and also a travel spot one can not miss when travel in Zhuhai. On the east of Lovers' Road multifarious islands scatter around the sea, and on its north, mountains and buildings stand side by side. The well-known Fisher Girl Statue of Zhuhai is in the middle of the Lovers' Road, yet is not my main destination of this tour.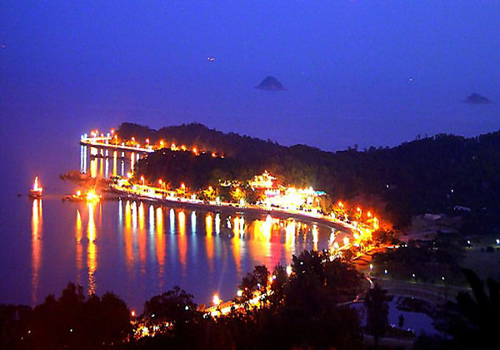 When I was just about to graduate, some of my classmates and I realized the dream together. Our plan was filled with excitement and imagination, and our real experience turned out to be more fantastic and unforgettable.
Play cards, watch games and drink beers overnight was the dream of many teenage boys. And we also did it this time in a economical and nice hotel nearby the campus, because we needed to start quite early in the morning and the school dormitory gate would be locked then.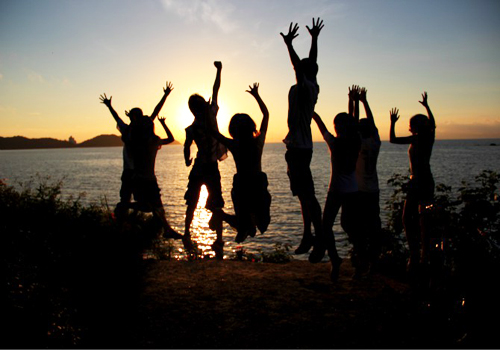 Four o'clock at the morning, we started out from the hotel for the elegant sunrise-watching spot -Beauty Bay of Lovers' Road, of course the vehicle we took was our bicycles. The moon was still brightly shinning in the center of numerous stars. In slight street lamp light, we rode bikes, talking and laughing on the square puddingstone-made road. Refreshing sea breeze and constant ocean waves comforted and relaxed us. But please watch out, in case of riding against the baluster.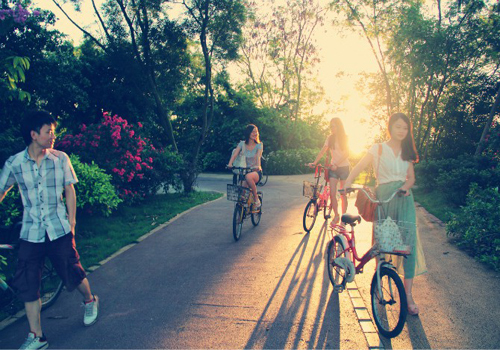 4:30am, we arrived at the Beauty Bay. My heart had almost jumped out of my chest when we were selecting the watching spot and waiting. What the long awaited sunrise would bring? Chinese people often regard sunrise as the warrior who surmounts obstacles, for the brightness the sunrise contributes after breaking through darkness.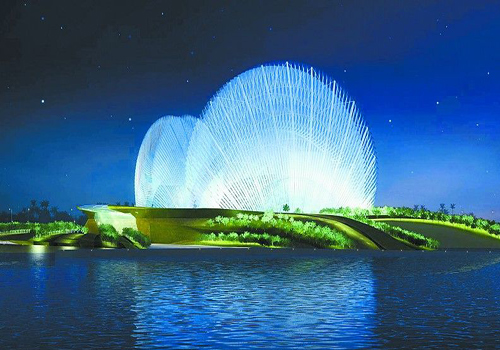 The most important concern of traveling in most cases is not the destination or sceneries, but the mood and inspiration. The exciting moment when the sun burst out just simply washed all my anxiety for future away. We were in the tempting Beauty Bay of Lovers' Road, looking down the sun over the sea and the islands in distance. We decided to sing along. We wanted to scream, shout, and let it out. The lovers of our groups had already embraced and kissed each other, in the most easily moved second. I suddenly became so thankful that I appreciated all the people all the things around just for the sensation they endowed. That was not enough. We were unimagined wild and we danced like demons. All the trouble vanished.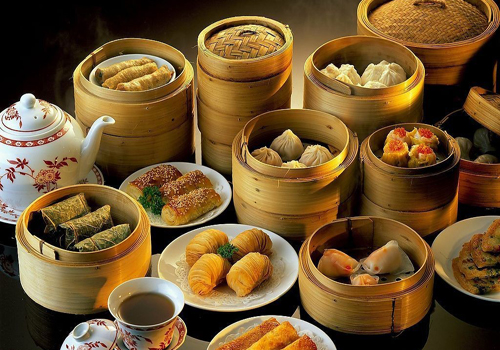 Soon, it was totally light. But our short travel continued. Our second and last destination was Yeli Island which could be reached by a bridge from the Lovers' Road. It is a wonderful place for picnic, camping and watching night scene, and the first sea island theatre in China is under construction on it. But we just went there for early morning tea, a important part of Guangdong cuisine, and brought our sunrise trip a complete and full ending.



--- Xavier (VisitOurChina)

Comment