Experience Rural Life, Savor Sweet Potatoes and Taros
2012-12-03Working at VisitOurChina
Working at VisitOurChina is really enjoyable, which means friendly fellows, good working atmosphere, and opportunities to get in touch with nature. As before as November rushes to the end, it is the time for harvesting sweet potatoes and taros, as well as for our travel agency's annual trip to Lipu which is famed for taro and has the typical picturesque rural landscapes of
Guilin
. Everyone was excited upon hearing the news. The happy scene of reaping sweet taros and taros and baking sweet potatoes last year were still fresh in the minds of people who were in, I guess.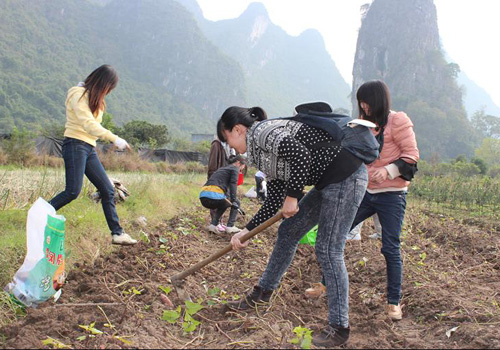 Lipu County is located 40 km from
Yangshuo
, under the administration of Guilin. After one and a half hour's drive along the Guimo Highway, we arrived at the farmland near the famous
Silver Cave
. We instantly made our way to the sweet potato field. The surroundings were of amazingly charming: small mandarin oranges hanging on the branches, green leaves of plants, farm houses scattered among limestone peaks. Everything was in beautiful harmony.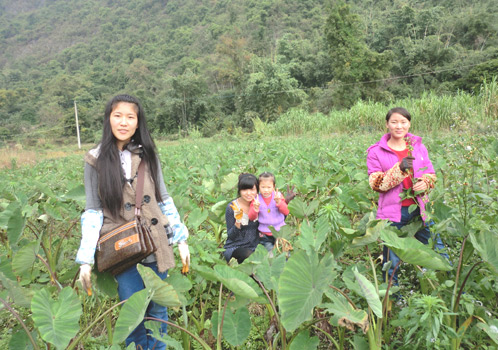 My heart was seized by a fresh irritation, which was soon replaced by the joy of seeking sweet potatoes. Armed with gloves, hoes and sacks, we started our farm work. The number of hoes prepared for us was limited. I had to manually pull out potatoes that had been unearthed partly; because I was so absorbed in finding sweet potatoes that I forgot to catch a hoe! Fortunately one of my colleagues gave me one when she was too tired. I soon found it painstaking and technical to dig out sweet potatoes since they hide in the soil and give no hints of locations, and accidentally they were scratched by my horn. At that moment, I strongly felt the toil of peasants. With almost a kind of piety and gratitude, I tried my best not to damage any sweet potatoes. Anyway, after a twenty minutes' joyful laboring, we got a few heavy sacks of sweet potatoes.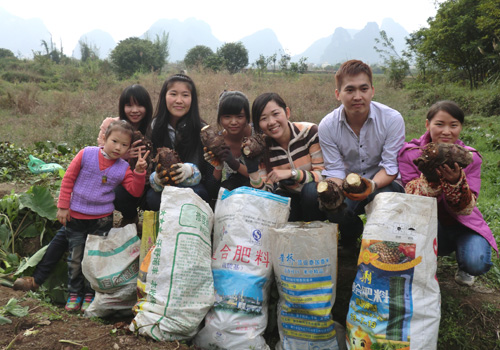 We had a particular passion reserved for taros. Pulling out them and eating them are both interesting and enjoyable. The taro field is located against a towering and craggy triangular peak, surrounded by some fields planted with water-chestnut and rice. The lofty leaves of taro were waving against wind. It is much easier to pull out the taro root than sweet potato as its leafy stem juts out of the ground and part of it is exposed on the ground. We were asked to handle with two long rows of taros. Then the most exciting moment came. All of us, with pairs of gloves, acted at a "lighting speed". My group, six of us, spent only two or three minutes to pull out taros which after separated from stems by our hands and a kitchen knife were packed into six sacks! We were the fastest group! The taros were very big. Sense of achievement overwhelmed us.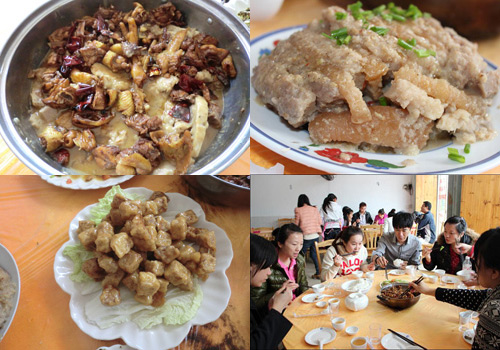 It was already 12:30 after we finished reaping taros. So we moved to a local restaurant for lunch. It was one of the best meals I have had in my life. The flavor of taros still lingers on my taste buds even to this day. I love eating taros! And I savored the most famous dishes cooked from taro: braised pork and taro, sugar taro and braised chicken with taro slices. If you come to Guilin or Lipu, I strongly recommend you to have the three dishes! They are truly delicious! Outside the restaurant a long row of air-dried persimmons caught our eyes, which are local produce. Without using any additives, those air-dried and handmade persimmons are absolutely green food. They are much more delicious and healthier than the junk food we gain in the city.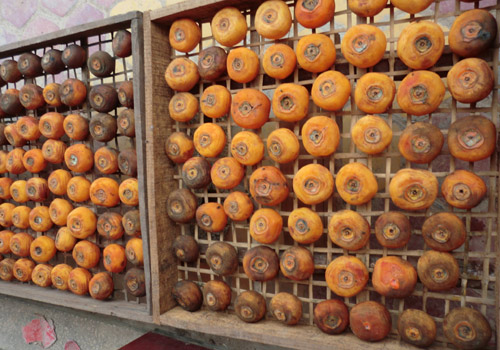 Yet the lunch didn't exactly finish as we would go to bake (more exactly braise) sweet potatoes in a primitive way that you may have learned from our previous blogs. Our cooking area was actually an open space. We would pile up a mini-kiln with small clods of earth. It is by no means easy to build such a mini-kiln since it may easily collapse. It needs both patience and skill. After the completion of the kiln, we made a fire. Until the soil blocks were smoked to turn red and black, we threw out some clods to put sweet potatoes into and then pushed over the kiln to cover them. The sweet potatoes would be braised under the scorching clods. About half an hour later, they were dug out and ready for us to eat. Baked sweet potatoes are really yummy! We ate baked sweet potatoes together, and the mountains and fields resounded with our laughter, what a wonderful day! Farewell, charming Lipu! See you next year!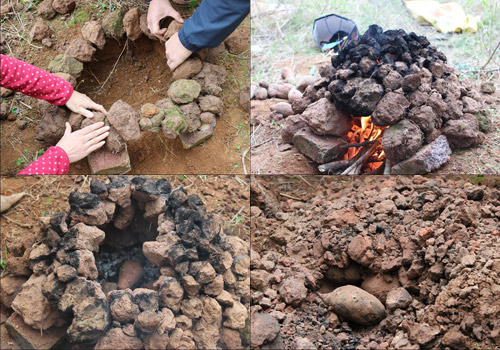 Comment