Haiyang Village in Autumn
2012-12-12Life in Guilin
In autumn, it is getting cold after a shower of rain.
Guilin
's temperature fall precipitously recently due to continuous rainfall, making people better enjoy the autumn. On 2rd December, it at last cleared up, and luckily the sun came out. In such a fine weather, nothing was better than be outdoors. So I, together with other travelers, went to appreciate the autumnal leaves in Haiyang village in Lingchuan county of Guilin.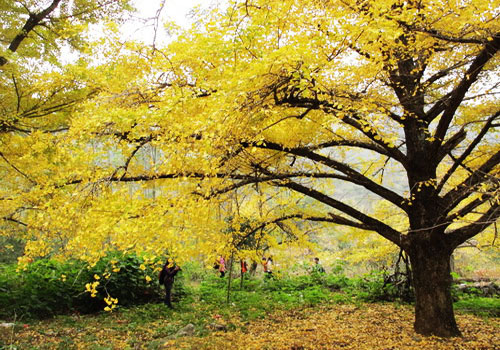 Located in the southern part of China, Guilin does not often see chilly autumn, nor long Frost's Descent; therefore, it is not easy to find red autumnal leaves in this season, but golden gingko leaves of Haiyang village of Lingchuan county are by no means strange to many people. Haiyang village, surrounded by Haiyang Mountains, is forty kilometers away from Guilin city, and it takes around one hour to get there. In the Ming Dynasty (1368-1644) and Qing Dynasty (1644-1911), the local residents began to plant gingko tress in the backyard and front yard of their houses, in the field, and on the desolate mountains. Possibly, because the soil and climate here are suitable for the growing of gingko trees, the fruits are always mellow and full, thus being designated as tribute to the royal court. On the other hand, gingko trees turned to be one of the sources of locals' income. Now, in Haiyang Village, millions of gingko trees, big or small, are in sight here and there. Of them, 17,000 gingko trees are hundred old in years, with the oldest one being five hundred years. Thenceforth, Haiyang village is praised as home town of gingko. January and February of every year see streams of hikers and photographers visiting this golden world.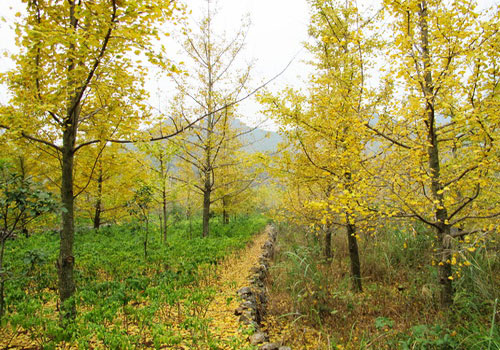 On that day, we started off from Nancheng Department Store of Guilin at nine o'clock in the morning and an hour and a half later, we reached Haiyang village. We ran into few dwellers of the village, only to find the senior, women and children, since most young people of rural area in China seek their jobs in the urban area. Quiet as it was, the village came to life when the laughter of the hikers and photographers stepped their foot on it. Standing under the tree, I felt as if I had been in the sea of golden colour, soft breeze touching my face, leaves dancing in profusion. In addition to the yellow leaves, wild chrysanthemum flowers are also joyful. While appreciating the natural charming scenery, I was beyond myself picking up the fragrant flowers to the point that I would forget to leave. Returning home, I can wash them and dry them in the sun before making chrysanthemum tea by myself!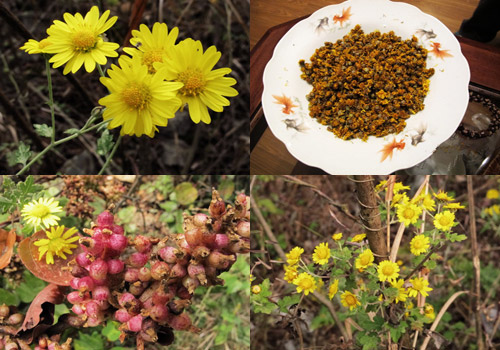 Every time I sip the home-made chrysanthemum tea, I cannot help recalling that poetic autumn in Haiyang village!
Comment