That is just an au revoir - Sophie's leaving VOC
2011-08-05Working at VisitOurChina
The time has come for me to write my farewell blog article and say goodbye to you all dear bloggers and lovers of China. But I would start it all by replacing the word "farewell" by a more suitable one: "goodbye" or – like I would say in French – "au revoir", for I believe there's no real end at such an experience I had here with all the
VisitOurChina.com
team.
Half a year has passed working and carrying out my 2
nd
year Master's degree internship at the English Department of
Guilin Tianyuan International Travel Service Co., LTD (GLTYTS)
. To speak earnestly, I don't know where the time went! I finally see myself on the point to take my flight back to France for another adventure, looking back at my colleagues and now friends that I will certainly miss. Working at
VisitOurChina.com
was one of the greatest experiences I ever had in my professional life and the best I will remember in all the time I spent living in China. Yes, the team did a lot for that! Friendly, helpful, patient and joyful – and the adjectives' list has no ending to me - I felt like part of a big family, all together working for satisfying customers, improving our competitiveness, website and having some great times in team outing weekends.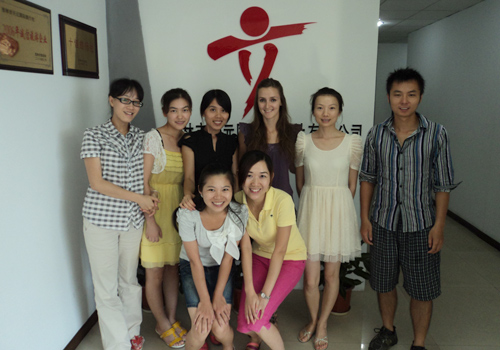 My time in
Guilin
during these last six months was for me the one to re-discover the city I lived in two years ago when I was first trying to master the Chinese language as a student in Guangxi Normal University. In love with Guilin and still having some friends living there, the choice to come back to that city was a wise one for I could complete my visits of the region, learn more about the local culture and spicy food and meet a dynamic and forward-looking company. Weekends and short-term holidays were also the occasion to do what I now live for: travelling! Detian Transnational Waterfalls,
Beihai
,
Hezhou
and its gorgeous Gupo Moutains National Park, camping experiences,
Chengdu
and its emblematic Sichuan
Grand Pandas
,
Leshan Giant Buddha
,
Xi'an
and
its awe-inspiring
Terracotta Army and Horses
,
Macao
for a second time, etc, etc, etc…I can't even list all the places I went during these six months that I can now add to the many other one I went since 2007. Trying to see the most I can of this country during this half a year, that added to my great time there in

China

. I will never stop saying to everyone how it is an amazing country, truly.
Working as an English website Editor, my job was the way to improve my knowledge on
China destinations
, history and culture as well as making it available to all our customers planning to "Visit Our China". Adding to my skills this experience was a really great one and for me the best to understand more the country that is China and realize how important it is to visit it at least once in its life. China is making people's mind change, at least it was what happened to me. More knowledgeable, open-minded and comprehensive about what happens in the country, I feel myself happy that life made me travel, study and now work in/to/with China.
These lines are written to express how hard that is for me to leave China for a third time. But it ain't over till it's over: I'll come back for sure, because this country makes its travelers addicted to it, make them feel great and wiser. Go visit China, the experience of a lifetime, the trip of your life. Thank you to you all, I'll miss you all but that is just an au revoir!
"I travel not to go anywhere, but to go. I travel for travel's sake. The great affair is to move." (Robert Louis Stevenson)
Always sincerely yours,
Comments
Comment