I left my heart in Sanya…
2011-07-15China travel Guide
Ha,
Sanya
…just hearing this name today makes me remember the great days I spent there with some of my Russian friends! Leaving the chilling weather of
Guilin
in mid January (yes, Guilin can be freezing and icy believe me!) for the southernmost tip of China was one of the best decision and winter vacation I ever had, spent between beach times, fresh seafood and coconuts…that's all about Sanya (三亚). Before coming to China, I never heard about that city or even the possibility that China could have any tropical islands and white sand beaches. Naïve enough, I was just amazed by the trip I made to this gorgeous seaside city. Here is the journey I made with my friends to reach (at a cheap price) a paradise on earth: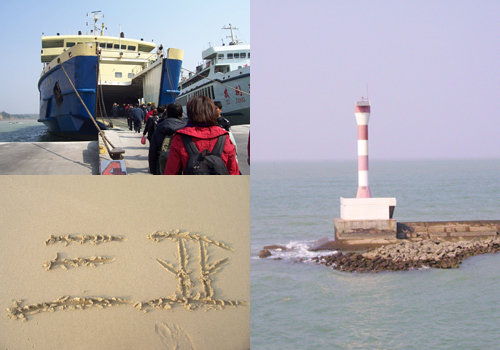 Leaving from Guilin, we first decided to do our journey using trains and buses for the flight tickets were way too much expensive for our student budget, especially in these holidays around Chinese New Year, the
Spring Festival
. Here are for your reference the journey sections we took (prices may have changed since the time I did that trip in 2009):
- Train Guilin-
Guangzhou
(桂林-广州), in hard sleepers: 11 hours, 250 RMB/person
- Bus Guangzhou-Zhanjiang (广州-湛江): 7 hours, 80 RMB/person
- Bus Zhanjiang-Hai'an (湛江-海安): 2 hours, 30 RMB/person
- Ferryboat Hai'an-Haikou (Hainan Island) (海安-海口): 1,5hour, 35 RMB/person
- Bus Haikou-Sanya (海口-三亚): 4 hours, 80 RMB/person
Although this long journey from Guilin to Sanya seems pretty long, everything spent nicely as I was traveling with friends with lots of stories to tell and a bunch of snacks and drinks in my backpack not to starve until our final destination. Finally, after 1 day spent in transportation we arrived in Sanya during the night, found a hostel indicated in my Lonely Planet (and luckily with some rooms still available) and had a good sleep.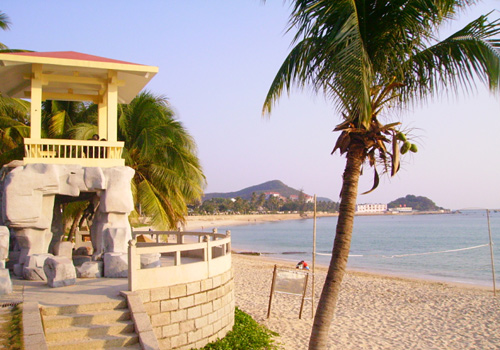 By the time we woke up on the next morning eventhough a little bit tired by the journey we just made, the weather was just perfect. We could finally say goodbye to our winter jackets and sweater for our swimming suits, towels and flip flop! What a nice feeling: summer time was ours, in the middle of January: yes, we were still in China! Hostel conveniently located near to the coastline, it took us just a few minutes walk to reach one of the beaches of Sanya city:
Dadonghai Beach
(大东海). The view that was offering to us when we arrived was just awesome: blue sea, white sand beach and coconut trees! We couldn't believe our eyes! The site was just perfect, with long chairs waiting for us to take a good sunbath full of vitamins in the middle of winter! These vacations were the most perfect one I ever had, especially in that period of the year!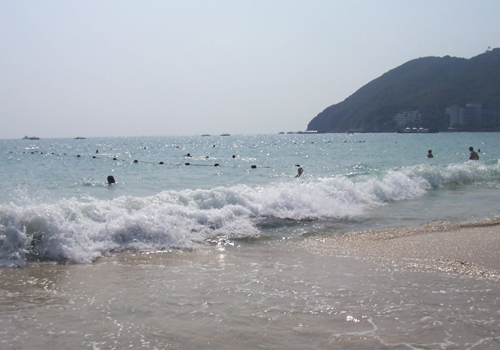 The few 4 days we spent in Sanya were set on one word: relaxation! Enjoying our first vacation of the year, we couldn't help but spending our time on the beach enjoying the sea with the mountains on the background, kids playing some sand-games and Chinese women coming to the beach covered as if they were going to do shopping in a city center. Sanya is reputed for being where the most important Russian community and tourists live. Indeed, one of the first things that I could notice in the city was the numerous shops and hotels with Russian names and writing. My friends were so happy there as they could speak even more in Russian than in Guilin (not that difficult I know)! Spending our mornings visiting the city center and doing some summer clothes shopping, souvenirs, etc…the afternoons spent in lying on the beach and swimming in the hot sea. What a nice feeling!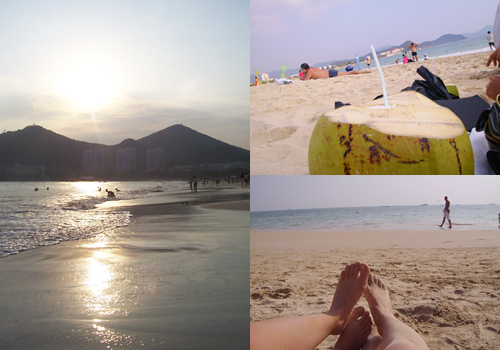 Tropical island, Hainan is where tasting some of the most important number of fruits as well as seafood of China. Our time there was the occasion to taste all of them. Pineapples, coconuts, fish, shrimps, oysters…we couldn't stop enjoying Sanya's delicacies. When enjoying our time on the beach, we could meet some Chinese people on holiday too, playing some beach handball with them! So much fun there! "Cliché" but so good, I will always remember the time we came to the beach with our coconuts, drinking its juice lying on the beach. This was pure relaxation, pure exoticism, pure holidays! Have definitely a try of that at least once in your life!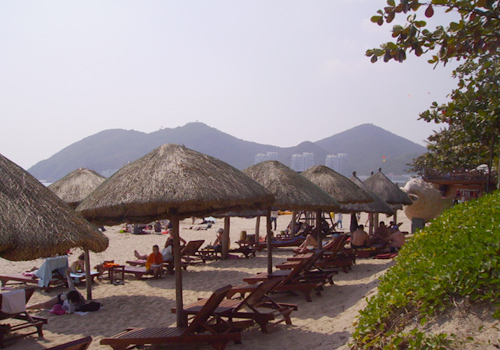 That is one more reason why I felt in love with China. The country is made of such a diversity of landscapes, weather, sceneries, people, cultures and history that this is just impossible to feel bored! Working in the tourism sector is for me a way to make a living out of my passion. When travelling to China, never take what you already know of the country for granted for you may feel disappointed or surprised by what you're going to discover on the next step you take. Go visit Sanya, visit China, visit this country you and I love for everyone is welcoming you heartedly!
Comments
Comment