Dadonghai Beach

Chinese name: 大东海 (Da Dong Hai)
Location: Situated in Tianduzhen (Tiandu Town) southeast Sanya, Dadonghai Resort Area is 3 kilometres away from the downtown and in-between Mt. Bunny's tail (Tuziwei) and Mt. Deer Turning Head (Luhuitou).
Admission fee: Free.
Opening time: all day long.
How to get there:
- By bus No.2, 4, 8, 15, 17, 18, 19, 24, 25, 28 and get off at the stop of Dadonghai Guangchang (大东海广场, Dadonghai Square);
- By double-deck tourist bus (Route: Yalong Bay - Dadonghai Beach - Sanya Bay - Xidao Pier (West Island) Tian Ya Hai Jiao). The departure time of the first bus is 7:00, with the followings running half an hour, and the last bus departs from Tian Ya Hai Jiao (End of the World) at 19:00. The ticket price is 10yuan/person, and it takes about 70 minutes to finish a single trip.
Introduction to Dadonghai Resort Area - China's Hawaii
Dadonghai Resort Area is one of the most popular tropical seaside resort areas in Hainan Province. Stretching 2.3 kilometers long (about 1.4 miles), the crescent-shaped Dadonghai Beach on one hand boasts flat beach of fine white sands, lined with coconut trees and palm trees; on the other hand, the beach enjoys azure sky, fresh air and crystal water with underwater visibility of 30 metres.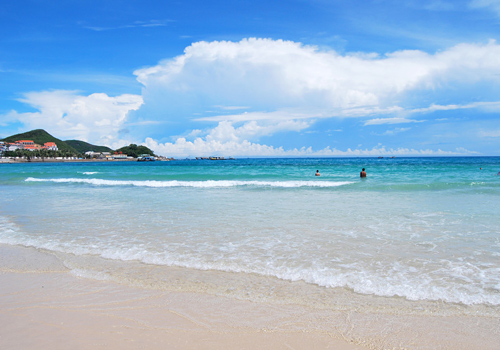 As the steady temperature in winter is about 18℃ to 22℃, Dadonghai Resort Area leaves visitors feeling as if they were embracing spring. It buzzes with activities: bathing, sunbathing, water sports and diving, and it has excellent amenities to support, including a large shopping square on the shore, amusement companies and a famous dive company where professional coaches are available. Besides, it is great fun to pick shells, dig for crabs, and build sand castles there! Dadonghai Resort Area, therefore, is chosen as "One of the Top 40 Attractions" by China National Tourism Administration.
Strolling 300 metres eastward leads visitors to Seashore Park. Standing in the pavilion on the top of a small mountain inside the park will give a panorama of Dadonghai Resort Area. Also, visitors can catch a glimpse of Egrets Park. In the midst of the park lies a lake which is a paradise of these loveable birds. Egrets are seen dancing and roaming here and there.
Nightlife of Dadonghai Resort Area
At sunset, fireworks come out and Dadonghai becomes an agreeable place, where nightlife is coulourful and varied. Along the beach, there are multitudes of sea bars, tea houses, KTVs, concert halls, nightclubs and restaurants that can offer you a wide range of specialties like fresh seafood. Thus, Dadongha Resort Area is said to be the only real nightlife area in Sanya.
A Comparison Among Dadonghai, Sanya Bay and Yalong Bay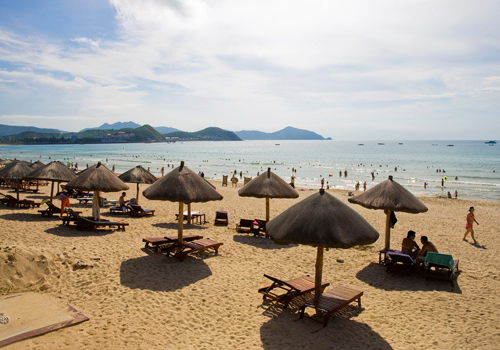 In terms of the scenery, seawater and sands, Yalong Bay is the best, with Dadonghai and Sanya Bay coming second and third.
As regards costs of accommodation, Sanya Bay is less expensive than Dadonghai and Yalong Bay, the latter of which is the most expensive.
With reference to traffic convenience, it is highly convenient to reach the airport, bus station and other attractions of Sanya from Sanya Bay, for it is closest to the downtown. As Yalong Bay is the fartherst, it is the least convenient among the three.
Tips:
Although Dadonghai Resort Area is open to the public, you'd better swim within the limits of the bay for the sake of your safety.