VOC's Travel BLOG
Our Travel Blog is the place to share our real life, travel experiences in China with you. Besides, we will provide information related to Chinese culture and China travel guide. "A bosom friend afar brings a distant land near." Traveling makes us to be closer, let's discover China together!
Because travelling is passion…
2011-07-01 | China travel Guide | Comments(0) Views(1979)
It all started on one afternoon when, sat on a bench at GXNU (Guangxi Normal University) having a juice with some Costa Rican friends, we decided to move away for the next coming weekend and leave – the though beautiful –
Guilin
city for one day or so with just a backpack and the unforgettable Lonely Planet guide to have fun. (I extremely recommend that guide, it helped me a lot since I started to travel in China 4 years ago!).
First looking to go to
Nanning
, capital of the Guangxi Zhuang Province located at 5 hours by train from Guilin, our choice oriented more and more to a city that we heard "worth a visit": Liuzhou (柳州). We chose to go to Liuzhou as, from Guilin, the city is located at just a 2 hours and a half distance by train, the train ticket being thus cheaper, and with a just 2-days weekend we didn't want to end up that far from Guilin. Leaving on Saturday morning, we arrived at Liuzhou by noon, time we rushed to the hostel we had selected on our guide, have some lunch and start our beautiful little journey discovering that city.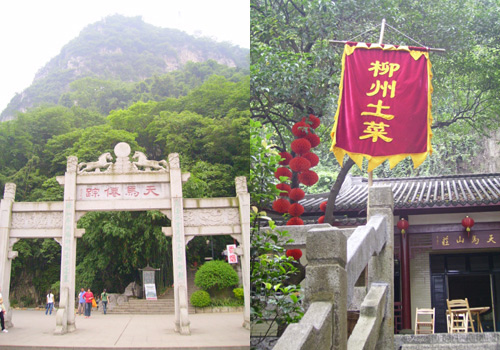 Our first visit started by the Yufeng Mountain Park situated near to the bus station. Mentioned as one of the must-see scenic spot of Liuzhou (maybe the rare one), the visit of that place started by climbing the Yufeng mountain (literally meaning the "Fish Mountain" for its looks like a standing fish) that resembles a lot like the other karstic mountains that we find in Guilin city (
Solitary Beauty Peak
,
Fubo Hill
, etc…). The climbing spent well, passing through some teahouses and other pavilions where old people were relaxing playing some Mahjong or music. But by arriving at the top, we found out to be all wet and tired due to the hot and great humidity that is current at that period of time in the region (around 30 degrees in May). Don't misunderstand dude: we are sporty enough!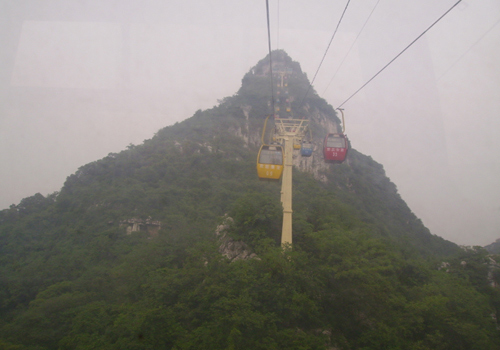 The top of that mountain was a discovery for us as we found out through the foggy vista that we could have a splendid (though really foggy) panoramic view over the city. Liuzhou has a kind of impressive architecture as the main heart of the city is actually looking like an island surrounded by the Liu River (Willow River) that is crossed by many bridges, forming like a sun. It has nothing to be compared to Guilin even if the city is also surrounded by typical karstic peaks. Guilin will still be one of the most beautiful places I've ever been, but the sight over this big industrial city was worth it. After taking some rest having some snacks and drinks calmly set on one side of the mountain, we finally ended up the Mountain Park's discovery by ridding a cable car down to the Ma'an Mountain located nearby. This was one of the scariest experiences I ever had in China. Looking old and rusty we were freaking out at the idea of entering that "metal box" and be in the air like that. But lazy enough to climb down the whole mountain, courage came over it and we finally entered that "boxes" for a 5 to 10 minutes ride that offered actually a pretty original view over the city.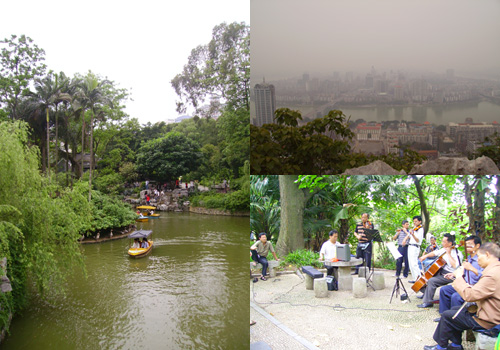 More an industrial than a tourist city, Liuzhou has nevertheless a good amount of parks and little lakes where people like to come meeting some friends, chatting or playing some music all together. By visiting one of the other parks of the city, we had the good surprise of meeting a group of musicians playing some instruments sat in the park and attracting the attention of all the visitors. What a great moment we had there. By seeing some westerners admiring them, they invited us to have some tea and discuss about what we were doing in China. Friendly and joyful, the moment was a lot of fun. This is exactly the kind of experience I like most here in China: some Chinese people are open-minded enough to come and discuss with you out of the blue like this in the street, just to make friend and discover the "Laowai" (老外, meaning the "old stranger" or "non Chinese person"). Finally the end of the afternoon finished by the visit of the Longtan Park located a bit more at the outskirts of the city (3 km). Lakes, kids attractions, bridges and lush vegetation were the only scenery we had there.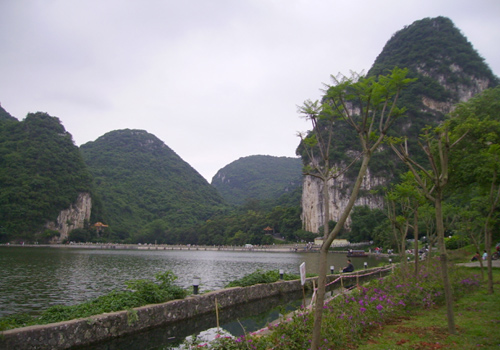 Relaxed enough to finish the day, we headed back to the city center to have some rest back at the hostel and meet some friends who were actually also having some time in the city the same weekend. Coincidence or not, that was the perfect occasion to meet all together and have some diner and party. Tasting the local spicy noodle and mushrooms, the last part of the evening finished in a bar with open view over Liuzhou. All shining and colorful, the lights were giving to the city a magic atmosphere.
About Liuzhou I would say that the city is not that much a tourist one (and fun) as just big parks make most of the scenic spots. However, those looking for some new experience should like to hang out in that city. Anyways, wherever where we are traveling in China, the journey is always worth it!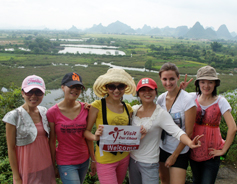 Calendar
Categories