VOC's Travel BLOG
Our Travel Blog is the place to share our real life, travel experiences in China with you. Besides, we will provide information related to Chinese culture and China travel guide. "A bosom friend afar brings a distant land near." Traveling makes us to be closer, let's discover China together!
My visit of Elephant Trunk Hill
2009-04-22 | Life in Guilin | Comments(0) Views(1111)
When I got up on Sunday, it was raining badly. This would keep me inside all day, I thought disappointed. But I was lucky: Weather in Guilin can change very soon! At 2pm the clouds had disappeared and the sun was shining warmly.
So I hurried up to buy some water (especially in spring and summer I advise you to always have one with you!) and take the bus downtown. Then I walked down the whole Binjiang Road, which is build along the Li River. Protected by lots of old, big trees, the view on the river is picturesque.
Many old Chinese people are sitting together, playing cards or instruments while watching what happens around them. Families and couples taking walks on the riverside and only few tourists around, I enjoyed this peaceful place a lot! After passing the People's Hospital, I reached the main entrance of Elephant Trunk Hill. The entrance fee was 33RMB per person; children who are shorter than 1,40m pay less.
When you enter, you directly have a view on the "elephant" drinking from out of the water. It is an adorable picture. Bamboo boat owners offer tours on the Li River and cormorants are sitting on branches. Young women in traditional clothes let you take pictures with them for a small amount of money.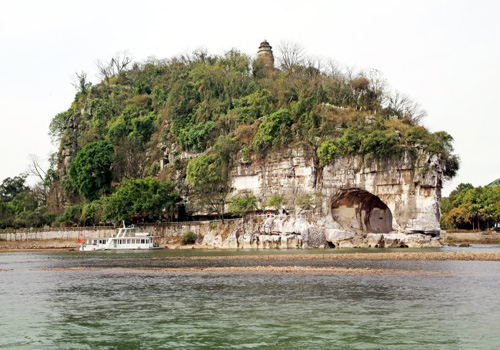 I followed the path to the hill, and crossed the bridge where the Peach blossom River is flowing into the Li River. From each perspective the elephant is looking different. Then I followed the signs to Yunfeng Temple. Only few parts of it are open to the public, but you can see Buddhas and there are always incense sticks enlightened. I went out through the back gate of it and followed the path through a little forest. Finally I found myself "behind" the elephant and facing Li River again. Down at the river many bamboo boats had docked and Chinese people were standing in the water for fishing. Soon I found the stairs leading to the top of the hill and the pagoda, of course. They are very steep and can be slippery, even if the weather is good. So I strongly recommend wearing good shoes when you plan to climb up. From top of the hill you have a good view on the city around you. Unfortunately I had to find out that the battery of my camera died when I wanted to take pictures up there...never forget to recharge your camera!
All I could do was walking around the peak and the pagoda, of course, trying to burn everything into my mind. After some time I went down again and headed to the round cave between the elephant trunk and the leg. Many people were sitting there, having a rest and taking pictures, or climbing up some stones.
As personally, I don't like those places when they are too crowded, I went back and sat down on a bench at Li River to relish the silent and peaceful place. For some time I continued walking around slowly. Then I passed the entrance into the direction of a side exit. I passed a small dancing presentation of an ethnic minority and crossed two bridges and the left the scenic area with a feeling of inner peace.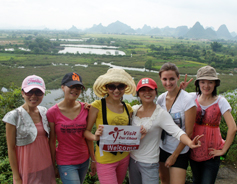 Calendar
Categories