A Visit of Seven Star Park
2009-04-14Life in Guilin
As I am living in Guilin for half a year now, I think I should get to know my cultural surrounding as well. So, last weekend I decided to go to Seven Star Park spontaneously. Compared to other prices, the entrance fee (35Yuan) is quite high. But already when I was walking along the flower bridge, I knew it was worth its money. I was faced with beautiful scenery: beautiful hills, the river and alleys. Everything was of a beautiful green. First I went to the old Qixia Temple, which originates from Tang Dynasty, and was overwhelmed by the Buddha statues and the silence everywhere. I found it a very peaceful place and took some time to have a rest. Unfortunately the only monks I saw were asleep. I would have loved to see them praying or practicing other things. The altars were emblazed and incense sticks were enlightened. All in all it was easy to forget the city outside and find some moments for myself.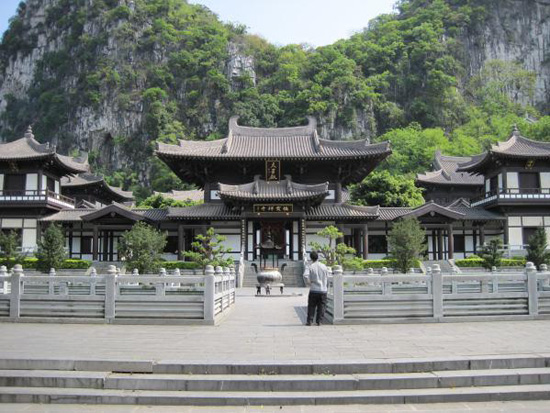 Afterwards I took the way back through the old fun park, which was a little bit weird. Because most of the attractions were old and not in use, I met few people and would not advice you to go there.
My next destination was the path along the Xuanwu Pavillion to Longyin Cave. At one part of the way you can walk up the hill via steps. While climbing them up I nearly wanted to return, because it was very steep, but finally I arrived in a small place where I saw free monkeys playing in the trees.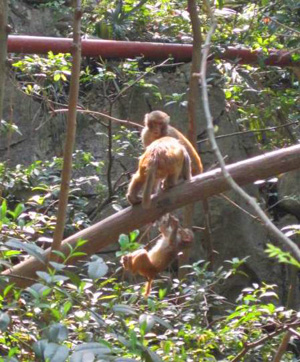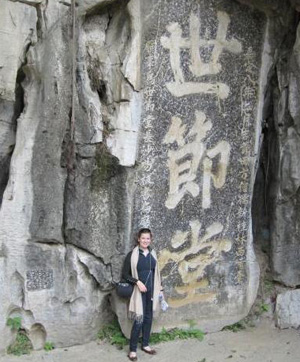 If you are a little fit you should definitely go up there. After returning to the path, I arrived at the path again and followed it until I came to Longyin Cave. The stone inscriptions are very beautiful and some of them very huge.
After I had returned to the center of Seven Star Park I passed Splendor of China into the direction of the ecological garden. The waterfalls were very beautiful and I enjoyed the pure green of the plants and the lakes. If you have some time, take some time to walk around them or maybe take a rest to breathe through.
Then I went to the zoo. Personally I was a little bit shocked, as it has not the quality of most European zoos. I mostly felt sorry for the animals in the small, dirty cages and would not go there again. But I strongly recommend the "Panda Hotel" which is completely new and a nice place for them to stay. It is outside of the zoo, with a huge garden and trees. They are really cute creatures, and especially children will love them!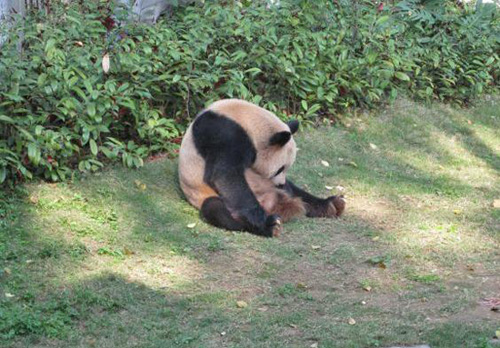 On my return I finally went to camel hill. Bill Clinton held a speech in front of it in 1998, which made it very famous. Amazingly it really looks like a camel which is taking a rest in Seven Star Park.
Seven Star Park is very big and if you have the chance you should take your time to enjoy all the sights it provides. Also a rest in one of the many meadows is quite nice. To let children play, have a conversation or read a book – everything is possible. At that day I did not visit Seven Star Cave, as it was too late. But I will do that when I go there next time.

--- By Susanne (VisitOurChina)
Comment