VOC's Travel BLOG
Our Travel Blog is the place to share our real life, travel experiences in China with you. Besides, we will provide information related to Chinese culture and China travel guide. "A bosom friend afar brings a distant land near." Traveling makes us to be closer, let's discover China together!
One Day Rural Life Experience Tour to Lipu of Guilin
2010-11-18 | Life in Guilin | Comments(3) Views(1651)
Although it had been winter time in China, the climate of Guilin was still temperate, ranging from 28 degree centigrade to about 12 degree centigrade. Long heard about Lipu, which was renowned for its huge and delicious Lipu Taros, we decided to have a rural life experience tour last weekend.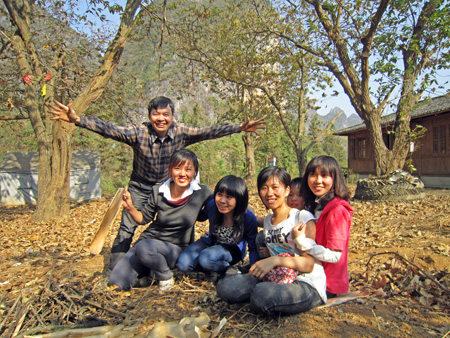 The destination of out trip is the farmland near Silver Cave of Lipu, 85 kilometers to downtown Guilin and 20 kilometers to Yangshuo Town. We set off from Guilin from 8:30 and took about two hours' bus transfer there.

The farmland with various crops seemed lovely and our task in the morning is to digging some taros out by the tools we've prepared, happy laboring time from 10:30 to 12:30. The taros are grown under the ground with a large parent taro and a few small ones. You can not see them from the above, so you can explore by yourself and get the surprises later!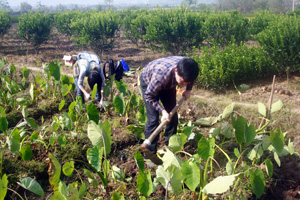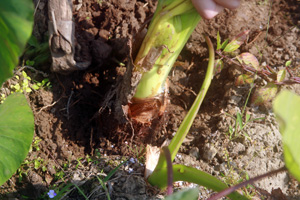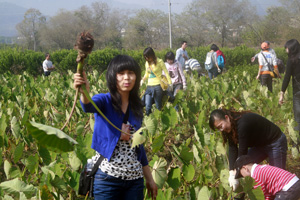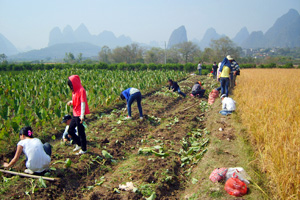 The hard work enables our stomach to have a good disgust, and everyone was exciting to have the authentic Lipu farm meals. Hotpot Chicken with Taro, Braised Pork Slices with Taro and Sugar Taros taste wonderful!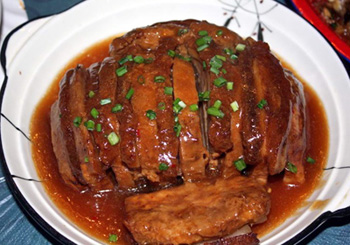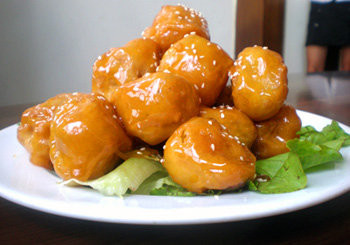 It was already 13:40 after lunch and the interesting sweet potato baking was waiting for us in the afternoon. It was my first time to try baking sweet potatoes by making kiln. Firstly, we dug a hole in the ground and then put up a hill-like kiln by using mud stones, which was really a "technical" team work. If one stone moved, the whole works may collapse. There should be a hole left both at the bottom and on the top.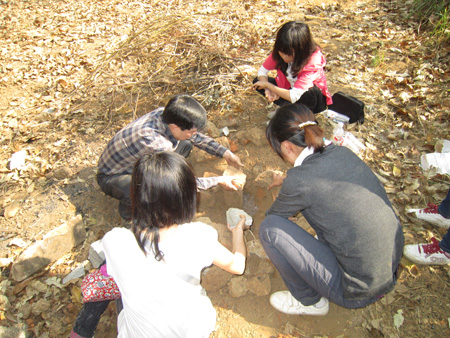 After completing the kiln, it was time to burn woods under it. The mud stones were first turned to black and then red, then it was the time to stop burning it. After the fire died down, we threw the prepared sweet potatoes and chestnuts into the kiln and broke the mud stones into pieces to cover the potatoes so the fire could bake them well.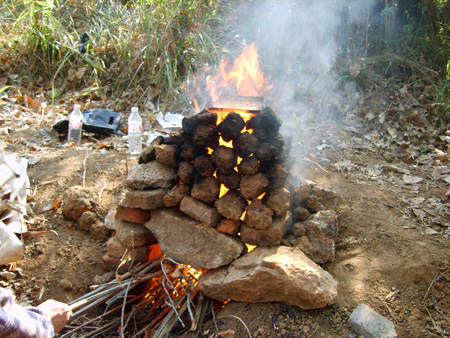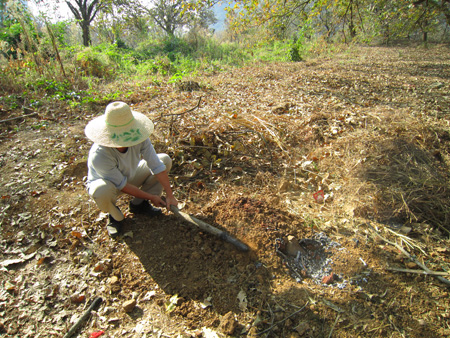 Finally it was time to taste our baked potatoes after about 20 minutes' waiting. I guess you are smart enough to know how to get it out, yes? You should "explore" the baked potatoes by moving the dusts aside. Wow, fruits of labor!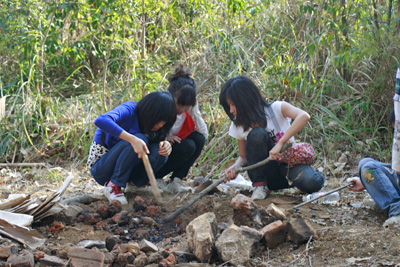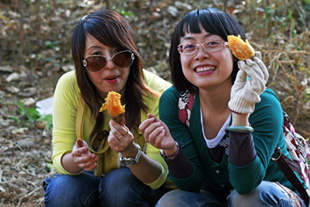 It is our special rural life experience tour. If you are interested, you can contact and join VisitOurChina. And there are tips for you:

1. There are also other crops to dig out and bake and you can bring what you dig out home without extra charge.
2.
Please bring your tools and some drinks.
3.
Do not wear "good" clothes because of the field condition.
4.
Please take rubbishes away.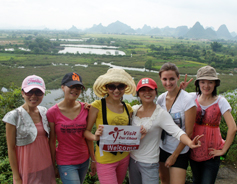 Calendar
Categories