Zhangjiajie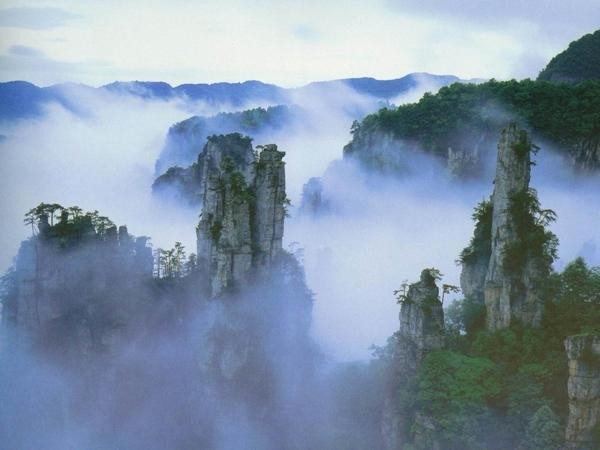 Zhangjiajie in brief
Zhangjiajie is a prefecture-level city located in the northwestern part of Hunan Province. Lying at the very center of China, Zhangjiajie is a relief for any traveler looking for some natural sceneries of grandiose beauty. The city, also known under the name of "Dayong", is famous for its Wulingyuan Scenic Area ranked on UNESCO World Heritage Sites list. Zhangjiajie comprises two districts (Yongding and Wulingyuan) and two counties (Cili and Sangzhi) and has many wonderful scenic spots such as Zhangjiajie National Forest Park (especially Yuanjiajie and Huangshizhai), Suoxiyu Nature Reserve, Tianzishan Nature Reserve, Tianmen Mountain, Zhangjiajie Grand Canyon and Yangjiajie Scenic Area. It enjoys a monsoon humid semi-tropical climate that can explain the lush vegetation growing there: karst upthrusts, waterfalls, limestone caves and rivers where hundreds of rare flora and fauna species live all together in a harmonious way make the delight of any botanists or just lovers of natural sightseeing! The place is also home to some ethnic minorities such as the Tujia, Miao and Bai, who still live in a traditional way and boast with a rich agricultural production of rice, cotton and tea. That's really typical Chinese scenery for travelers to look for some large-scale spaces and lush sceneries.
History of Zhangjiajie – From cast-off status to grandiose UNESCO World Heritage Site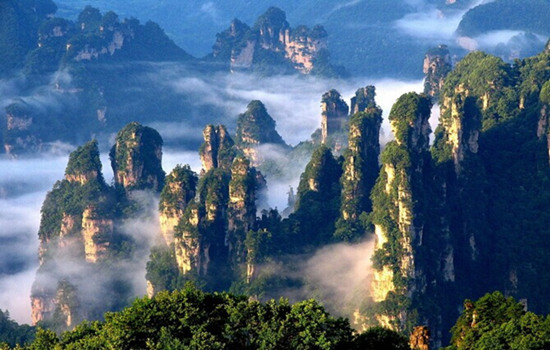 Zhangjiajie's history has been already traced back to 221 BC when it was still called "Dayong". Just seen as a remote and inaccessible place in ancient times, the first human traces in the area have been registered about 100,000 years ago. Like that in many places of China, a legend has developed around the idea that a lord of the Han Dynasty (206BC– 220AD) who used to live isolated there was buried at the foot of the Qingyan Mountain, now known as Zhangjiajie Mountain. This is only since 1994 that the place is known under the name of "Zhangjiajie". Indeed, the increasing fame of the area's lush natural sceneries following the 1992 ranking of Wulingyuan Scenic Area to UNESCO World Heritage Site list had to revise the surrounding cities.
Zhangjiajie nowadays – A tourist scenic area and jewel of natural resources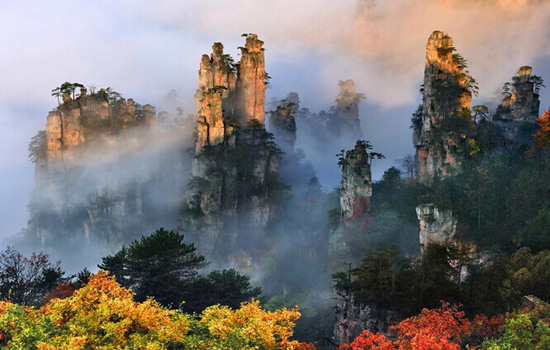 Nowadays, Zhangjiajie is a high tourist place among the top highlights and sceneries of China. The diverse typography of the place erected it as one of the most gorgeous landscapes in the world. Filled with more than 300 different sightseeing, touring Zhangjiajie during a China tour is the best way to come back home with amazing pictures, souvenirs and sweet memories. Apart from the natural sceneries surrounding the place, travelers to Zhangjiajie would also appreciate to discover the ethnic minority and their traditional way of life. Discovering Zhangjiajie is a unique experience for who want to see the beauties of China's natural diversity. Between hikes and cable-car ascents, Zhangjiajie is a real expedition for lovers of large-scale and authentic nature. Yellow Dragon Cavern, Tianzi Mountain, Tianmen Mountain, Zhangjiajie Grand Canyon, Baofeng Lake, Wulingyuan Scenic Area...Zhangjiajie is a jewel of geology and biodiversity during your China trip!