Zhangjiajie Grand Canyon Scenic Area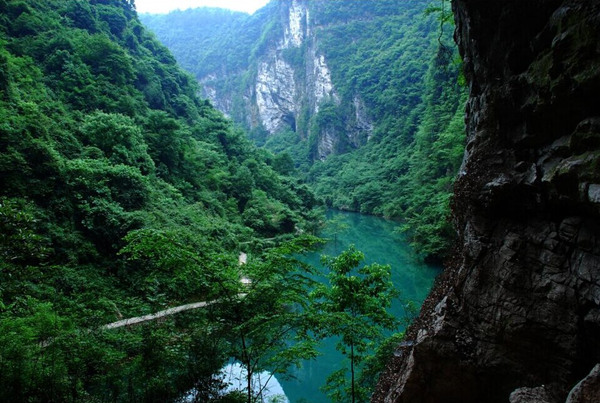 More Photos
Chinese name:
张家界大峡谷(Zhangjiajie Da Xia Gu)


Location: Sanguansi Village, Cili County, Zhangjiajie City. There is around 54 kilometers between the Grand Canyon and the downtown of Zhangjiajie City. The driving time is about 1 hour and 22 minutes.


Entrance fee: CNY118 per person


Opening time: 07:30-17:00
How to get there: There are coaches from Zhangjiajie Central Bus Station to Zhangjiajie Grand Canyon, the price is about CNY17. Get off at exit of the Canyon, and switch into a scenery shuttle bus to the ticket office.



Introduction of Zhangjiajie Grand Canyon
As a newly developed tourism destination, Zhangjiajie Grand Canyon Scenic Area is located in Cili County of Zhangjiajie City and just nearby Wulingyuan Scenic Area where is a listed World Nature Heritage. It is said that the canyon formerly had two names, one is "Canyon of Broken Boats" due to long ago many mysterious broken pieces of boats flowed out from the spring source of the canyon; the other is "Canyon of Miscellaneous Springs" because on both precipices of the canyon there are lots of impressive waterfalls.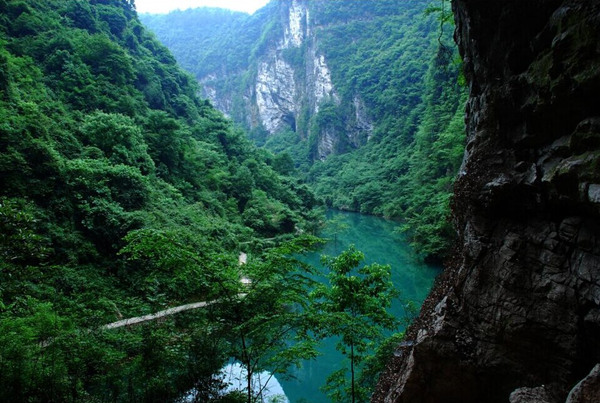 A clear stream runs through the canyon, and a wood-built path extends along the stream. Besides the amazing nature scenery, visitors can also find historical and cultural landscapes here, such as the "Thousand Tombs Site" which was the battlefield in ancient China's Ming Dynasty, the "Bandits' Caves", and the "Red Flag Canal in South China" dug between precipices by the people of western Hunan Province in the early days after liberation.
Touring in the Grand Canyon needs more than 2 hours walking.
What to see in the Zhangjiajie Grand Canyon Scenic Area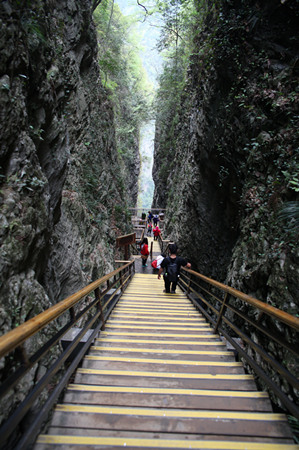 Sky Ladder
The first part of the walking path is called "Sky Ladder" because of the steep slope and narrow path here. When you walk down the ladders and look ahead, you can only find a part of the sky which is as narrow as a string.
Village of King Wu' Slope
After walking down the "Sky Ladder", visitors' visual field become wide and can see the whole opposite precipice. Behind this precipice is the famous "Village of King Wu' Slope", also called "Thousand Tombs Site", where once was the battlefield of the peasants' uprising troop led by Li zicheng and ancient Ming dynasty troop led by Wu Sangui. Finally peasants' uprising troop lost the war. For Wu Sangui was titled as "King of Conquering West" by the Emperor in Qing dynasty, this place thus was called "Village of King Wu' Slope".
Cracked Rock Wall
On the left side, there is an enormous rock wall and a big crack almost divides it into two parts. As the spectacular landforms of the Zhangjiajie Grand Canyon was formed, the cracked rock wall was also the result of crustal movements hundreds million years ago and years of water erosion, cutting, and joint development.
Husband Following his Wife
It is a huge rock "arrived by sudden", and looks like a strong man of Tujia minority. A big stone embedded on the right precipice vividly looks like a woman' head. So this scenery is called "Husband Following his Wife".
Thousand Year-aged Vine
In the Zhangjiajie Grand Canyon Scenic Area you can fully enjoy the six wonders of Zhangjiajie--mountains, waters, stones, clouds, plants and animals. Here you can also see a cliff is almost fully covered by a thousand year-aged vine, the diameter of main truck of which exceeds 38 centimeters.


Red Flag Canal in South China
On left side of the walking path, there is a man-made canal which extends more than 10 kilometers. The construction of this canal began in 1964 and finished in 1971 with the width and depth one meter respectively. This canal is a great water conservancy project built along rock precipices and irrigates rice fields which dotted among mountains.
Charcoal Kiln Site
Long ago the brave ancestors of Tujia minority people already lived self-sufficiently inside this Grand Canyon. On right side of the walking path, there are three charcoal kilns lying in array, which show us the diligence and wisdom of the Tujia people.
Bandits' Caves
In the scenic area you can find many "Bandits' Caves", because of the special geographical location of Zhangjiajie and other social factors, bandit groups deeply rooted here for hundreds years. The last gang of bandits was broke up in 1965 after the foundation of People's Republic of China. Many movies and TV play series told the stories of bandits here.
Besides the natural scenery and historical landscapes in the scenic area, there are two newly man-made projects in the Grand Canyon.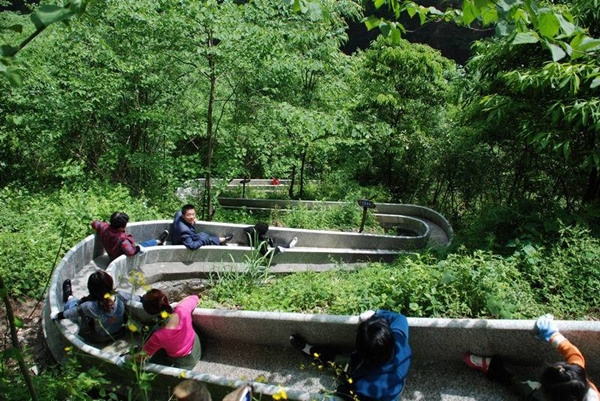 Granite Slide-way
This slide-way has a length of 600 meters and links the scenic spots of "One Line Sky", "Red Flag Canal in South China" and "Plank Road at the Bottom of Canyon". It has a depth of 45cm and width of 50cm, can shorten the walking time 20 minutes.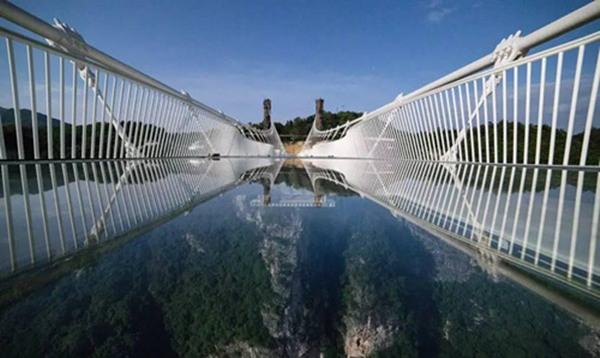 Zhangjiajie Grand Canyon Glass Bridge
Also called Yun Tian Du (literally means "ferry crossing in clouds"), it is the highest and longest glass bridge in the world, attached with a bungee jumping platform in the middle of the bridge. This bridge stretches about 430 meters across the canyon with a dizzying height of some 300 meters above the impressive Zhangjiajie scenery. It is really a challenge to people.


Quick Questions
Our team is waiting for your questions. Please feel free to ask us any questions you might have about our China package tours, Chinese culture, or the sites available. We will gladly help you with any special needs you might have and all questions, like our trip designing is completely free of charge.