Ten-mile Natural Gallery

More Photos
Chinese name:
十里画廊(Shi Li Hua Lang)
Location:
In the Suoxi Valley Natural Reserve which locates at north-east part of Wulingyuan Scenic Area
Entrance fee:
included in the main gate ticket of Suoxi Valley Natural Reserve, CNY 248 per person
Opening time:
07:00-18:00
Best time to visit Ten-mile Natural Gallery:
spring and autumn
How to get there:
Can take No.7 or No.9 bus in the downtown of Zhangjiajie to the main gate of Suoxi Valley Natural Reserve.
Introduction of Ten-mile Natural Gallery in Zhangjiajie
Ten-mile Nature Art Gallery is a 5.8 kilometers long valley which is the essence of Suoxi Valley (or Suoxiyu) Natural Reserve. There are dense woods, fragrant flowers and grotesque rocks in this valley where like a natural art gallery. Over 200 rocks vividly mimic different profiles of human and animals standing in arrays on both sides of the walking path extending deep into the valley. Also, many natural pictures were formed on the precipices and like paintings hanging on the cliffs.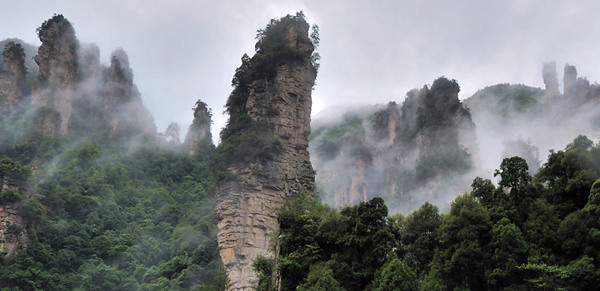 What to see in the Ten-mile Natural Gallery Scenic Area
Longevity Man Greeting Visitors
This is the first charming sight when you walk into the valley. A stone peak looks like an old man waving his hand and warmly welcome guests from all over the world.
Herb Collecting Old Man
This stone peak looks like an old stooped man carrying a bamboo basket of precious medicinal herbs on the back and happily walking back home.
Immortals Worshipping Guanyin (a Bodhisattva)
Not far away from the "Herb Collecting Old Man", look right side upward, you can find a towering peak which vividly looks like Guanyin sitting cross–legged on the mountains. And 19 fairies stand quietly aside and make deep obeisance to her begging her mercy for this world, blessing people happy life.
Conch Peak
When you walk to the bottom of the valley you can see a peak, the top of which shapes like a conch vividly. It was said the top commander of Tu minorities' uprising troop had once used this maneuvered his men against enemies.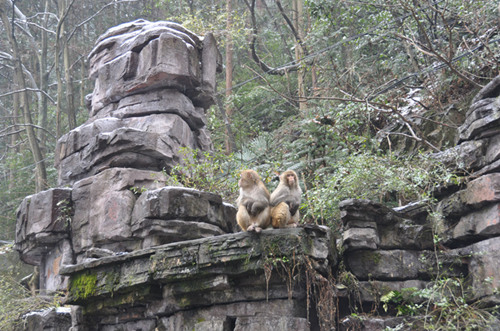 Monkey Slope
Here you can see lots of monkeys, which play leisurely and amuse the visitors. Don't worry the aggression of monkeys if you keep an appropriate distance with them.
Ferocious Tiger Roaring
Extend your eyesight toward western direction, you can find two linked peaks. One is high and the other is low, they range from south to north and look like a ferocious tiger roaring to sky.
Holding the Child
In the valley there are three stone peaks standing closely, vividly like a harmonious family. The left one is higher, looks like a man, while the right lower one is like a woman and the middle dwarfed one looks like a child. These three vivid stones convey visitors a current of love.
Mouse Watching the Sky
Diagonally opposite to "Ferocious Tiger Roaring", there is a stone peak like a mouse looking up to sky with two erected ears. What does this "mouse" want to know is a mystery.
If you think 5.8 kilometers is too far for you, you can choose a small tram instead of walking. The tram runs the same route as walking path.
Quick Questions
Our team is waiting for you questions. Please feel free to ask us any questions you might have about our China package tours, Chinese culture, or the sites available. We will gladly help you with any special needs you might have and all questions, like our trip designing is completely free of charge.