Lijunsheng Sandstone Painting Museum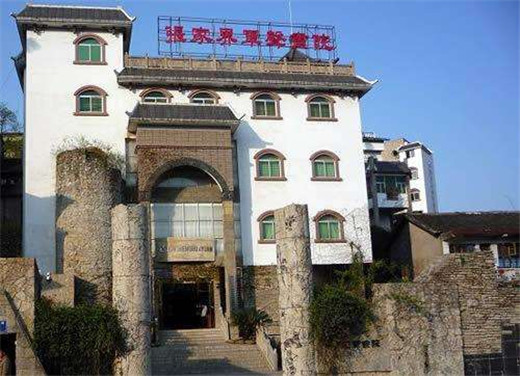 More Photos
Chinese name: 军声画院
Location: Downtown Zhangjiajie, Hunan Province
Best season to visit Lijunsheng Sandstone Painting Museum: all year round

Introduction to Lijunsheng Sandstone Painting Museum
Located in the urban area of Zhangjiajie, about 35 kilometers from the Wulingyuan Scenic Area, Lijunsheng Sandstone Painting Museum was founded by the painter Li Junsheng in 2001. It is a thematic exhibition hall displaying sandstone paintings.

With a solid foundation in fine arts, Li Junsheng conducted an in-depth and regressive exploration of the art of painting by using natural materials such as sands, stones and plants as the raw materials for his painting creation, and created a new type of painting -sandstone painting. Sandstone painting has the charm of Chinese painting, the freshness of watercolor painting, the dignity of oil painting, the delicacy of craft painting, and the stereoscopic sense of semi-reliefs. It enjoys the reputation of "green painting" and "environmental painting" because it is based on nature. Sandstone painting is the admiration of nature and perception of life. It is the accumulation and precipitation of the painter's art. This kind of painting not only made a breakthrough in the field of traditional painting, but also had a profound impact on the painting world. The museum mainly displays the creation process and the art treasures of sandstone painting that its founder Mr. Li Junsheng has been studying and exploring for decades. In the exhibition hall of nearly 1,000 square meters, the "Lijunsheng sandstone paintings" painted with Zhangjiajie's unique natural colored sand stones and plants use artistic techniques to show beautiful landscapes and local customs. Through this window of art, visitors can not only see a more beautiful Zhangjiajie, appreciate the wisdom of the Tujia people, but also bring home sandstone paintings that show the beauty and culture of Zhangjiajie as collections.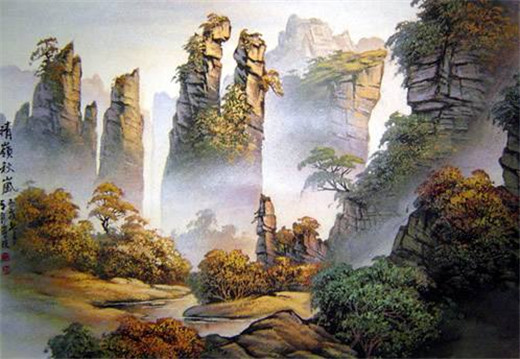 Li Junsheng's sandstone painting belongs to a mixed media art. Collage or mixed media is commonly used in western modern art. In the early 20th century, modern western painters such as Picasso began to experiment with collage on canvas with various materials. In the middle of the 20th century, the French painter Dubuffet coated the surface of the canvas with sand, clay, plaster, glue, asphalt and other materials; the Spanish painter Papies used a mixture of sand, slaked lime, glue and other materials for painting; Pollock, an American painter, was inspired by the "sand painting" of the Native Americans and dripped paints mixed with sand, glass fragments and other materials on the canvas. These are typical western modern mixed media art. Li Junsheng's sandstone painting, however, is not embezzlement or imitation of western modern mixed media art, but a unique art he discovered with his own aesthetic perception. It is a modern art native to China. Li Junsheng's works are rich in Chinese local artistic characteristics, especially the Zhangjiajie features.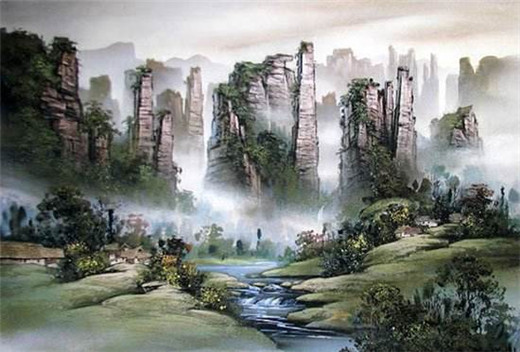 Based on the cultural concept of "simple, natural and innovative", Lijunsheng Sandstone Painting Museum combines art with market, culture with tourism, and has made certain contributions to the tourism of Zhangjiajie.
Four patents of Li Junsheng's sandstone painting
Patent one: colorful sandstone painting technique
Lijunsheng's colorful sandstone paintings made by this technique are more colorful, beautiful and practical than the previous ones.
Patent two: portable sandstone painting technique
Lijunsheng's portable sandstone paintings made by this technique have solved the problem that a large number of tourists are inconvenient to carry the heavy paintings, so as to meet the needs of different tourists and facilitate the sale of sandstone paintings to the world.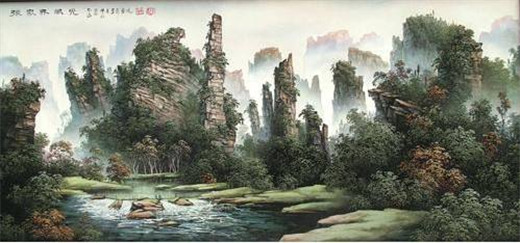 Patent three: sandstone painting technique for doors and windows
The sandstone paintings for doors and windows made by this technique are more simple and elegant, having certain participation and fun.
Patent four: implicit painting technique
Lijunsheng's sandstone paintings made by this implicit technique fully utilize natural materials to show the art of sandstone painting, giving people a feeling of returning to simplicity, and bringing the art of sandstone painting to a new peak.
Quick Questions
Our team is waiting for your questions. Please feel free to ask us any questions you might have about our China package tours, Chinese culture, or the sites available. We will gladly help you with any special needs you might have and all questions, like our trip designing is completely free of charge.