Lost Train Ticket Tips
China domestic train tickets can be reissued if passengers lose them. Below are the steps for reissuing and reimbursing.
●

1) Passenger should register the lost ticket at ticket window before the end of the ticket issuing, which varies from 5 to 15 minutes before departure at different stations. These material/information are required for this procedure: the valid ID certificate( your passport or Mainland Travel Permit) used to buy the original ticket, name of the station issued/collected the original ticket, departure date, train number, name of departure and arrival stations.

●

2) After the railway staff checking your material/information, you need to buy a new ticket which with the same train number, class of seat and price as the lost ticket. The new ticket will be remarked with Chinese words indicating "replacement".

●

3) When get on the train, report the lost ticket to the conductor. After he/she checking your new ticket and valid ID certificate, and find your lost ticket has not been used before arriving the destination station, the conductor will provide you a voucher. Keep the voucher well.

●

4) After disembarking within 24 hours, passengers should hold the voucher together with the replacement and the valid ID certificate to refund the cost of the replacement. The service fee CNY 2 will be charged by China Railway Corporation, and the replacement and voucher will be taken back by them.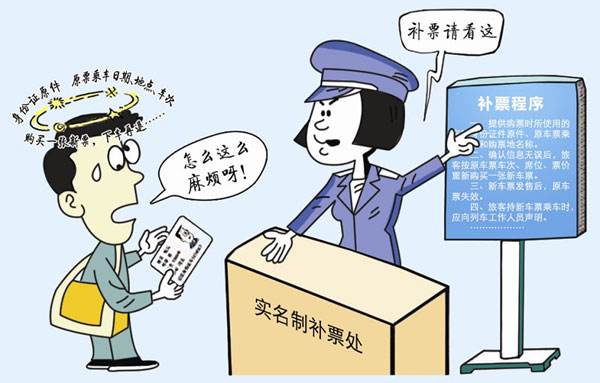 Lost International Train Tickets
Please pay attention that international train ticket (including that to or from Hong Kong) can't be reissued if you lose it. You can't get any refund either. If you lose an international train ticket you have to book a new ticket and pay the full price again.