How to Collect Train Tickets
Please be noted boarding China trains requires paper tickets, and there is no e-ticketing or on-train ticketing. So after you booking China train ticket online, you need to collect it to board the train. But if you booked train ticket with VisitOurChina at least 7 days ahead of departure time, we can deliver the train ticket to your hotel or appointed place which can be reached by express. Instead, you need to collect the ticket by yourself at train station.
What Need to Collect Train Tickets
1. Right train collection number
After booking China train ticket with VisitOurChina, you will receive the train collection number as well as the information about the train including the train number, seat class, departure & arrival time and stations by email. Keep the collection number and bring it with you when you go to train station to collect the ticket.
2. Right passport
Make sure to collect the train ticket(s) with the passport(s) which you used to book it/them. (*The passport used for booking train ticket should be the same one for collecting the ticket and boarding the train. If you make the booking with an old passport and have the passport renewed later, you will be rejected while collecting ticket with the renewed passport.)
When Should Collect the Tickets
It is always very busy and full of passengers at train stations in China. If it's your first time to collect train ticket in China, or your schedule is tight on your day of departure, you are suggested to collect ticket well in advance, say, one day before your departure if possible.
If you have to collect your ticket on the day of departure, you are suggested to arrive at train station at least 2 hours before train departure, as there may be long queues for tickets collection, security check, and check-in procedures.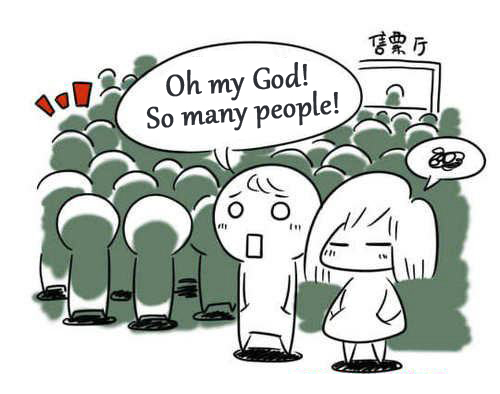 Where to Collect Tickets
You can collect your booked tickets at any train station in mainland China. If you have booked multi-trip tickets, you are suggested to collect all of them at the station in your first departure city to save time though a service fee of CNY5 per ticket will be charged by train station to collect tickets of trains departing from other cities. Please be informed this service fee is not included in VisitOurChina's booking service charge and you should pay it in cash in spot.
Please pay attention in many cities there are more than one railway station, we recommend you collect tickets at the nearest station, or the one which can be easily got at if you collect ticket in advance. But if you choose to collect ticket on your departure day, please collect it at your departure station to avoid missing train.
Tips: Facilities of Train Stations
Square
A square often lies in front or at the rear part of a railway station, where bus stops, taxi stands, subway (if available) and coaches are distributed in or around. Moreover, there are generally shops, restaurants, vendors, hotels and public toilets available around. A square sometimes served as an outdoor waiting room, as it is filled with travelers before being admitted into the building, especially during China public holidays.
Station Building
• Ticket Windows: ticketing hall generally can be easily found near the entrance of the building. There are electric screens showing ticket information. Self-service ticket machines are also available at most China train stations, but please note they only recognize Chinese IDs and cannot print online bookings for foreign passengers. So you must go to the ticket window to collect it. There are many ticket windows for different functions. Passengers can buy or collect train tickets at most of ticket windows. There are, however, few ticket windows used for ticket change, cancellation, or endorsing. Do find a window displaying Chinese characters 售票 (selling tickets) or取票窗口(collecting tickets), which will save you much time.
• Entrance & Exit: the entrance is usually central to the building. There will be railway staff checking the tickets. A moving conveyor belt and a metal detection door are installed at the entrance for security check. The exit usually leads to the city's public transportation.