How to Buy Train Tickets in China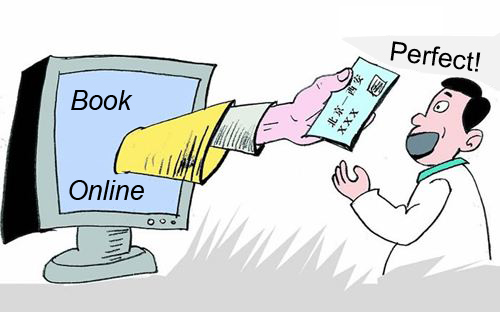 China train tickets can be bought:
●

1. Through online travel agency like visitourchina.com

●

2. At train stations or ticket outlets in mainland China

●

3. On official website of China Railway Corporation 12306.cn

●

4. By calling the official hotline 95105105
Valid ID certificate is required for buying China train ticket.
Foreign Passengers: passport
Hong Kong, Macau and Taiwan Passengers: Mainland Travel Permit
Note:
* The pre-sale time of China train tickets has been adjusted to 30 days for online or phone booking, while 28 days for buying at train station or ticket outlet.
You are suggested to book tickets as early as possible, especially when your tour date coincides with public holiday in China, such as the National Day holiday (October 1st to 7th) and Chinese New Year (usually during the end of January and the beginning of February).
1. Booking at visitourchina.com
●

*Friendly booking system and easy booking steps

●

*Ticket delivery service

●

*Low service fee charged
Book China train tickets hassle-free on visitourchina.com, it will save your time and money. All inquiries will be handled by VisitOurChina's experienced trip advisors to ensure you a best service.
Search for train schedules and prices now!
Tips: China railway ticketing system does not allow selecting seat while booking online, which may cause passengers in the group travel in different rows or even different carriages. But we will try our best to get the adjacent ones.
▶ Booking Steps with VISITOURCHINA.COM
●

Step 1: Choose a train and book online, you will receive a prompt response

●

Step 2: Forward the payment then you will receive a confirmation email

●

Step 3: Collect the tickets at a train station by yourself with our instructions, or we deliver the paper tickets to your hands by express
2. Buying Tickets Directly at a Train Station
◆Advantages:
There is no need to sign up for an account.
You don't need to take the risk of using Internet banking for payment.
◆Disadvantages:
There are Chinese-speaking staff members only at most of train stations.
There are usually very long queues.
When you arrive at train station, tickets maybe sold out, especially for popular destinations or in peak tourism seasons.
3. Online Booking at www.12306.cn
This is the official website of the China Railway Corporation, it is
●

1) easy to find out how many tickets are left

●

2) no booking fee
But below are several points you need to know:
●

1) Chinese website only, language barrier

●

2) have to register with a phone number based in China

●

3) online payment must be done within 30 minutes with a Chinese banking card.
Thus it is not recommended unless you have Chinese friend to help you.
4. Booking by Calling at 95105105
It is the official reservation hotline with a pre-sale time of 30 days, and convenient if you didn't have a network bank. However, below are several points you need to take note of
●

1) unable to see if any tickets left

●

2) you must have good Chinese listening skills as only Chinese is spoken

●

3) be prepared to write down the booking number and keep it safe

●

4) must collect ticket within 24 hours at a railway station, otherwise the booking will be cancelled.