Happy Valley Makes You High
created: 2010-07-07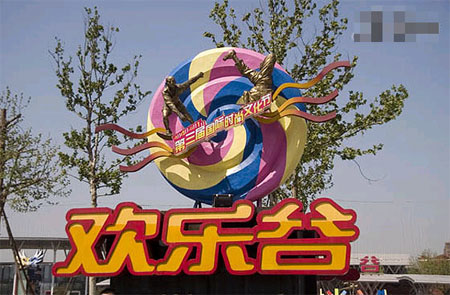 Happy Time Zone, the seventh theme area at the Happy Valley amusement park, has opened this month. With seven theme areas, the amusement park offers nonstop entertainment for both adults and children. Here we will introduce some of its attractions.
A Trip to Brilliant Ace Facilities
Five of the world's top entertainment facilities have been introduced in the Happy Time Zone.
There is an ejection-style roller coaster, which is the highest ride of its kind, and the only Formula 1 racing car-style in China. It gives visitors the genuine experience of racing an F1 car.
Visitors also can try a popular midsized entertainment facility. Those who ride it will unpredictably rise and fall and spin at a height of about six stories. Some other rides evoke surfing or flying.
A Feast of Chinese and Foreign Shows
Happy Valley features a variety of fascinating parades every day, which are the best in north China in terms of the number of floats, actors and special effects. With an effective mix of fixed-location performances, interactive shows and carnival passion, visitors are often spellbound and stay for hours.
Throughout the day, visitors have constant fun watching performances from different foreign cultures. In addition, there is a nighttime parade every evening with fashionable, luminous floats, passionate music, and fantastic light displays.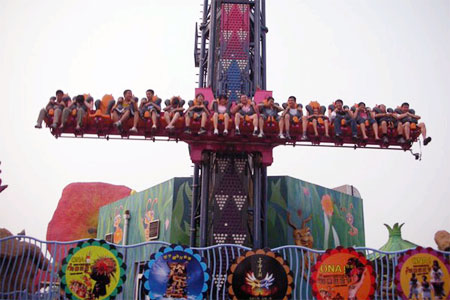 A Collection of Chinese and Foreign Delicacies
Happy Time Zone restaurants offer Chinese cuisine and will introduce two or three new dishes and healthy soup every week. The Ant Restaurant, a complex filled with cartoons and fashion, offers a variety of flavors that will satisfy all. There is also a convenience store with an American style ice-cream buffet.
Touch on Advanced Car Culture
Here, visitors can play simulated racing games and look at the new car models and their features. With seven theme areas, Happy Valley is quite huge. Here are some tips that may help you have an enjoyable visit.
1. Clothes: You may want to wear athletic shoes because of long walking distances and the long lines inside the amusement park.
2. Things to buy: When you go to Happy Valley, be sure to take a raincoat to wear on the flume ride. If you forget, you can buy one at the amusement park, although it will be expensive. You also should carry some water and food with you if you don't plan to eat at one of the pricey restaurants inside the amusement park.
3. Pre-visit preparation: Check the amusement park's website: http://bj.happyvalley.com.cn/ for special activities, updates and announcements.
4. Transportation: Happy Valley is located at North Xiaowuji Road and the eastern Fourth Ring Road in Chaoyang District. If you plan to take public transportation, you should take subway line 4 to Sihui station and get a taxi from there.
5. Opening hours: In summer, 8:30 a.m.-10 p.m.
1) Visitors who want to get on some of the rides might like to go to the amusement park on weekdays when there are shorter waits in line. 2) Visitors who wish to see some shows may want to go to the amusement park on Saturday and Sunday. 3) Visitors who want to enjoy special carnivals should go to Happy Valley on holidays.
Tickets: Summertime: 180 yuan for adults, 140 yuan for students. Wintertime: 120 yuan Nighttime (6:30 p.m.-10 p.m.): 60 yuan

Recommended China Guide: