Tibet's Medog County Restricts Tourist Arrivals
created: 2013-11-15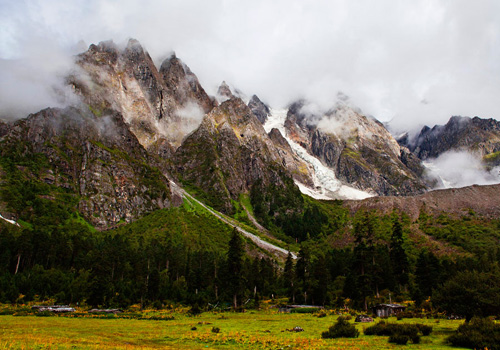 Medog County in Nyingchi Prefecture of Tibet is the last county in China to gain road access to the outside world
Local authorities in Medog County, the last county in China to gain road access to the outside world, announced on Nov. 13 that it would decrease the number of tourists to fewer than 15,000 annually by 2015.
A highway linking Zhamog Township, the county seat of Bome County, and Medog in Nyingchi Prefecture in southeastern Tibet opened in October, putting an end to the isolation of a region once dubbed the "secret lotus."
The county government of Medog published a document on establishing a better tourism industry following the opening of the highway, which has attracted the interest of tourists worldwide.
Official statistics show that the region saw tourism arrivals of 29,900 from January to July this year, bringing total revenues of 6.57 million yuan (about 108,000 U.S.dollars).
The director of Medog County's tourism bureau said the number of tourists annually will be restricted to under 15,000 by 2015 in order to better protect the region's ecological environment.
The government will preserve the nature and cultural landscape as well as explore a new route for hikers, according to the document.
Meanwhile, more than 100 local families will be involved in the tourism industry, and infrastructure will be greatly improved by the end of 2015.
-News from Xinhua
Recommended China Guide: