Comment on our service from
James CopassII, USA
We had a wonderful trip to China, and enjoyed all of our itinerary very much. We will recommend you to others planning a trip to China, without hesitation.
Good evening Sissi,

Thank-you for your letter! We miss you too!

It is almost 5pm here in California, Thursday, and about 10 C outside, a little cold, and colder at night. Winter is coming here very soon. My wife Jing, started to get sick in Shanghai, and worse on the flight home. Just a bad "Cold" and not the Flu. She is better today, but going to see her doctor tomorrow. I was beginning to feel ill myself, our last day in Guilin, but whatever it was, I fought it off. The flight home was long, and going through Los Angeles, and the 3 hour drive home in the rental car, made an exhausting journey. Jing has been sleeping many days now, and I am still on "China" time. Soon the "Jet Lag" will be gone...

We had a wonderful trip to China, and enjoyed all of our itinerary very much. Sissi, you did an excellent job organizing, arranging our tours in the 4 cities with guides services and private cars, and selection of our Five-Star Hotels.

The hotels were generally excellent, and buffett breakfasts very good, especially our highest ratings to the Hyatt Regency Xian and Sheraton Guilin. All the rooms were quite good, except I should have changed room at the Hyatt Xian, due to the bed having a mattress that needed to be replaced, as in not enough back support for me. Hotel service in all was quite excellent. Overall, the Sheraton Guilin was our best hotel!

All our tour guides and drivers did a good job, and communicated in English very well. All of our guides and drivers were on time, and helpful at our hotels and airports, arrriving and departing, and our various tour locations.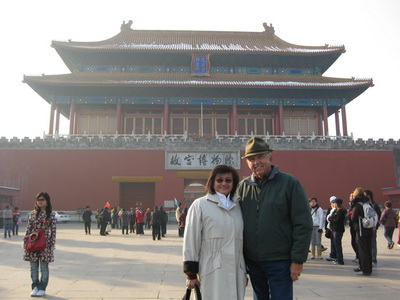 Mr. Meng Xin (Sean), in Beijing is a fine young man, very personable and considerate, with much knowledge and genuinely interested in our understanding and enjoyment of China. He is a true professional, and we highly commend his work and friendship.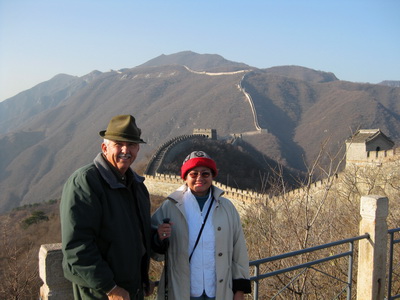 Ms. Luo Yuanqin (Rainy), was very good for us, and we learned much from her. She took personal interest in us, and we had a good time and appreciated her knowledge, and communication with us. Our time at Xian was special!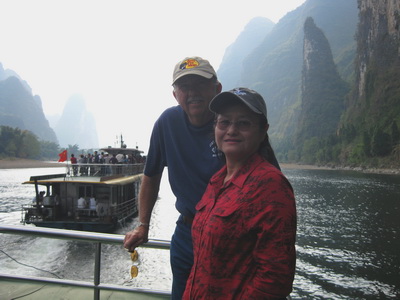 Ms. Pang Juan, did an excellent job every day of our time in Guilin. She is very knowledgeable, and we much appreciated her changing our cruise day on the Li River, so we could have the best possible weather. When I was not feeling good, she took us to a Pharmacy to find some medicine that would help, and we would of been in difficulty without her.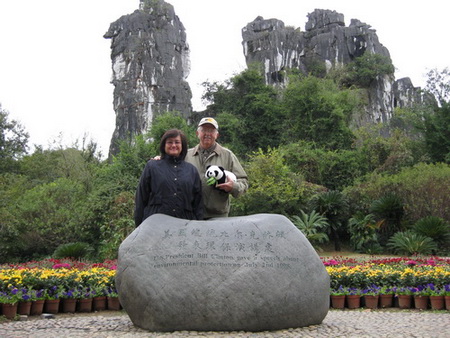 Mr. Cai Jie in Shanghai, did a good job for the short time we were there. We did feel kind of rushed the last day of our tour stops there, but we enjoyed seeing what we did. We arrived at the airport the next morning, with plenty of time before our flight departure, (to Seoul/Inchon, Korea/connecting to USA flight), but for some reason, even with our guide's interpreting skill, we were assigned to seating different than we requested, and confirmed when ticketed. We only discovered the problem upon boarding the aircraft, and it was a mistake on both of our international return flights. Unfortunately for us, there was no changing our seats at that time, as the aircraft (both) were fully booked. (We were the first people in line to check-in in Shanghai, at ASIANA airlines, and requested our seats to be on the ailse (corridor) for both of us, due to my back problem and difficulty getting up/down after sitting for so many hours, sometimes my wife has to help me.) It was a problem for us, but nothing we could do. Anyway, we made the trip back OK, with some discomfort. Please understand, Sissi, this was Not your fault at all, and we do not know what happened, but as you know, things can go wrong sometimes.

Thank-you so very much for the nice private dinner, and we enjoyed meeting you in person, with Sandy, Robert and Pang Juan. It was a special time! We much appreciate your attention to detail in our many arrangements and taking excellent care of us. We consider all of you as our good friends, and will recommend you to others planning a trip to China, without hesitation. We hope to come back to China soon, especially to Guilin, which we love the best! You are truly blessed by God to live in such a beautiful and scenic area! Your city is very nice, but you can be out in the beautiful countryside in a short time enjoying the scenic mountains and river.

Please convey our thanks to all in your office, and we are missing you now.... We had a fine trip with Visit Our China!!!

Best regards, and I hope the attached photos come through to you.

Jack (James) and Jing Copass