Comment on our service from
Mr. RICHARD ROBINSON, UK
The trip was excellent, thanks and I had a great time. Wenwen, Frances and Kevin were all great guides and it was lovely to see Wenwen again after travelling with her so far last year. Frances and Kevin - in Jiayuguan, were both very good, helpful, friendly and vey nice.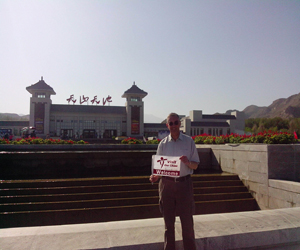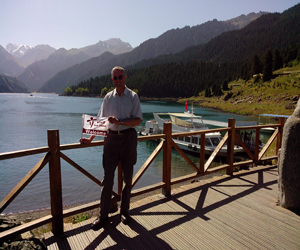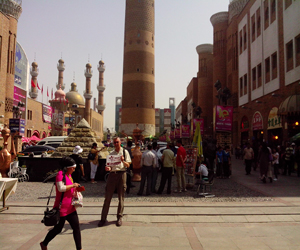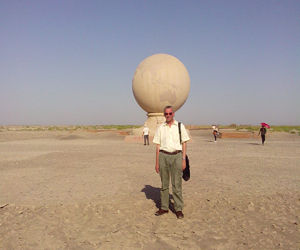 Well, I am now home and back at work. My visit to Xinjiang seems like a long time ago already!
Thank you very much for arranging another wonderful visit to China. It was lovely to see Wenwen again and also to revisit Urumqi, Jiayuguan and Turfan. I had delicious food everywhere and all arrangements were excellent.
I would like to assure you that the planning you made ensured everything went very well and smoothly. Wenwen was waiting at the airport in Urumqi when I arrived - very early in the morning, and also when I arrived back at Turfan, also in the early morning. And when I left to go back to Kazakhstan (and then on to London), she came to the airport to make sure I got away safely, even thought that flight was also very early in the morning, so she had a lot of very late nights and / or early mornings.
When I come to China again I will try to arrange flights at a better time!
Wenwen and I walked for many miles in Urumqi visiting all the places on the list you arranged and many others as well. I bought a really good book about Xinjiang recently with lots of interesting information and suggestions on places to visit. But it was particularly nice just to be able to stroll around with her exploring the city and finding interesting places and nice restaurants. The Southern Lake Park and Square, almost opposite the hotel, were especially nice and at night it is beautiful there with many of the buildings around the square floodlit. So many people come out in the evening to stroll around and enjoy the cooler air.
I was also surprised at just how big the People's Park is and how beautiful too. We strolled around the park for several hours enjoying the sunshine and the many lovely views. And it was great fun (for me, anyway!) taking the bus several times. It was interesting to use the BRT express buses in Urumqi. And the smaller Jumbo buses are also very good with a good service and despite the traffic they seem to move at a good speed.
Urumqi has many fine buildings and has also seen the completion of many excellent elevated highways in the city. In London we have one or two only, and they are now quite old and need replacing. The highways in Urumqi are wide, open and well lit at night. Very good indeed.
For my train journey to Jiayuguan Wenwen came with me to the station and made sure I was on the right train and coach. It was a good journey and I managed to have a small conversation with the three men in my compartment who were travelling east. Sleeping was no trouble and the bed on the train was very comfortable.
When I arrived in Jiayuguan Frances (Xiao Yu) was waiting for me, although it was again a very early arrival. She and our driver took me to the hotel where I was able to book straight in and get freshened up before we went out to walk around the city. Again, it was very nice for me to be able to stroll around the city with someone so lovely and I was very surprised to be able to go up to the top of the Dolphin tower, where we had a great view of the city. I saw the tower last year but did not realise it was possible to go to the top.
This is the benefit of a second, slower visit, where it is possible to go at a slower pace to see those things marked out at an earlier time. This is no criticism of last year's arrangements, where Sissi arranged a brilliant journey for me, right across China and Xinjiang taking in so many really fantastic sights and places in a relatively limited time. But having seen everything on my journey last year I was particularly keen to revisit the places arranged for this year.
But I do still have to return to Guilin, as well! Hopefully during the next couple of years? And I would also like to revisit Kashii and some of the southern Silk Road towns again too at some time. I will have to see how time and money allow!!
I found Xiao Yu very nice, a really lovely lady and very easy to talk to and very interesting. She showed me round the museum - which is very good indeed (as are all the museums I have visited in China) and told me a lot about Jiayuguan and its history. In the evening we had a really delicious meal in a very good restaurant.
For my visits to the Great Pass and Wall and then on to Jiaquan, Kevin was my guide. Kevin was extremely pleasant; again, very easy to chat to as we walked around the Great Pass and full of detailed information about the fort and the wall. It was really good to revisit the Great Pass again and to have more time to spend there and at the wall. I made it to the top of the wall again this year, despite the heat! They are both truly wonderful constructions and even though they have been repaired and to some extent rebuilt, they are marvellous representations of two incredible works of antiquity. Incredible to think how they were built all those years ago, just with men and hands. No modern equipment. Kevin took me to another very good restaurant in the evening before we left Jiayuguan.
On my journey back to Turfan, I shared the compartment with a young couple and their little girl and the mother's mother. Although they spoke no English and I had only a few words of Chinese, we got along very well, they were very friendly and we shared a little food. I was also able to speak with some of the other passengers on the train - between us all we had a few words of English and Chinese and with the help of a map and paper and pen I had a really enjoyable trip back to Turfan.
In Turfan it was very good to revisit the Emin Minaret and mosque and Wenwen also kindly accompanied me to several other mosques in Turfan where we had some conversation with the local people, who were all very interested in my visit and why I had come to Turfan and their mosques. Generally, they are most beautiful buildings and it is always pleasing for me to visit them.
My visits to Aiding Lake and the Flaming Mountain were very good. It was very interesting to visit the lake, as one of the very lowest places on the earth and I greatly enjoyed it. A very peaceful place, open with mountains in the distance and geese and ducks on the lake. I was also very pleased to visit again the Flaming Mountains, this year hotter than last, with the thermometer reading some 68 degrees!
Returning to Urumqi there was time to visit the Centre of Asia monument which I found very good, well laid out although the sculptures on the road leading to them could do to be smartened up as some of them have no identification, which is a shame. The monument itself was undergoing some maintenance when we were there. But the monument is in a lovely setting.
After getting back into Urumqi, we were able to stroll around the city again for some hours, as my flight was not until early the following morning. This was very enjoyable and we saw the Confucius Temple and the former home (for a while) of the brother of Mao Tse-Tung.
Again, poor Wenwen walked many miles with me. She is wonderful and showed me so much of Urumqi and Xinjiang. Of course, we also visited the Heavenly Lake whilst I was in Urumqi, which is in a beautiful setting up in the mountains. It was a great day and we walked a long way back down, past several waterfalls.
Everywhere I have visited in China, everyone has always been very kind and welcoming and interested in why I have come and where I am going next. I have enjoyed excellent food and seen some wonderful places.
From my point of view, Gina, I think everything was perfect, there is nothing you could have done to make my visit better. I knew Wenwen already and was very happy to be seeing her again. Frances (Xiao Yu) and Kevin in Jiayuguan were also very good guides and extremely nice and easy to be with. All the drivers were very helpful and pleasant and I had no anxieties or worries at all.
I cannot recommend Visit Our China enough and will be happy to provide any testimonial you want. I am very glad I found your company when I was looking last year as I couldn't have had better arrangements for either visit. All I can say is that when I come to China again I will contact you to make the arrangements.
I am sorry not to have spoken with you when you called Wenwen but as you say I was then away from her, in Jiayuguan. I hope maybe I will have the chance to speak with you on another occasion. Thank you for sending some pictures; unfortunately I could not open them, it is probably my computer. Generally, I can open a few pictures at a time if they are just sent attached to an e-mail.
But don't worry; in the meantime I have edited this year's pictures already and am sending you a memory stick with these and also pictures from my visit last year, as I promised Sissi I would. I am just sorry it has taken me so long to get everything for last year completed.
Gina, please accept my very sincere thanks to you and Sissi and also Wenwen for making such good visits to China for me and for making me so welcome. The arrangements you and Sissi made for me this year and last were faultless and I have had two marvellous tours. You have provided wonderful guides.
I hope this information will be helpful to you and I wish you all success for the future,
With very best wishes for now,
Richard
About Our Company
China Travel Resources