Wenshu Monastery

More Photos

Chinese name: 文殊院 (Wen Shu Yuan)
Location: No.66 Wenshuyuan Street, Qingyang District, city center of Chengdu City, Sichuan Province.
Opening time: 09:00-17:00
Ticket: CNY5
How to get to Wenshu Monastery: take buses No.16, 55, 64 or take subway No.1 and get off at the stop of Wen Shu Yuan.
Introduction to Wenshu Monastery
Wenshu Monastery is a famous Buddhist temple in the west of Sichuan Province, which is now additionally serves as the locations of both provincial and municipal Buddhists associations. Covering 13.5 acres with over 190 halls and rooms, Wenshu Monastery rides north to south and appeals to a great many visitors home and abroad by its graceful garden, solemn halls, and masses of cultural relics. As a provincial officially protected site, the whole Wenshu Monastery is an enclosing quadrangle courtyard with classical architectures in the style of Qing Dynasty (1644-1911) standing on the central axis, such as the Hall of Heavenly Kings, Mahavira Hall, the Three Persons Hall, Preaching Hall, and Sutra Hall, as well as a complete set of a temple on both sides, like Chan room, Buddhist hall, Fast rooms, Guests rooms, etc. and the Bell Tower and Drum Tower stand facing each other. In addition, there is a bronze bell over 4500 kilograms hanging in the Bell Tower.
A brief history around Wenshu Monastery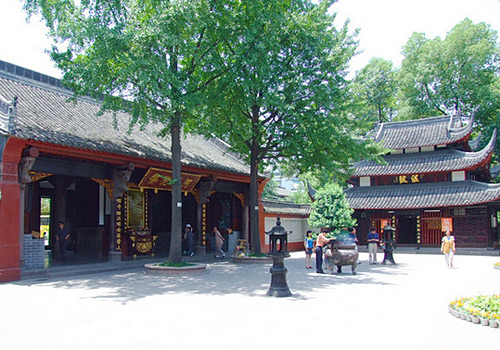 Originally built during Southern Dynasties (420-589), Wenshu Monastery of Chengdu was firstly called Miaoyuanta Monastery and renamed Xinxiang Monastery in Tang Dynasty (618-907). Unfortunately, the monastery was destroyed during war in Ming Dynasty (1368-1644). According to the story, in 1681 in Qing Dynasty (1644-1911), a Chan master Cidu came to this deserted temple and did ascetic practices. After his Parinirvana, he was cremated when a Manjushri image emerged in the sky with rutilant for a long time; people believed that the Cidu was just the incarnation of Manjushri, and later in 1697 during the rein of Emperor Kangxi (1654-1722), the present temple was rebuilt and named as Wenshu Monastery (wenshu is the pronunciation of Manjushri in Chinese). In later years, the monastery was extended for several times by successors of Kangxi.
Treasures in Wenshu Monastery
In Wenshu Monastery, there display a high qualified bronze Avalokitesvara, a bronze statue with fine crafts and a jade Buddha from Burma. Moreover, there are over 300 kinds of Buddhist statues made of stone, bronze, wood or clay, some of which were made in Liang Dynasty (502-557), some in Tang Dynast, Song Dynasty (960-1279) and Qing Dynasty. All statues show great artistic and cultural values and offer precious materials for the researches in Chinese ancient sculptures and casting techniques.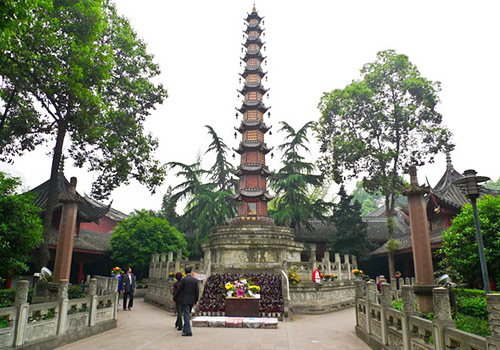 Abundant valuable treasures and thousands of Buddhist sutras and documents are also found in Wenshu Monastery, e.g. sutras written by tongue blood from three Chan masters, a parietal bone of Xuanzang (an eminent monk of Tang Dynasty), Indian palmleaf manuscript which was cherished in the monastery in 1887, gilding sutras from Japan in Tang Dynasty, a well-preserved Thousand Buddha Kasaya which was exquisitely embroidered by a concubine of Emperor Chongzhen (1610-1644) of Ming Dynasty (1368-1644), a delicate Avalokitesvara embroidered by the daughter of a senior official of Qing Dynasty (1644-1911) with her hairs, and a marvelous gauze Manjushri made by a female discipline in Qing Dynasty.
Precious paintings and calligraphies of past dynasties are also cherished in Wenshu Monastery, including the handwriting of Konglin (空林) and a seal given by Emperor Kangxi, a copy calligraphy by Kangxi in the light of the original one of the famous calligrapher Mi Fu of Song Dynasty (960-1279), and other numerous pieces of famed painters and calligraphers, such as Zheng Banqiao, Chang Daichien, Feng Zikai, He Shaoji, and so on.
Quick Questions
Our team is waiting for your questions. Please feel free to ask us any questions you might have about our China package tours, Chinese culture, or the sites available. We will gladly help you with any special needs you might have and all questions, like our trip designing is completely free of charge.