Shangli Ancient Town

More Photos
Shangli Ancient Town is located in Yucheng District of Ya'an City of Sichuan Province. In history the old town was the important entrance of the South Silk Road and it is believed by the local that the town is a cornucopia because of its location at the intersection angle of two rivers. Embraced by mountains and rivers, the wooden houses in Shangli Ancient Town scatter amidst the fields and gardens, with the paths paved with slabstones.
What to see in Shangli Ancient Town?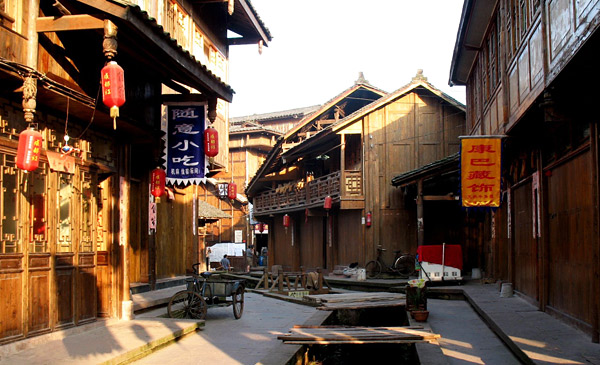 At the entrance of the old town stands a "memorial archway of filial piety" constructed in about 1839. In ancient China, people would build a memorial archway for a woman if she remained not remarried after her husband's death. Therefore, memorial archways can be said to be the historic remains of the ancient Chinese feudalism as well as a kind of Chinese stone carving. Up till now, there are still three archways under municipal and provincial protection existing in Shangli Ancient Town, exquisitely carved with hundreds of dramatic figures and stories.
Bridge is also one of the watching focuses in Shangli Ancient Town. The over ten bridges were respectively built in ancient and modern times in different styles, among all of which the Erxian Bridge (Double Immortals Bridge) constructed in about 1776 is considered as the most elegant one.
The house of Han Family is another worth-seeing because of its perfect construction. It was built with 74 courtyards in about the middle of 1800s by Han Tingfan, an official of Qing Dynasty, modeling on his official mansion in the temporal capital. The whole house is decorated with exquisite embossments, hollowed carvings and inlaid carvings.
Quick Questions
Our team is waiting for your questions. Please feel free to ask us any questions you might have about our China package tours, Chinese culture, or the sites available. We will gladly help you with any special needs you might have and all questions, like our trip designing is completely free of charge.