People's Park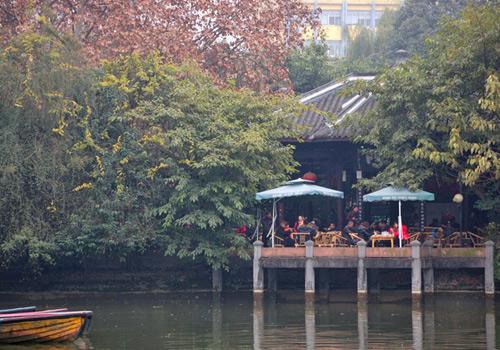 More Photos

Chinese name: 人民公园 (Renmin Gongyuan)
Location: No.12 Shaocheng Road, Qingyang District, Chengdu City, Sichuan Province.
Opening Time: 06:00-22:00
Ticket: free
Recommended time for a visit: 2-3 hours
How to get there:
- take metro No.2 and get off at the station of Renmin Gongyuan;
- take public bus No.5, 13, 43, 47, 53, 58, 62, 64, 78, 81, or 905 and get off at the station of Renmin Gongyuan.

Introduction to People's Park of Chengdu - a comprehensive park with rich vegetation and a popular haunt for locals
Originally built in 1911 and covers 11 hectares, People's Park (Renmin Park), or Shaocheng Park, is the largest as well as the earliest park of Chengdu established in the city center. First set up from a street for citizens to start business to make a living, the park was also the locality of many a historical event. Extended for several times, the present Renmin Park is a developed one combined gardening, culture, tea-tasting, leisure and recreation. The graceful park houses a nationally protected cultural site, four municipality protected historical sites, more than 70 kinds of famous trees and couples of plants gardens; various exhibitions and performances also take turns here. Teahouse, lotus ponds, walking paths, pavilions and resting spots make the park a popular haunt for Chengdu locals since its establishment.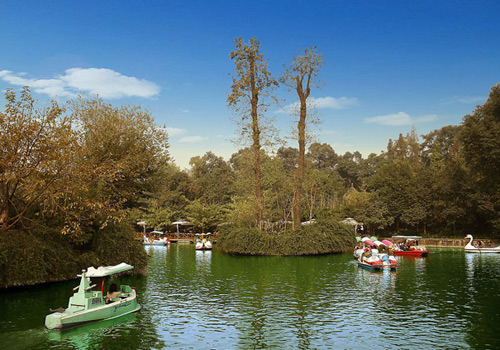 What to see in People's Park?
The history
The present main gate of People's Park of Chengdu was built in 1928 when the park was repaired and survives after flames of wars.
Xinhai Square, covers 3000 square meters including a 130-square-metre stage, was built to memorize the Sichuan Railway Project Crisis (Chengdu protests against the Qing Dynasty for giving foreigners the rights to railroad construction) happened in May 1911, the prelude of the Revolution of 1911 (known as Xinhai Revolution to Chinese). The furious scene of the event is reappearing today as flat relief on ground and bas-relief on steles in the square. In addition, the location of the square is more glorious in revolutionary history; it was the assembly site of the city for labor movements, student movements and mass meetings in the first half of 20th century.
Teahouse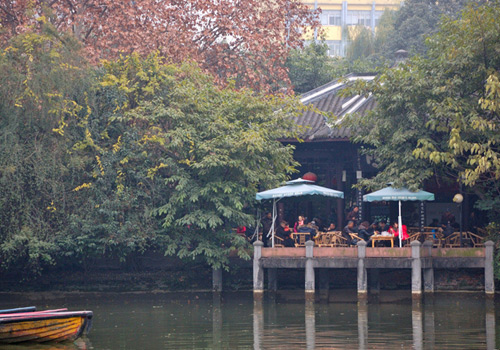 People's Park of Chengdu is one of the popular haunts for locals to enjoy tea. The old-famed Yongju Teahouse is just located on the elegant Jinyu Island (Goldfish Island) in the center of the man-made lake. In the history, Yongju Teahouse was famous as a popular site for blind dates. Today, it is a peaceful recreational area for Chengdu people to taste tea, watch goldfish, go angling, and enjoy the cool in summer. Looking at the goldfish pool is a particularly meditative aspect of visiting the park. The Jinyu Island now breeds more than 10 species of precious goldfish.
Landscaped garden
As a popular place for Chengdu locals, Renmin Park is a veritable landscaped garden with lined trees, precious exotic flowers and rare herbs. The 1600-square-meter waterfall square is landscaping with 9000-square-meter vegetations, and the grandeur man-made waterfall, which has a height of 12 meters and a width of 43 meters, flies down from the largest rockery of Chengdu. Multiple plants and flowers, e.g. ligustrum vicaryi, canna, Chinese redbud, Yucca Schidigera, yulan, lily magnolia, crape myrtle, gingko, camphor, etc. make the square the most beautiful place of the park.
Orchids Garden in People's Park, covering 880 square meters, offers over 900 bonsais of 28 varieties of orchid plants, including 14 famous and precious varieties; it is the largest viewing area for orchid plants in Chengdu. The Potted Landscape Garden, located in Shaocheng Garden in the south of the park, is another secluded site in the park. Apart from over 200 delicate potted landscapes, the garden is a place for resting with corridors, lotus pond, rockery and kinds of other water plants.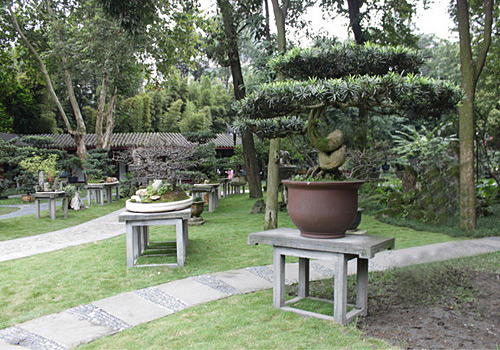 The Eastern Rockery was built in 1918 with the earth when dug out canal. Repaired for times, the rockery today is a large one with a length of 130 meters, a width of 48 meters and a height of 30 meters. In addition, it is decorated with pavilions, wooden bridges, air-raid shelter and surrounded by pulm trees, yulan trees, cherry trees, peach trees and a big artificial lake. Remade from a flower nursery and a fountain pool, the Western Rockery now is created to be peaceful with corridors, pavilions, ponds, paths, bridges and numerous trees.

Quick Questions
Our team is waiting for your questions. Please feel free to ask us any questions you might have about our China package tours, Chinese culture, or the sites available. We will gladly help you with any special needs you might have and all questions, like our trip designing is completely free of charge.