Huanglongxi Ancient Town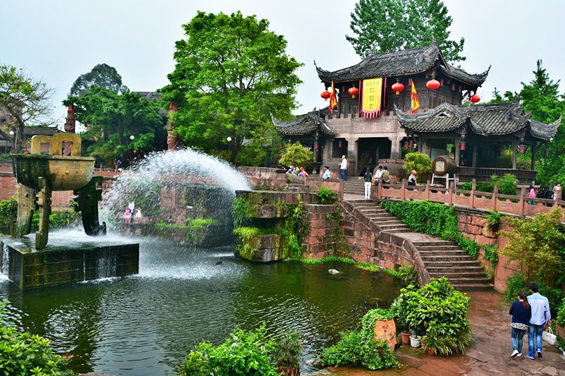 More Photos

Chinese name: 黄龙溪古镇
Location: Southwest of Shuangliu District, Chengdu City, Sichuan Province
Opening time: all day long
Ticket: free
Best time to visit: all year round
Recommended time for a visit: 2-4 hours

Introduction to Huanglongxi Ancient Town
Located on the southwestern edge of Chengdu Shuangliu District, Huanglongxi Ancient Town is about 42 kilometers away from Chengdu City. It is a new tourist hotspot in the suburbs of Chengdu. For its rich natural landscapes and humanistic tourism resources, the ancient town has received many honorary titles such as town with beautiful environment in China, the hometown of Chinese folk art Fire Dragon Dancing, and a demonstration town for comprehensive development of small town economy.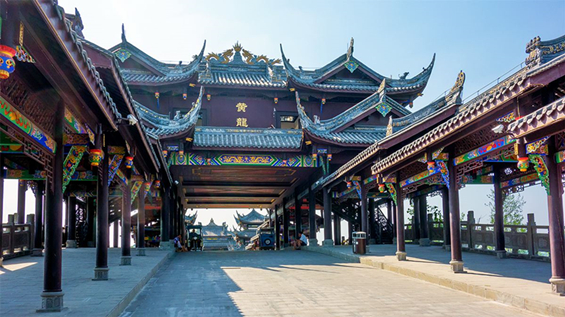 As a historical and cultural ancient town of Sichuan Province, and the provincial-level tourist scenic spot, Huanglongxi Ancient Town has been built for more than 1,700 years. The main features of the ancient town are: ancient streets, ancient trees, ancient temples, ancient water terminals, ancient architectures and quaint folk customs. The ancient town is not only beautiful, but also a well-known natural film and television photography base, known as "Studio City" and "China's Hollywood".
Huanglongxi Ancient Town not only has rich ancient culture and those cultures concerning water, Buddhism, tea, ecological farming, but also has colorful cultures involving folk customs, films and televisions, as well as foods. Specialties in the ancient town include Fried & Braised Pork Hock, Tofu Pudding, Wild Vegetables Scrambled Eggs, Braised Freshwater Fishes and so on. There are also many special snacks, such as diced sugar, sesame cake, fried small fishes and shrimps, etc.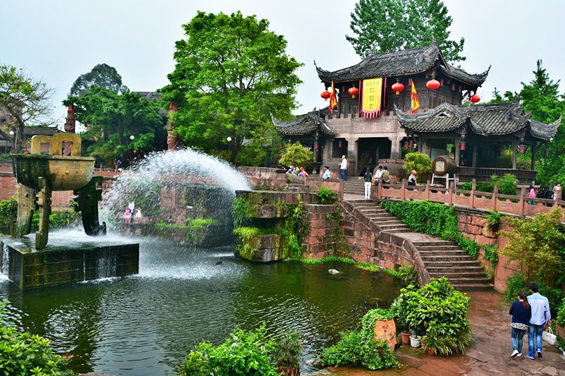 What to see in Huanglongxi Ancient Town
Ancient streets
With more than 1,700 years of historical changes, the ancient town has remained intact. Seven streets built in China's Ming and Qing dynasties still exist in the ancient town, and these streets are all paved with slates, the average width of the streets is about 3.44 meters.
Ancient temples
There are three well-preserved temples in the ancient town: Gulong Temple, Zhenjiang Temple and Chaoyin Temple, which are all located in the main street of Huanglongxi Ancient Town.
Ancient buildings
There are 76 dwellings built in the Ming and Qing dynasties in the ancient town, which are built beside the water. These stilted dwellings built along the river reflect the balustrade culture of the ancient residences in Sichuan Province.
Ancient trees
6 banyan trees with over 300 years of age stay alive in the ancient town. The entwined roots and the curtain of leaves add a rich ancient taste to the town.
Ancient folk customs
So far, Huanglongxi Ancient Town has retained many folk customs, such as sound the night watches, dragon boat racing, fire dragon dancing, and Sichuan opera sit singing.
Quick Questions
Our team is waiting for your questions. Please feel free to ask us any questions you might have about our China package tours, Chinese culture, or the sites available. We will gladly help you with any special needs you might have and all questions, like our trip designing is completely free of charge.