Bifengxia Panda Base

More Photos

Chinese name: 碧峰峡熊猫基地 (Bifengxia Xiongmao Jidi)
Location: in Bi Feng Xia Scenic Spot, 19 kilometers north to city center of Ya'an City, 150 kilometers to Chengdu City, Sichuan Province.
Opening time: 08:00-17:30
Tickets: CNY30. (CNY100 for one-day volunteer work in the base, and CNY150 for renting a set of work clothes)
How to get there:
- Chengdu to Ya'an: take shuttle bus at New South Gate Coach Station (新南门汽运站) or take coach to Ya'an at Yangshi Coach Station (羊石汽运站);
- Ya'an to Bifengxia: take minibus at Ya'an Tourist Station (雅安旅游车站);
- Bifengxia to Panda Base: purchase the admission ticket at Bifengxia Tourist Center and take free scenic sightseeing car to get to the panda base.


Introduction to Ya'an Bifengxia Panda Base
Officially named as Ya'an Bi Feng Xia Base of CCRCGP (China Conservation and Research Center for the Giant Panda), Bifengxia Panda Base is a branch of the CCPCGP in Wolong. It was built in 2001 by the government for the safety and development of the endangered species the giant panda due to their increasing captive breeding numbers. With an investment of CNY27.6 million, the first-stage project of the base (about 70 hectares) has been completed in October 2003 and put into service in 2004. As a comprehensive eco-park for giant panda, the Bifengxia Panda Base specializes in the raising, breeding and rescuing of giant panda as well as the education to the masses.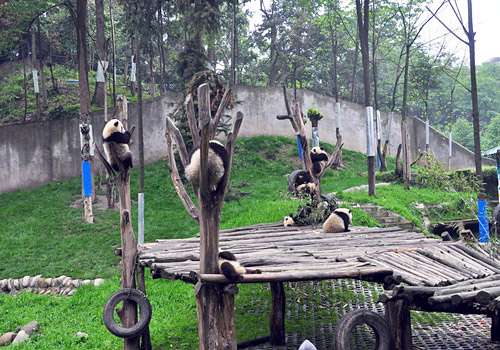 After the May 12, 2008 Sichuan Earthquake, which severely affected the panda breeding center in Wolong, more than 60 giant panda were transferred to Bifengxia Panda Base in batches. Now, Bifengxia Base is the largest panda base in the world with panda number exceeding 70.
Located in the long famous Bifengxia Scenic Area, which offers high forest coverage and breathtaking landscapes of waterfalls and rivers, Bifengxia Panda Base is a paradise for giant pandas with capacious spaces, high vegetation coverage of 80 percent, and superior ecological conditions. The base is divided into six functional zones, raising zone, breeding zone, research zone, offices, bamboo area and living quarter; and over 20 spots have been set up for panda-related activities and scientific experiments, for instance, standard shelters, grazing grounds, research center, panda hospital, kindergartens for baby pandas, etc.
More about Bifengxia Panda Base
Giant pandas in Bingfengxia Panda Base are raised in a natural environment, and several different varieties of bamboos are planted for them. The outdoor raising method is to help these pandas maintain their lifestyles and natural instincts, to develop their abilities to adapt the natural environment, and to improve their survival and reproductive capacities.
A home to captive giant pandas, Bingfengxia Panda Base houses many famous pandas, such as, Hua Mei and Mei Sheng, who were born in US and moved here in 2008; Fu Long born in Vienna Zoo of Austria was relocated to Bifengxia in November 2009; Tai Shan, born in Smithsonian National Zoological Park of Washington D.C. and Su Lin and Zhen Zhen from San Diego Zoo were also relocated here in 2010. In addition, the gift for Taiwan in 2008- the giant pandas Tuan Tuan and Yuan Yuan, the gift for Australian Wang Wang and Fu Ni in 2009 and the 10 pandas for 2010 Shanghai Expo are all from Bingfengxia Panda Base of Ya'an.
Quick Questions
Our team is waiting for your questions. Please feel free to ask us any questions you might have about our China package tours, Chinese culture, or the sites available. We will gladly help you with any special needs you might have and all questions, like our trip designing is completely free of charge.