VOC's Travel BLOG
Our Travel Blog is the place to share our real life, travel experiences in China with you. Besides, we will provide information related to Chinese culture and China travel guide. "A bosom friend afar brings a distant land near." Traveling makes us to be closer, let's discover China together!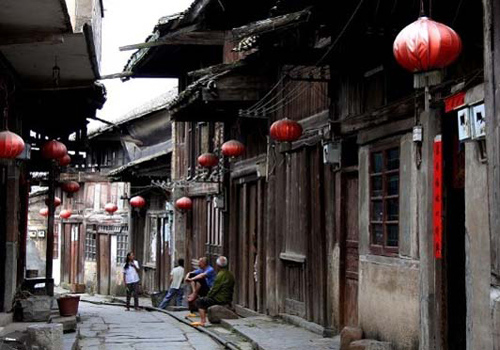 1. Daxu Ancient Town (大圩古镇), Guilin Daxu Ancient Town is the first to be mentioned as one of the four most famed ancient towns in Guangxi Zhuang Autonomous Region. Due to its preferable location on the northern bank of Li River, some 23 km southeast of Guilin, Daxu Ancient Town enjoys a humid subtropical climate with beautiful sceneries. Originally built in 200AD with a history over 1800 years, the town already got its fame as one of the four fair towns in Ming Dynasty (1368-1644). The preserved residences and alleyways we can see today in the village are mostly in the styles of Ming and Qing (1636-1911) dynasties with aged black bricks and grey tiles, standing on the old stone-paved streets.
If you think Guilin scenery is more natural, no more cultural or historical, there is a place which you must see. It is Daxu Ancient Town, which is located to the southwest of Guilin, on shore of the Li River. It takes about 40 minuets by driving from Guilin. So, many Guilin citizens like to diver car to enjoy weekend in this area. In the mean time, Daxu town now is a big town in Guilin area, and its market is very famous, many people just go to Daxu town on purpose during market time. But it is a little hard for me to count the date, as the market date is based on Chinese lunar calendar. P.S.: In Chinese, Xu means local market, so, Daxu means big local market, very cute name for the ancient town....