Water Bus Sailing On Li River and Four Lakes
2010-04-19Life in Guilin
On 14th April, I got the chance to take a boat cruise along the Li River and Four Lakes, it is a new boat cruise for the travelers to 360°explore Guilin city. The government tries to handle the boat cruise as water bus, then travelers can board the boat at any moment with their convenience. So, there is one more way to discover Guilin.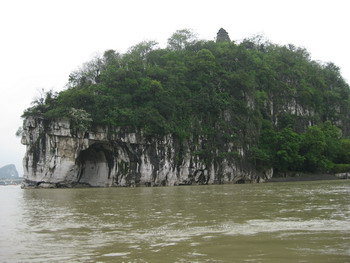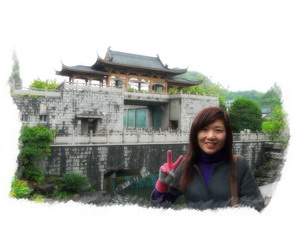 From last November till late March of this year, most areas in southwest of China are fallen with drought, the same as Guilin, it affected the normal Li River cruise. But fortunately, it starts to rain from late March, everything turns well and travelers can enjoy the famous Li River cruise as always.
The Two Rivers and the Four Lakes (Liang Jiang Si Hu)
form a splendid waterway through the centre of Guilin City. Cruise boats carry travelers around the route daytime and evening. The 1.5-hour cruise is worthy as it offers a chance to view Guilin's tranquil mountain and water scenery, along with traditional Chinese architecture, ancient inscriptions on the bridge arches and well-maintained park-style lake frontage, from the best vantage point: on the water itself. The Two Rivers and Four Lakes consist of the Li River (Li Jiang), the Peach Blossom River (Taohua Jiang), Chinese Fir Lake (Shan Hu), Banyan Lake (Rong Hu), Osmanthus Lake (Gui Hu) and Wooden Dragon Lake (Mulong Hu).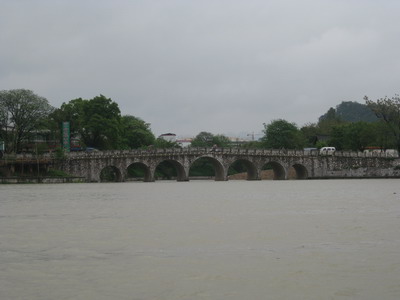 The new cruise route includes Li River and Four Lakes, we started the cruise from the pier at
Elephant Trunk Hill
, although it rained a little, it made the air more fresh and the scenery more clear and beautiful. People say the Guilin scenery is more attractive and charming in misty and rainy day, so, we were lucky to enjoy such fairy landscape. The boat turned around the Elephant Trunk Hill and let the travelers have chance to enjoy it with panorama. Then boat continued to sail along Li River, the cruise was leisure and tranquil, you can see the
Seven Star Park
far away and
Fubo Hill
closely. When the boat arrived
Diecai Shan (Folding Brocade Hill)
, we disembarked there, you can have chance to climb up to the top of hill, but we just went through into the park. This park is just located in the Wooden Dragon Lake (Mulong Hu), from here, we were on the Four Lakes cruise. On the cruise, you can pass lots of different styles of bridges with its own story. No wonder, people say Guilin is like the Venice in China. After sailing in about 45minutes, we arrived the last stop in Chinese Fir Lake (Shan Hu). Here is the best shot point for the Sun Tower and the Moon Tower.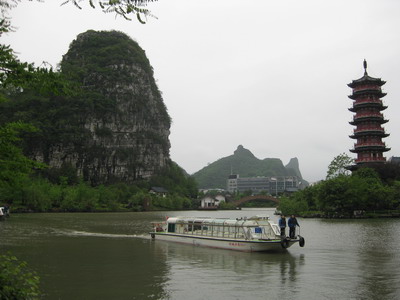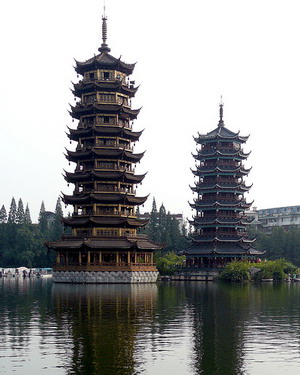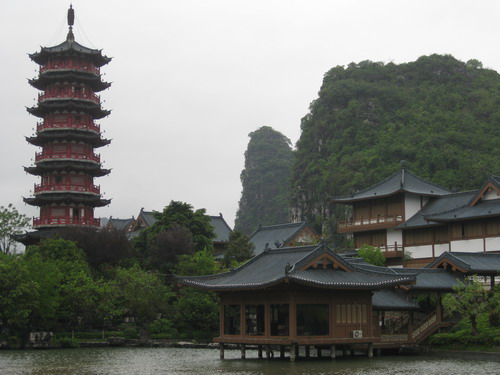 When you visit Guilin, you can also try the water bus sailing on the waterway, you will find this city is such close to you, you can not help falling in love with her.
Comment