Happy Journey to Longji Terraces (Longji Titian)
2010-01-20China travel Guide
We visited Longji Terraces on Sunday, which is located in Longsheng Town where Zhuang, Yao, Miao and Dong ethnic groups live together. We mainly appreciated the performances of Yao people and enjoyed the beautiful scenery of Longji Terraces there, both are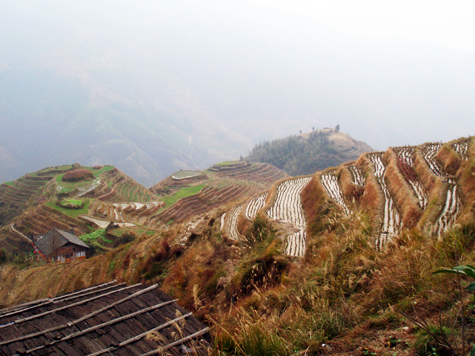 memorable.
(Plus: terrace is a common scenery formed in the mountain areas of south China which is made up of fields and crops. While large-scale terraces like Longji Terraces is hardly seen. Longji Terraces is praised as the crown of world terraces, which covers about 66 square kilometers on the hills with altitudes ranging from 300 meters to 1100 meters. The sceneries of Longji Terraced Fields change with seasons because of the changing color of crops. It can be different block paintings in spring, summer, autumn and winter: green, golden or white and black. )
Performance of Yao People
It was the first time we went there. We got off from Guilin railway station at 8:40 in the morning and arrived in the performance area two hours after first, named "Huangluo Performance Area". The performance costs about 80 yuan per person and was hosted in both English and Chinese. There are many actors in red clothes of
Hong Yao Minority
(a branch of Yao) and we took photos with them first. Although it was in the off season, the area was full of people.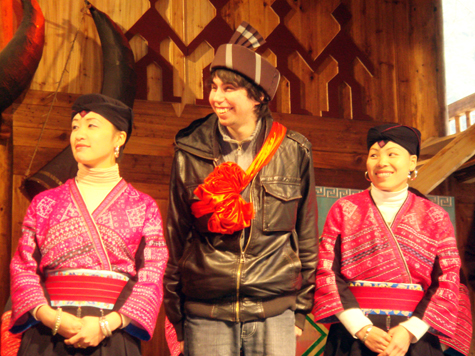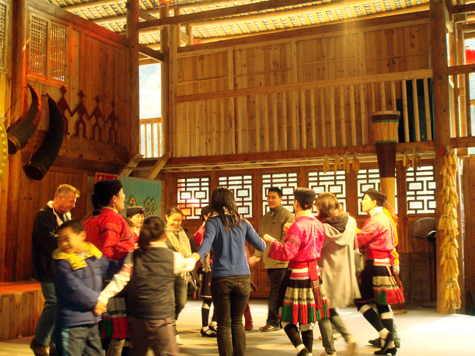 The whole performance lasted for about 50 minutes and the interactive performance with the audiences are the highlights. Some gentlemen would be invited to be the bridegroom to perform with the bride-actresses. And you can always hear laughs during their play. I was impressed by the hair custom of females of Hong Yao. They keep the custom to wear long hairs from twelve or thirteen years. They do not cut hair causally and always collect the cut hairs carefully. Becoming mother, the females can wear their cut hairs. In Huangluo Yao Village, there are more than 60 long-hair females. And you can tell whether a female of Yao people is married and have baby or not. During the performance, the audience could taste local Oil Tea, Glutinous Rice Cake and wine.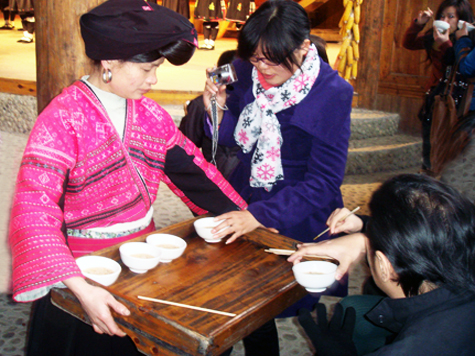 Ping'an Zhuang Terraced Fields
We arrived in the Longji Terraces (Longji Titian) spot of Ping'an Zhuang Terraces after about 15 minutes of bus journey along the hilly road, and had lunch outside it in the Ping'an Local Flavor Restaurant. The terraces look beautiful when overlooked in the road. So, we could not wait to enjoy the amazing sceneries closely after a hurry lunch. We entered the spot, climbing the mountain and watching the large-scale terraced fields. Seeing from far, the terraced files are tidy and imposing. In the spot, there are also some small stores selling small minority handworks and houses, composing different pictures with Longji Terraced fields when you enjoy them from different angles. We spent about two hours in the area and took many shoots. Good harvest, ha. It was already 17:00 o'clock when we returned back to Guilin.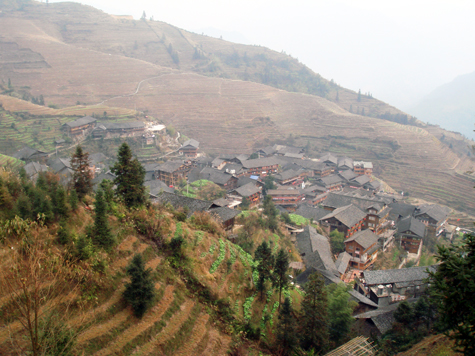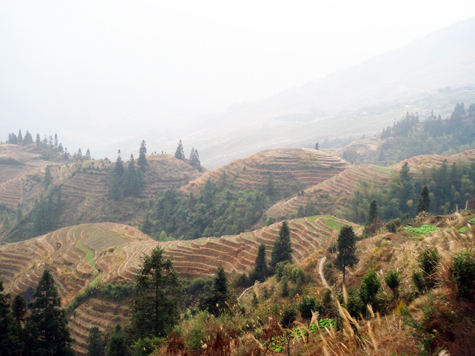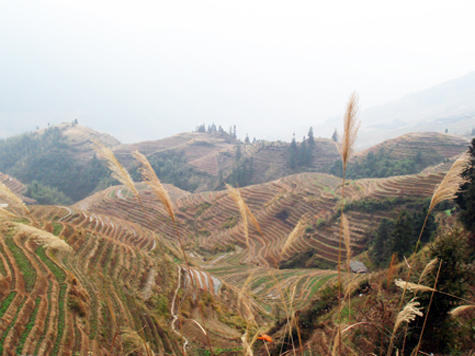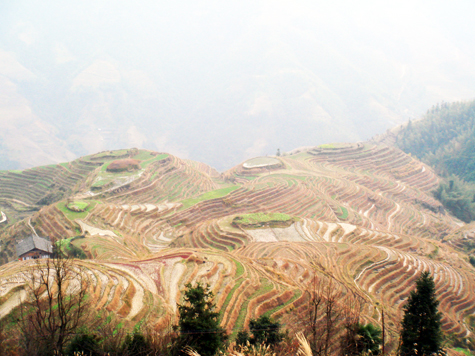 The guide told us that the first "world's most beautiful terraces" International Photography Festival is being held (September of 2009 – November of 2010). 128 excellent photos will be collected and given prizes accordingly. Pity I am not good at photographing. If you are interested in it, you may visit
www.txljw.com
to know more information. Besides, the singing performance of Dong people and Rafting in Longji Gorge (Longji Xia) were said very interesting. Hope I could have the chance to enjoy them next time.
--- By Haphine (VisitOurChina)
Comments
Comment