My Silk Road tour –a memorable day in Xiahe
2019-10-11China travel Guide
Located in the Gannan Tibetan Autonomous Prefecture of Gansu Province, Xiahe is a typical Tibetan area. Here you can deeply feel the customs and religious culture of the Tibetans though the place doesn't belong to Tibet.
More information about Xiahe
When it comes to the attractions of Xiahe, Labrang Monastery is undoubtedly the one most worth visiting. Honored as "the world's institution of Tibetology", Labrang Monastery is one of the six major monasteries of the Gelug sect (Yellow Hat sect) of Tibetan Buddhism. The monastery complex is large and there's no public vehicle available among the buildings, the total tour time is about 3 hours by walking. You can get a full knowledge of the monastery since a monk who can speak English will explain all aspects of the monastery to you.
Labrang Monastery is not just a temple. It is also a university with six colleges. The largest one is Wensi College, which belongs to Exoteric Buddhism. The other five colleges belong to Esoteric Buddhism and others. Exoteric Buddhism pays attention to understanding, and the principles of Buddhism must be systematically studied; while the Esoteric Buddhism focuses on practice, and student monks need receive special educations.
Walking among the different temples of Labrang Monastery, you can feel the power of faith when you are surrounded by devout Tibetan prayers, especially the prayers that keep advancing on their whole bodies. Monks in the monastery are very kind, and most of them like to be taken pictures, but no picture is allowed inside the temples you visit.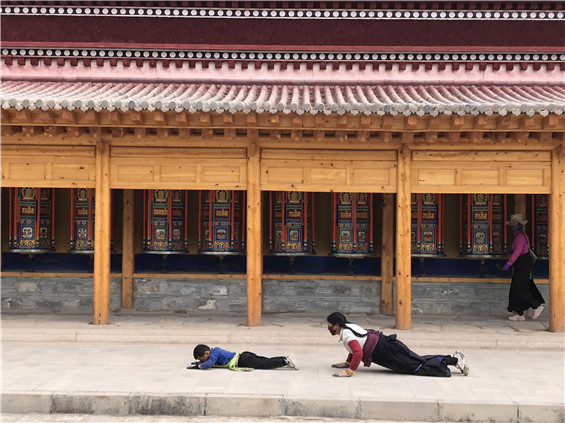 In the afternoon we were driven to the ancient Octagonal Town on the Ganjia Grassland and the driving time from Labrang Monastery is about 40 minutes. Built in the Han Dynasty, Octagonal Town was named after its eight corners. It broke through the square or rectangular frame in the past and formed its own system, which is quite unique among the existing ancient towns in China. The old defensive wall of the Octagonal Town is a hollow cross, with a total length of 2,193 meters, and frames a land area of 300 acres. As an important traffic channel of the ancient Silk Road, Octagonal Town was a key military town that had been vying for generations.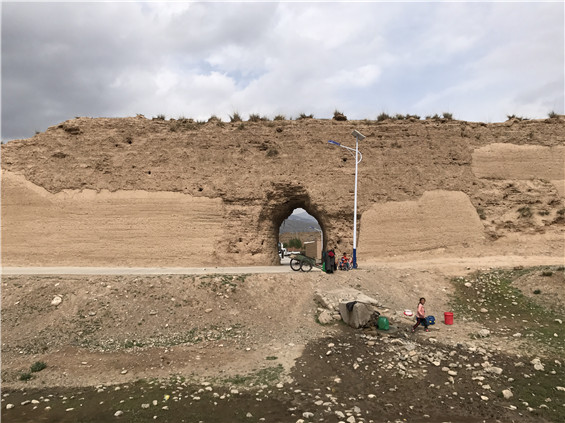 In order to facilitate the tour, a plank road was built around the ancient Octagonal Town, which is very suitable for leisure walking and hiking. Standing at the highest point, you can have a bird's eye view of the ancient town. Walking along the plank road, the thick earth wall seems to tell its history of thousands of years. Surrounded by mountains, Octagonal Town is home to a group of cattle and sheep, as well as Tibetan yaks. It is so quiet that like a paradise. The people here are simple and hardworking. They show great welcome to visitors both from home and abroad, and their smiling face will make your journey comfortable and relaxed.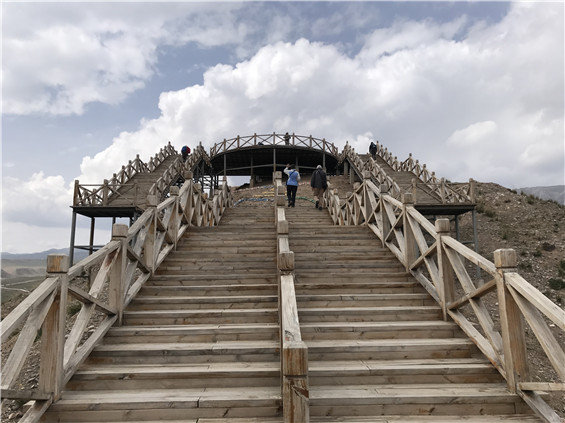 It is also a good experience to have a meal at a local Tibetan home in the ancient Octagonal Town. Although the meal is simple, the Tibetan host is very hospitable. Through this special experience, you can more deeply feel the local life and the unique charm of Tibetan culture.
A day surrounded by Tibetan culture is an opportunity to learn its charm. Only when you come here in person can you better understand it. Xiahe, is really a place worth visiting for every visitor.
To be continued…
--by Sandy Ren (VisitOurChina)
Quick Questions
Our team is waiting for you questions. Please feel free to ask us any questions you might have about our China package tours, Chinese culture, or the sites available. We will gladly help you with any special needs you might have and all questions, like our trip designing is completely free of charge.