Charlie's China Tour—Our Last Day in Xi'an & Departure to Zhangjiajie
2018-12-26China travel Guide
Awoke at 7 AM. While on this adventure I feel as though I've been eating way to much. Today we are going to have a 'new plan'. 😄 I took a nap following breakfast. This is not the 'new plan'. This morning we had free time as nothing was planned. We checked out of our hotel at 11:45 AM.
At noon, Sunny was there to greet us. Our first stop was.....a restaurant for lunch. This also was not part of the 'new plan'. The restaurant was called 'Cafe 76'. It featured a buffet lunch. There was a stage so it seems as though in the evening one could enjoy a meal and a performance of some sort. It was a large facility. While there I noticed some students who were all wearing blue shirts with 9th grade and something else on the back of the shirt. I asked one of them where they were from and he said 'Australia'. And 'yes', they were having a great time. We next stopped at the Small Wild Goose Pagoda with their beautiful grounds. Another great stop.
Next we drove to a park area with a massive brick surface. While there we listened to a traditional Chinese band (orchestra?) with a female vocalist. A small crowd was there enjoying the music. We continued with our walk. The park was massive as I said. Next, our driver approached us with one of the free rental bicycles and I went for a ride. You've heard the expression 'just like riding a bike'. Well, it wasn't that way for me and my new knees. I was unable to pedal the bicycle properly and I was all over the place. Jay then tried it and he did quite well. We then continued our walk and approached a group of maybe 20 men. There was a spirited card game being played. Yes, gambling and a transfer of funds was involved. We continued our walk and passed another group of men also playing cards.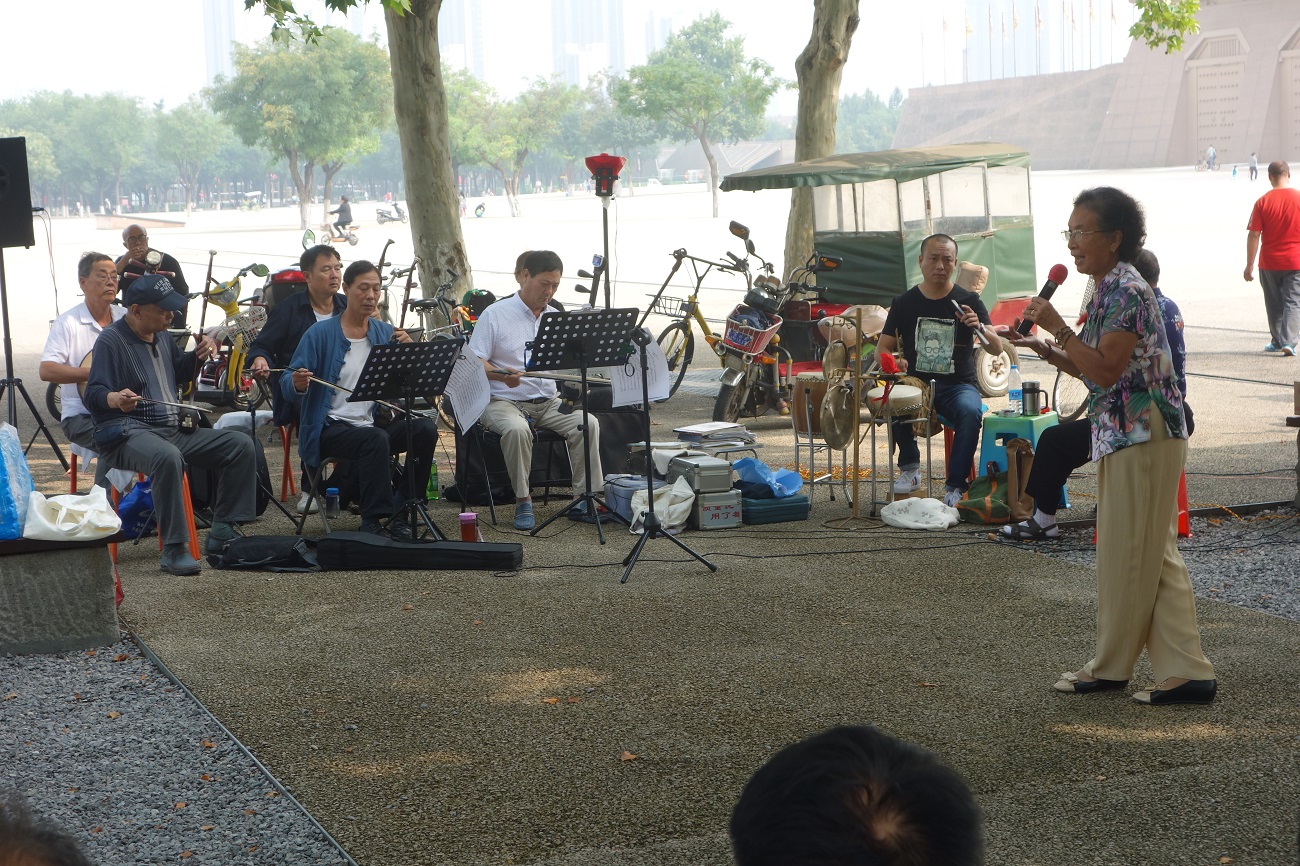 The band in the park
Back to our van. The next stop was Huang Chen Lake. A park area surrounded the lake. There were both large and small statues. Also a small pool of water with goldfish. Young children surrounded the pool. Each of them had scoop nets and the children were trying to net the fish and often they were successful. The goldfish were then placed in a pail. I don't know what happened to the goldfish but after a short while in the pail, they were gasping for air. There were several small boats on the lake. I found this lake to be a very pleasant place to visit. Next we drove to the airport where we had our last meal at the same airport restaurant where we dined when we arrived in Xian. Incidentally for those of you who do not know, 'Xian' is pronounced "she - on". Our last meal with Sunny. We then said our 'goodbyes', never easy. While traveling in China, I feel that we have made some real friends. Our 1 hour and 20 minute flight was from Xian to Zhangjiajie, our next destination. There we were promptly met by our local guide, Melody, a very cheerful young lady was as passionate about representing her city and enjoyed what she was doing as each of our previous local guides. I really love people who enjoy what they are doing.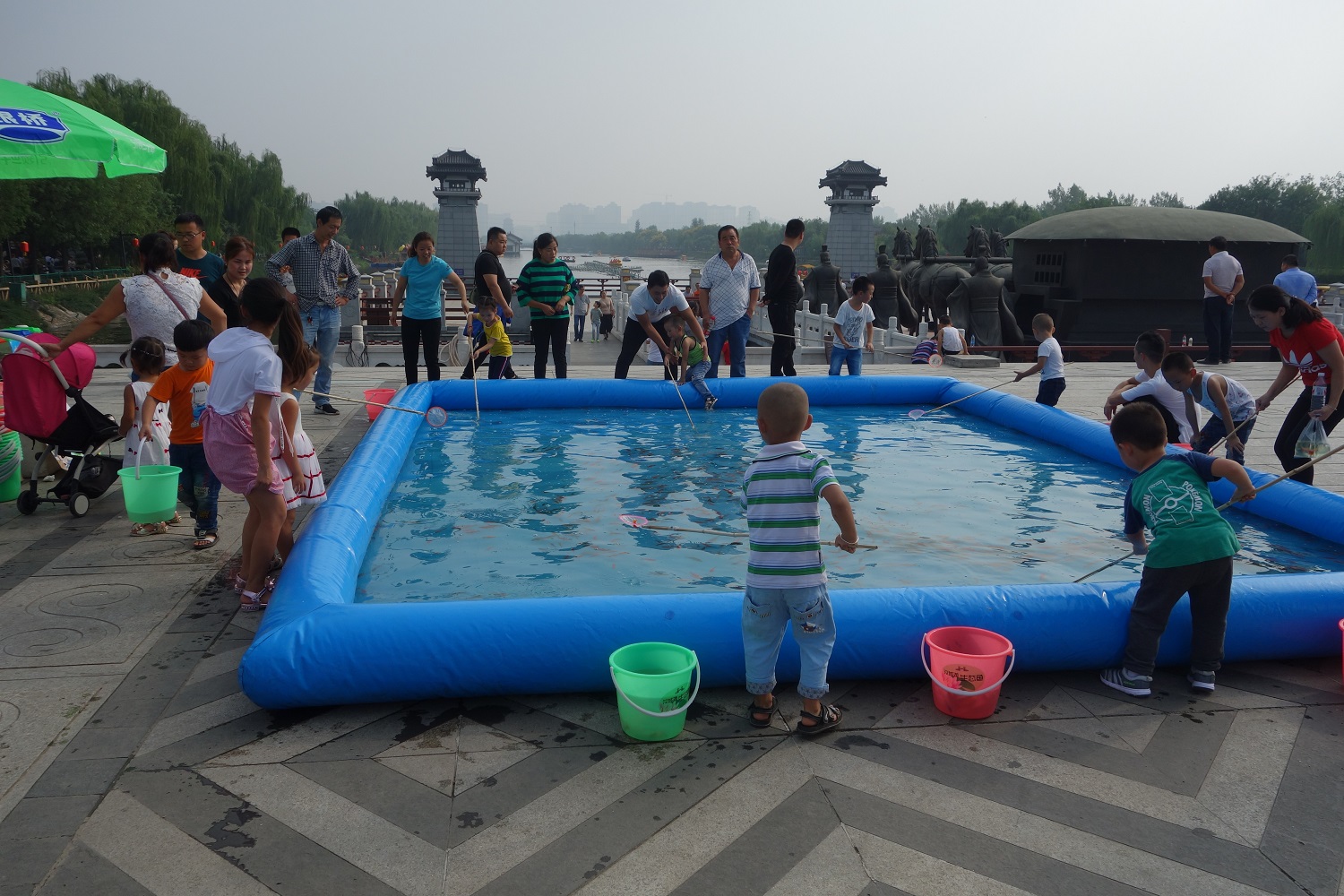 Children and Pool of Goldfish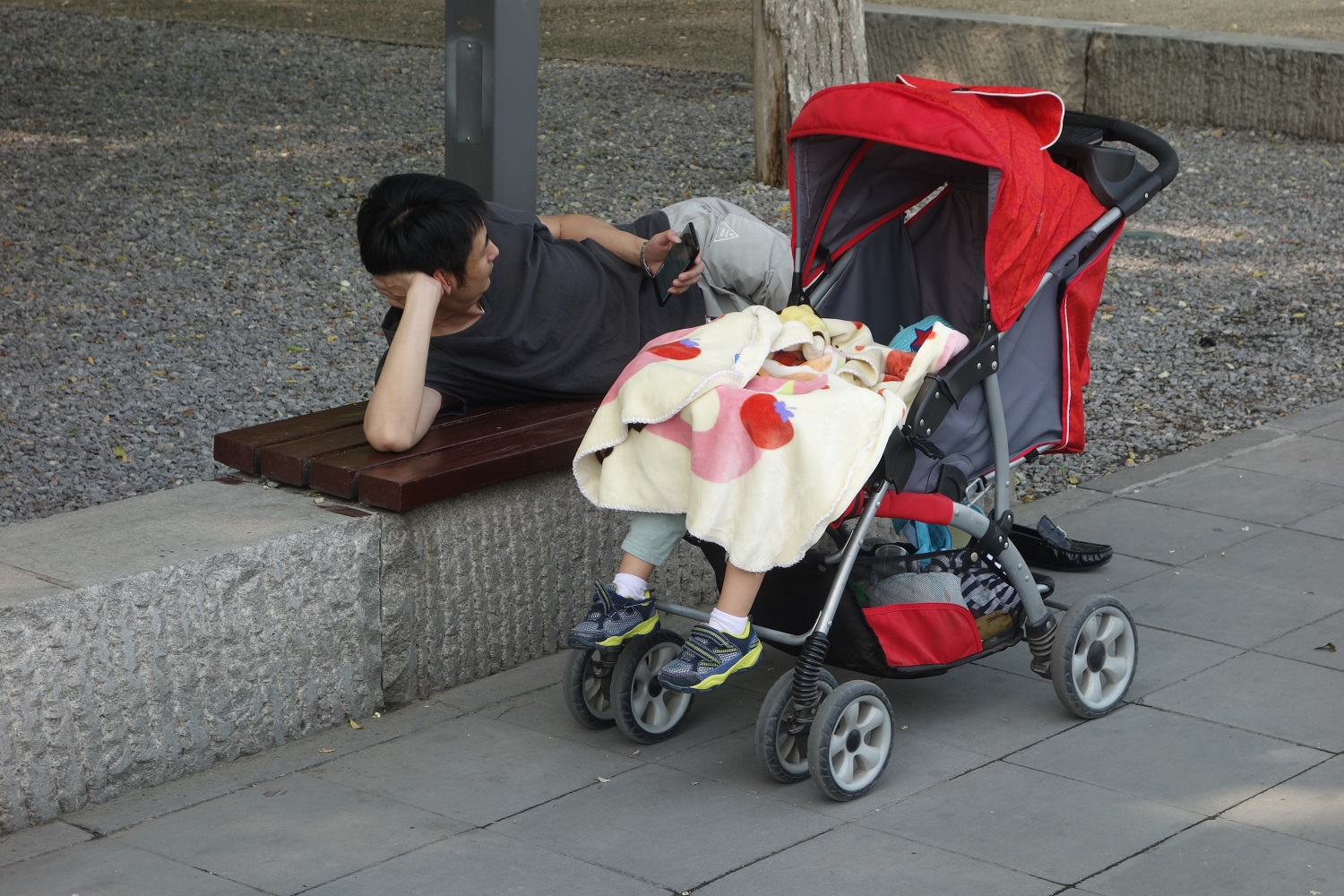 Father and Son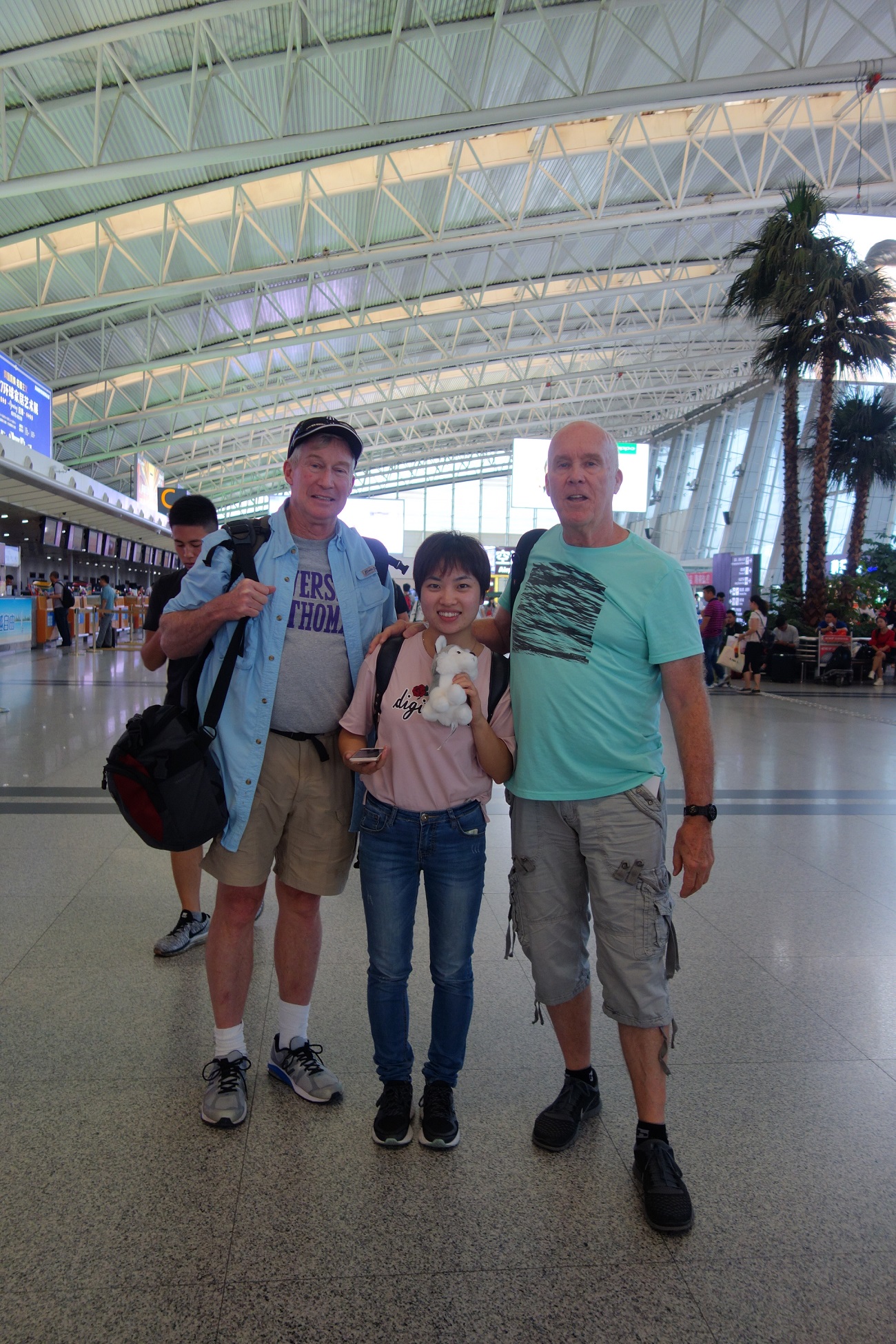 Our say goodbye to Sunny
It is now late at night. We made the 1 hour drive through the mountains on a road that seemingly was under construction the entire way. Obviously good roads are necessary to better entice more visitors to the area. The population of Zhangjiajie is 1.5 million. As is the case with Shenzhen, there has been a dramatic increase in the population of the city in a relatively short period of time. We'll get to bed about 1 AM this evening or ....this morning. It's good to be in Zhangjiajie. What a day this has been. I really enjoyed it!!!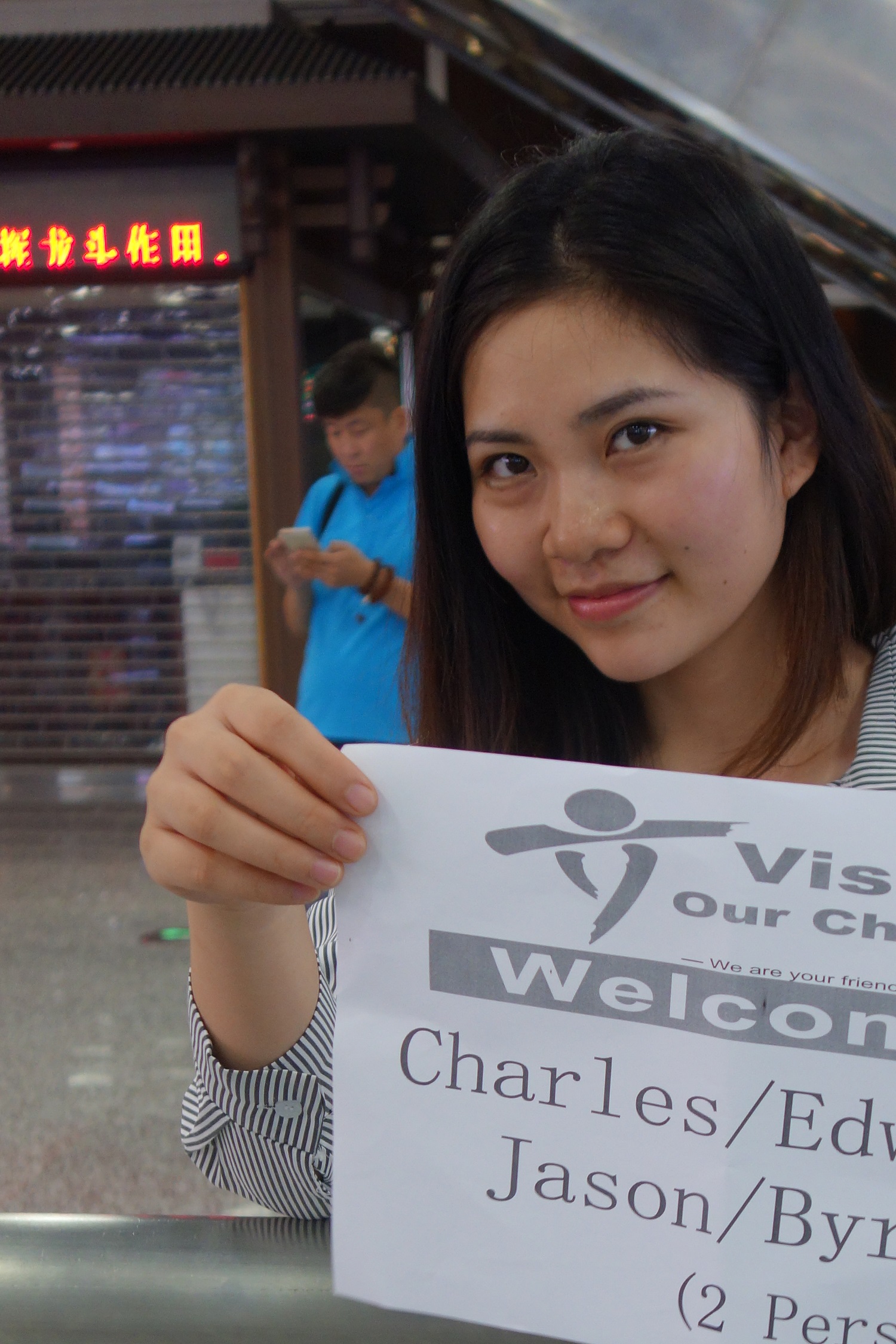 Cheerfully greeted by Melody in Shangjiajie
To be continue...
--by Charlie Kath (customer of Visit Our China)
Comment