Charlie's China Tour—Our Second Day in Xi'an
2018-12-26China travel Guide
Awoke at 6 AM. This hotel room of ours is definitely the nicest in many ways of the hotels that we have stayed in. It is about 3 times the size of our very nice but tiny quarters in Hong Kong. Feeling great! Sunny will soon be meeting us and taking us for a walk on the old city wall. It is now raining in Xian. We have just returned from our walk on the old city wall. The wall is between 30 and 40 feet in thickness. It was built between 1370 and 1378 AD during the Tang dynasty. Our walk was a rainy walk. We arrived early so early on we were the one brave souls on the wall. A few years ago Jay and I slept on the Great Wall of China somewhere north of Beijing. Just Jay and I and our local guide. We won't be doing any wall sleeping today. The old wall of Xian encircles the entire city and will take about 3 hours to walk and maybe about half of that time if by bicycle. The names of some of the masons are written on the bricks. If the work of the mason was less than satisfactory the emperor could have that brick layer killed. All over China we have seen how clean everything is. No litter on the streets or sidewalks. Trash receptacles are everywhere and people use them. It's about pride and self-respect. Following the walk on the old city wall we are off to the Big Wild Goose Pagoda, another place that I visited years ago but was long forgotten by me. This pagoda is yet another very busy place even on this rainy day. A Buddhist guide gave us a tour of the area.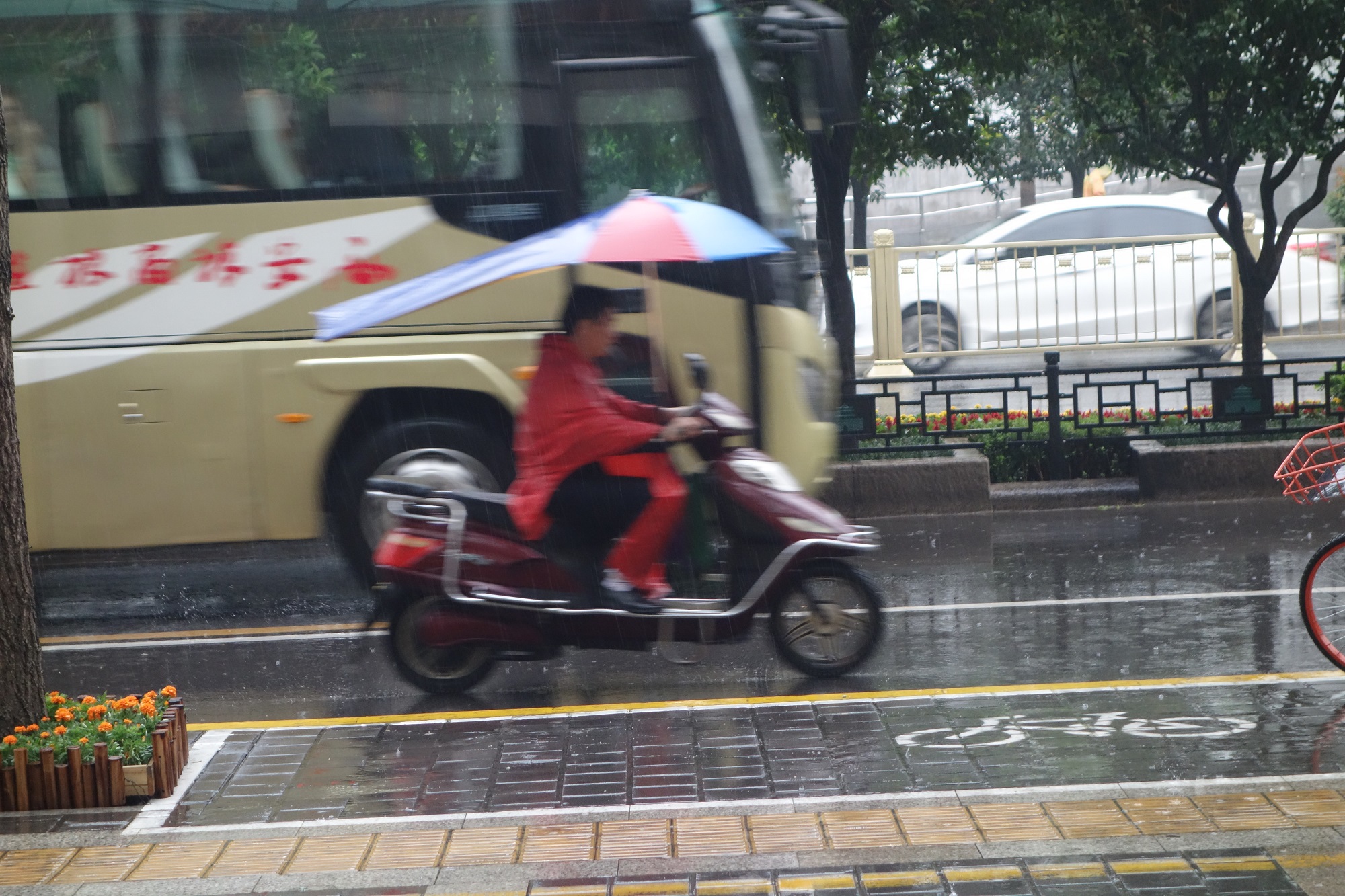 A rainy morning in Xi'an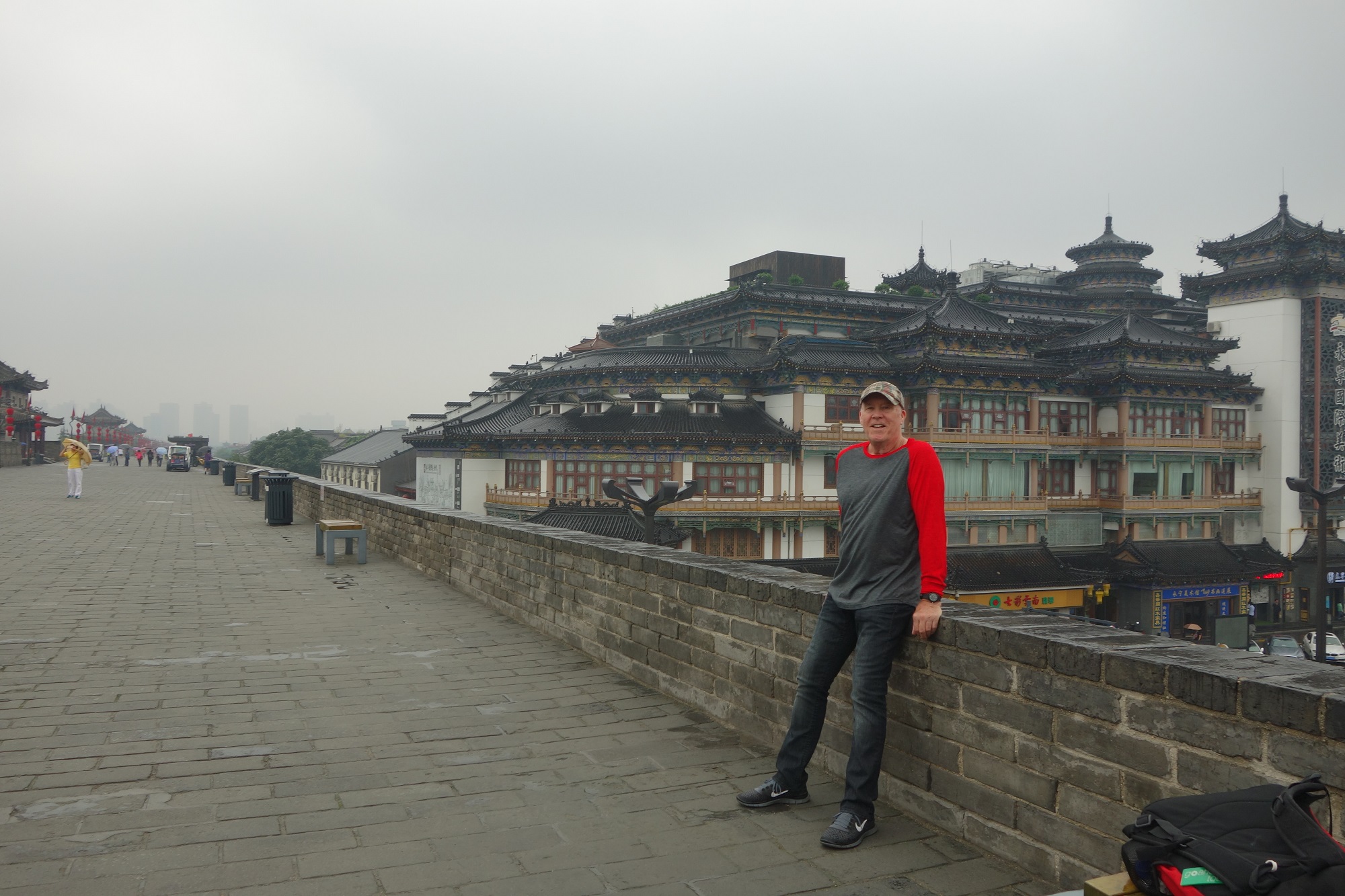 Going for a walk on the 'old city wall'. Notice the width of the wall.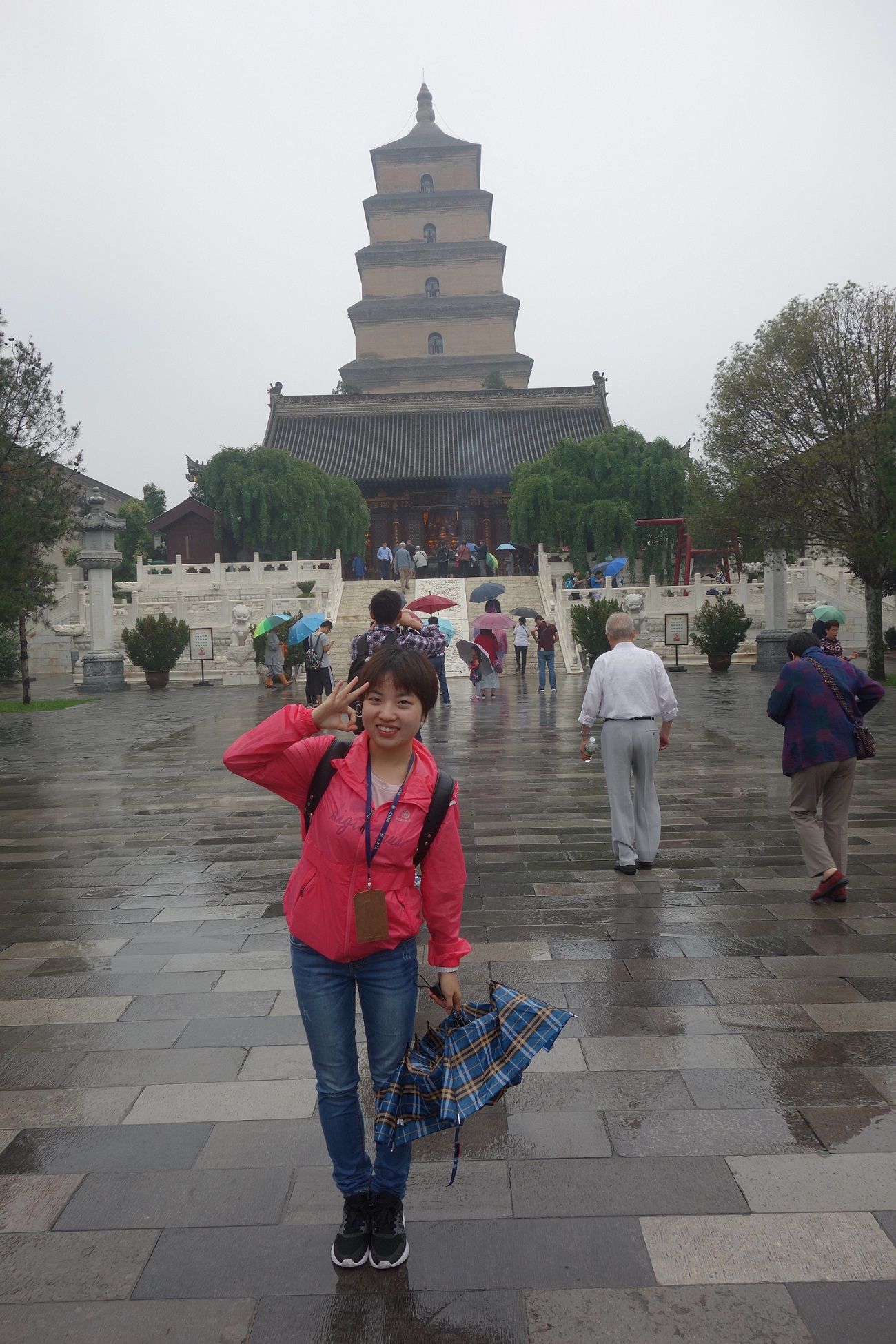 Sunny and the Big Wild Goose Pagoda
Today we had lunch at the same placed that dined yesterday only today we arrived a bit later and the place was packed. We were coincidentally assigned to the same table as the Norwegian couple that we met yesterday. Now that is a coincidence... the same restaurant... a different time... yet the same people. We had another nice chat with them. The buffet line at this restaurant today reminded me of driving in China. People merging, often moving in out of the line and even meeting some people coming from the opposite direction. Just as driving in China works, so does the buffet line. I'm so happy that I rediscovered beer on this adventure and that it sees to be 'agreeable' with my stomach. Again, it had been 15 months since I began to have stomach 'issues'.
We are now en route to the Muslim Quarter. 50,000 Muslims live in Xian. In China there are about 330 million bicycles. 2 female police officers directing traffic. It continues to drizzle. The Muslim Quarter is a very busy place. 6-8 blocks of restaurants and dining options on both sides of this pedestrian mall. Huge crowds. A very festive fun atmosphere. Continuing down 'the Muslim Street' we have now entered another commercial district where seemingly everything but food is sold. Here it is all about souviners. I love the atmosphere in the Muslim Quarter 'Snack Street'. The souviners were pretty cool also. Great atmosphere.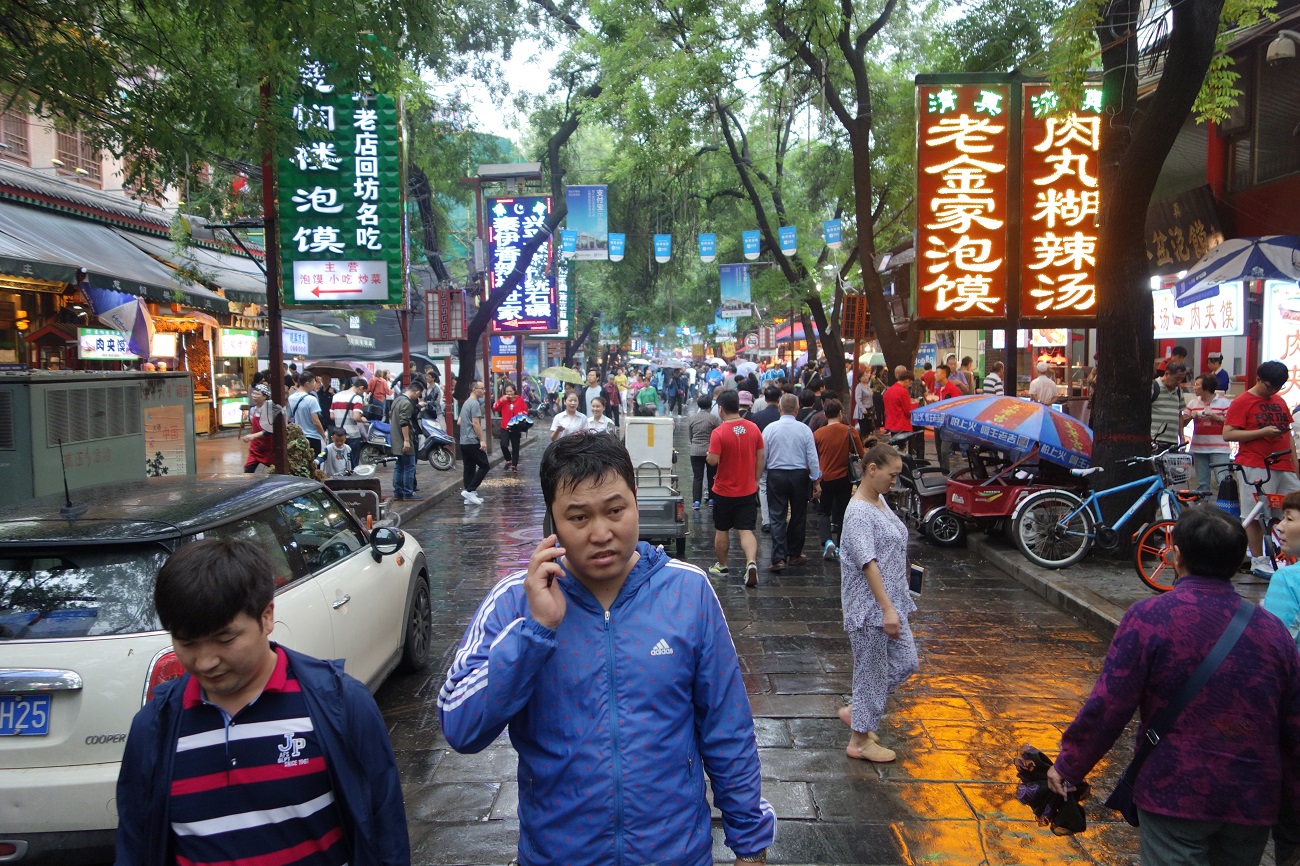 We then continued on to the Great Mosque of Xian. It's construction started in 742 AD, the first year of the Tianbao Era of Emperor Xuanrong's reign in the Tang Dynasty, and additions were made during the Song (960-1279) Yuan) (1271-1638 Ming, ), (1368-1644), and Qing (1644-1911) dynasties, which makes it an ancient architectural complex representative of many periods of time. It is the largest mosque in China. While in this area we met a woman who heard us speaking English. I asked her where she was from. She responded "You aren't going to like this". I asked her again and she responded "Iran"! We both then laughed, I shook her hand and asked her if I could take her picture. She obliged. A very fun moment. From the Muslim Quarter we are off to the Small Wild Goose Pagoda, another very holy place for Buddhists. From there we went for a walk and decided to go for a ride on the subway. The subway station was both orderly but very crowded. After our ride on the subway we visited a nearby downtown shopping mall. The mall was perhaps 7 stories tall and was without any doubt the most elegant shopping mall that I have EVER visited. All of the stores appeared to be the very finest. The stores were all well-staffed and just sparkled. I'm definitely not saying this is the finest shopping mall in the world but it's a dandy to be sure. Following our walk through each of the 7 stories of the mall, we were off for another walk to a restaurant where we enjoyed dinner. The restaurant specialized in dumplings. We were treated to 7 varieties of dumplings and we most certainly enjoyed them. What a treat!! Watermelon was served for desert as it is through much of China. As we arrived at the restaurant a bit early we observed what appeared to be a staff meeting taking place. The staff stood at attention in lines and responded to the leader in unison. The staff at this restaurant was once again most competent and friendly. Following dinner we walked back to our hotel. Sunny showed us quite a day in her city, a day of contrasts and much of the best of this wonderful city. It is now 7:15 PM. Went online. Yes, Jay and I are right now part of the 'nerd culture' with our faces in our phones in our hotel room. To bed at 10:30 PM. It might have been a rainy day in Xian but it was 'Sunny' for us.
To be continue...
--by Charlie Kath (customer of Visit Our China)
Comment