Discover the Beautiful Scenery of Guilin in Spring
2014-02-28China travel Guide
When some places in China are still covered by snow, Guilin, this world famous tourist city in south China is gradually waking up after a short winter. Admittedly, winter in Guilin is too short to be even ignored, particularly in the era of global warming. The mountains, rivers, flowers, etc here cannot wait to display their beauties to those who fond of photography and natural sceneries.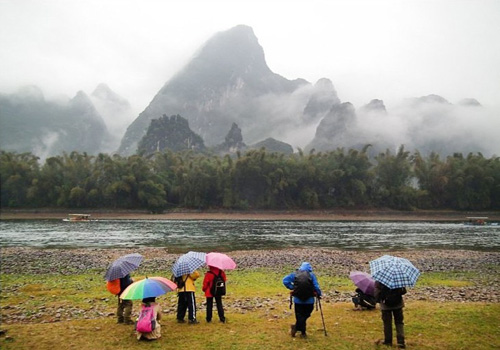 A saying goes that the landscape in Guilin is the best under heaven, if scenery in the city can be described as a charming young woman in other seasons, then it can be said to be a shy and pretty girl in spring, dressing gorgeously and sometimes wearing a veil in drizzle.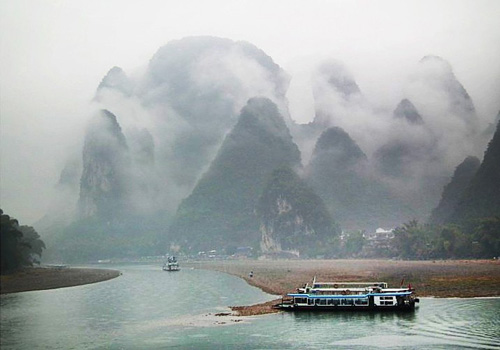 Take a boat down the Li River, which was selected as one of the world's 15 best rivers for travelers by Cable News Network (CNN) in 2013, you will find why the river and Guilin are world renowned. Drizzles gently kiss the karst mountains along the banks of Li River, mists drift across the peaks, fishers wore coir raincoats and bamboo hats paddle small boats in the river as beautiful as paradise...this is the scenery of Li River in spring, only one aspect of its attractiveness.
Guilin in spring is not only a Chinese brush painting, but also a watercolor painting, coming to enjoy all kinds of flowers especially rape flowers on the banks of Yulong River, also known as the "mini-Li River" in Yangshuo County of Guilin, is really an ideal choice to discover the beauty of Guilin. While mentioning rape flowers, will you think of the pieces of golden petals or beautiful butterflies dancing in the flowers? From the end of February to beginning of April each year, the area around Yulong River becomes a sea of rape flowers, bringing the most beautiful colors and scenery of this season to you. The hidden trees are just like emeralds set on golden sea of flowers; groups of butterflies and bees circle above the blooming flowers, busy at collecting honey; layers of waves lapping on the golden sea when breeze passes by. Indulge yourself in the picturesque fields, let your eyes brimmed with golden yellow, your breath full of fresh air and fragrance of flowers, your ears filled with the hum of bees and flapping sound of butterflies, you may have an illusion of drunk in the spring scenery of Guilin.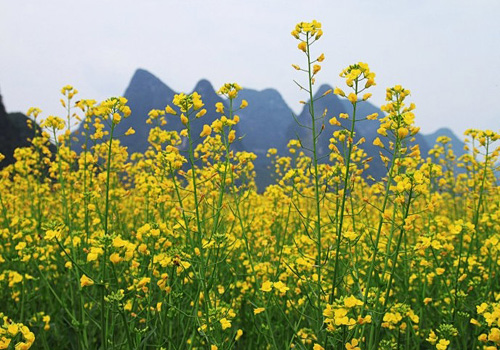 For your information, the best time to see rape flowers in Yangshuo is the coming March. Come to Guilin and record the incomparable beauty of the city in spring with your eyes and cameras, it will become one of the sweetest memories in your lifetime.

- Sophy(Visit Our China)
Comment