Sunny Day, Interesting Activities and Nice Food - Visit Our China's Annual Meeting in Guilin
2014-01-24Working at VisitOurChina
The much-anticipated annual meeting of Visit Our China happened on last Friday in a mountainous farm of suburban
Guilin
. It was a great opportunity for the company staff to communicate and make summaries about the work in 2013. The team of Visit Our China want to show our sincerest regards to the customers who supported our work and hope more and more people put their trust in us. Visit Our China is full of passion, confidence and wisdom, by which we will do the best to offer you the most impressive tours to China.
It was a lovely sunny day and we enjoyed the great party with lots of happiness and passion. Every year, all the staff of the company will gather around to have some fun and make wishes for the next year. During this year's annual meeting, people from the head office and branch company, as well as our signed guides and drivers, had the very special and happy Friday.
We started from the company at 9:00 in the morning and arrived in thirty minutes. All the people seemed quite excited and energetic, just like our working attitude - Visit Our China is a team full of passion and energy. We were already sorted into four groups led by different managers of the company, which made the later activities very favorable.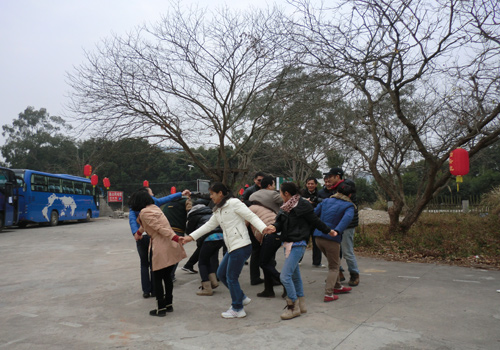 Ice Breaking Games of Group 1.
That day's first activity was Ice Breaking games because the people of every group were from different departments or branches, and some staff were new in the company - we needed to knew more about the group members to establish proficient teamwork, which was one of the purposes of this annual meeting. The games required great leadership and teamwork efficiency, by which I got to know more people about their talents or skills. It really greatly surprised me and also gave me a lot of fun. The staff of Visit Our China are really talented and versatile. I could not believe it when they performed terrific dances, sang beautiful songs or showed their smartness and wisdom. Visit Our China is a great team and I feel grateful that I am one of it.
After the Ice Breaking, we had the very exciting and interesting Treasure Hunting, which was to look for the spreading prizes hided in the very broad grove. Everybody likes the game of hunting for prizes, huh, don't you? Everyone who found prizes were blessed by the morals attached to the fruits, candies, money and etc. Apple symbolizes peace all year round; orange symbolizes thriving day; money symbolizes great fortune...Visit Our China will make great success in 2014!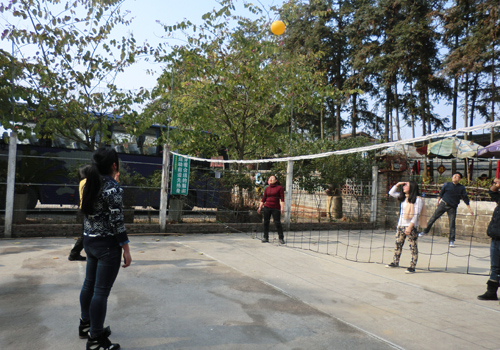 Balloon Volleyball inside the farm.
We did not notice it when it was time for lunch since we were so obsessed in the games. But I was really hungry, and even the little cute girl said she could eat a horse. The farm offers really special food. All the ingredients were cultivated by themselves with no chemical stuffs, including the very fresh vegetables, rice and all the other delicious meat. The pork there tasted quite different with the ones sold in the markets. It was much more fresh and healthy because they raised the pigs in a natural environment. That kind of pork are rarely seen nowadays, but it is really nice and you should try some when you visit Guilin.
The lunch was full of our laughter and the food and drinks greatly satisfied my stomach. The Lottery Draw was the activity expected by most people after lunch - who would be the most lucky guy and won the Grand Prize? But we were supposed to wait before they got the preparations done. The farm provides rich entertainments, including gym, cards games, KTV, Ping Pong, Balloon Volleyball, darts and etc. I tried the very special Ballon Volleyball and it was very passionate and funny. About one hours later, the Lottery Draw began. Three of our department won different awards, which was very lucky.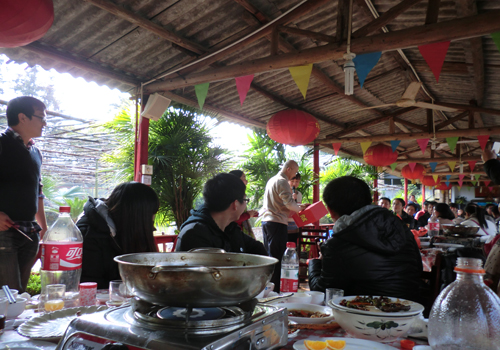 Exciting Lottery Draw
Happiness always makes the day short. After the lottery, we needed to go back Home. We enjoyed a lot but we felt no tiredness at all. It was my first time to participate in the annual meeting. I had a great Friday with the great Visit Our China Group. That day was full of beautiful sunshine, interesting activities, delicious food and nice talking with everyone, which greatly impressed me.
Visit Our China is a very special team and we love it. In 2014, China's year of the horse, we will make it a very prosperous year and help you discover more about China.
Comment