Five Ways to Experience the Most Real Yangshuo
2014-01-03China travel Guide
Yangshuo in Guilin, is one of the travel places developed earliest by Chinese government. The special mountains and rivers make Yangshuo a unique travel destination that favored by tourists from all over the world. Things of Yangshuo always easily appeal to you: passionate rock climbing, delicious food, perfect attractions for photographing, special bars, and etc. Yangshuo is a beautiful place chose by the whole world, a place that every tourist should have his own way to experience. Let's talk about Yangshuo again and discover some new and popular things that Yangshuo has to offer for your China tours to Guilin.
1. Climb - Ballet on the rock.
Yangshuo is a hot place for rock climbing in China. Karst landform makes the rock solid, and has little clastic rocks. The cracks and holes are washed clearly by the rain. Besides, Yangshuo has many climbing lines several of which are the most difficult ones in China - No wonder it is considered as "the perfect rock-climbing place particularly designed by God".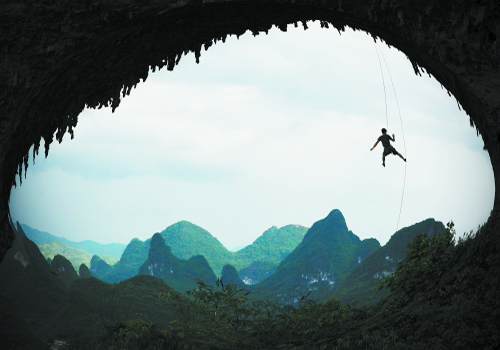 There are many clubs, restaurants, and bars in Yangshuo where the rock climbing fans assemble. They talk about many legendary stories of some rock climbers everyday. The strong rock climbing atmosphere is like an incantation of the rocks that makes green hands like me want to climb.
2. Hike - Another way to experience Li River.
Cruising down the Li River, from Guilin to Yangshuo has been a favorite part of China tours for millennia. Li River hiking is a little different that it allows tourists to see the stunning topography of the Li River at their own pace. You can hike through ancient villages, past rice paddies, bamboo groves and past the mountains that have made Guilin so famous. It will give the travelers a real glimpse into the lives of local farmers and fishermen.
3. Ride - The best way to know real Yangshuo.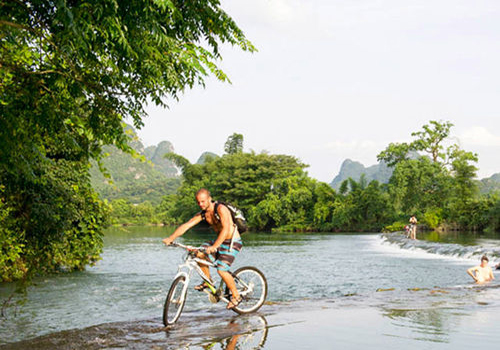 "No Bike, No Yangshuo", these words are widely popular in Yangshuo. For the little crisscrossed roads of the countryside, there are many beautiful places you can not get to without a bike. A green and relaxed bike tour brings you with the most real and beautiful things of Yangshuo.
4. Film - Take every beautiful mountain or river into your camera lens.
The best time for photographing in Yangshuo is during July and August. The beauty of Yangshuo varies with every steps you take. Many photographers say that taking photos in Yangshuo gives them great satisfaction - you can take many unbelievably beautiful photos just with your camera and good weather.
Goupo Mountain - the best place for photographing.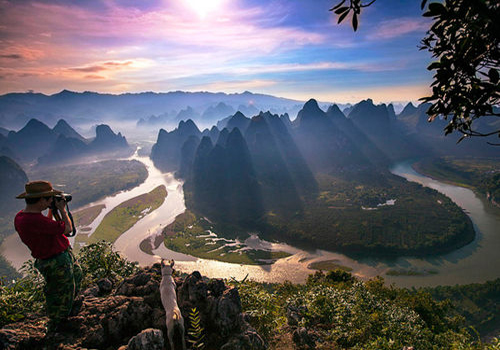 It is located in the Xingping Wharf. It is a great place to enjoy sunrise and a perfect spot to film the First Bend of Li River. But it is difficult to climb up to the top, because the mountain has not yet been developed. You need to be guided by a local people. You have a broad horizon on the top of the mountain, so a wide-angle lens will be better for your filming.
5. Paddle - Get close to the water of Yangshuo on a bamboo raft.
Bamboo raft is a indispensable part if you want to experience the water of Yangshuo. There are bamboo rafts paddled by people in the Yulong River. The Chaoyang wharf in the middle section of Yulong River is a good place to go enjoy paddling bamboo raft. The upstream has the most beautiful sceneries, while the downstream enjoys the most beautiful water. Paddle a bamboo raft is a enjoyable thing to do in summer, which makes you cool and happy.
There are also many other things attracting tourists in Yangshuo, such as the delicious food, special bar, people's hospitality and etc. Yangshuo is a place you can not miss if you come to China. It will not let you down and definitely will impress you with its unique beauty that you can never find in other cities of China.
Comment