Indulge Your Passion in the Harbin International Ice and Snow Festival
2013-12-25China travel Guide
China in winter is incredibly beautiful. Experience the best China has to offer as well as the annually Ice and Snow Festival in
Harbin City
seems to be a wonderful choice for your
tour to China
. The famous festival surprises us in different ways every year. Let's see what the Ice and Snow Festival will bring us this year!
Information about Harbin and the Ice and Snow Festival
Harbin is regarded as an Ice City since it is full covered with beautiful ice and snow in its long winter. Harbin Ice and Snow Festival is the first international festival of China that themed at the ice and snow activities, which annually starts from the fifth day of January, lasting for over one month and generally ends at the end of February. The first Ice Festival was held in 1985 based on the Ice Lantern Festival which was annually held in Zhaolin Park from 1963.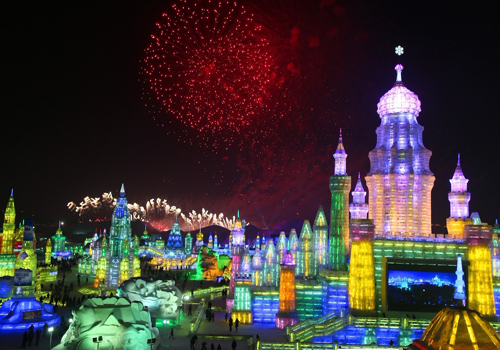 In the Ice and Snow Festival generally you can enjoy various activities like National Snow Sculpture Competition, Group Wedding Ceremony on Ice, International Adolescent and Children Variety Competition, Hundred-Flower Dance Contest of senior people, Ice and Snow Anime International Expo, Ice Lantern Garden Party and the opening ceremony, Taiping Lake Winter Fishing Festival, International Ice Hockey Invitational Competition, and etc.
Theme of the festival
It will be themed at ice snow and cartoon, combining the factors of cartoon fashion and ice snow culture. It will bring massive visual impact.
Some innovative activities in 2014 Ice and Snow Festival
240-meter-long high speed slide, snow field speedboats, ice bar - snow hotel experience shows, snow field counter-striker competition, COSPLAY competition and etc.
What to enjoy during the Ice and Snow Festival 2014
The 30th Harbin Ice Festival will be officially opened on January 5, 2014. It is a characteristic festival with rich contents and colorful activities.
Sun Island Scenic Area - to experience the Great Ice and Snow World and the 20th National Snow Sculpture Competition.
The Great Ice and Snow World will present tourists with fantastic experience of the art of ice sculpture. The best time to go is in the evening when people turn all the lights on and the ice lanterns and sculptures shine brightly like diamonds. Besides, there are three other performances that you can't miss of the Great Ice and Snow World: Ice Snow Live-action Show combining high technology and northern China's unique ice snow culture, Acrobatic Show, and the Fashion Show on the ice stage.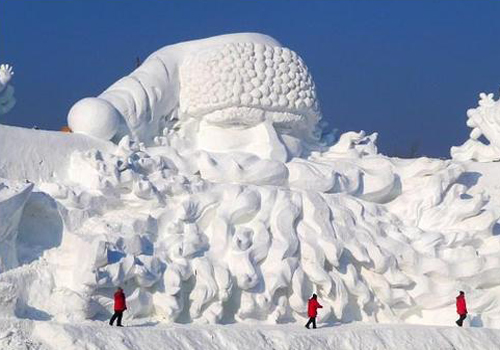 The National Snow Sculpture Competition offers tourists grand feast of art on snow. The blue sky and snow sculptures is a perfect match because they make each other look more beautiful. Those works on snow are some of the world's most unique. Although they are made by ordinary snow and disappears when weather turns warmer, the purity, elegance, fineness, and majesty will give you the most special experience.
Snow Town (Xue Xiang) of China - A place seems never stop snowing.

The Snow Town is located in the Shuangfeng Forestry Centre of Hailing County, Mudanjiang City, Heilongjiang Province. It is the place offers the most beautiful snow-covered landscape in China. Tourists can enjoy beautiful night scene, sunrise at the Yangcao Mountain, and other beautiful snow sceneries.The best time to go there is from middle November to the next year's March.

There are so much more wonderful activities and sightseeings in Harbin that you can explore. For more information about Harbin and its international Ice and Snow Festival you can check out our
detailed guide to Harbin
. Just take your thickest clothes and indulge your passion in this beautiful land of China.
- Xavier (
VisitOurChina
)
Comment