Sophy in wonderland - News conference of the uncased hole 4D Reed Flute Cave visual show
2013-09-27China travel Guide
Received the invitation of the office of
Reed Flute Cave
Attraction,
Guilin
, our company were honored to attend the news conference of the uncased hole 4D Reed Flute Cave visual show. Although the freezing wind brought by typhoon Tiantu blowed fiercely, we were still passionately talking about our experiences to Reed Flute Cave and how this day's visual show would surprise us.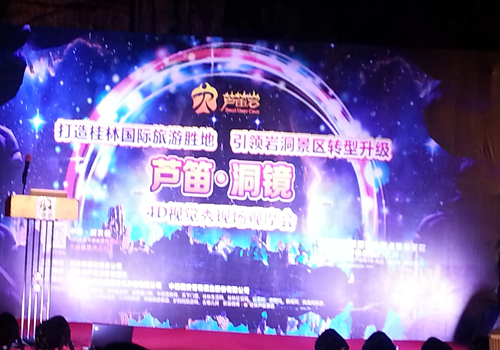 Around 18:50, we started off from the company and arrived there at about 19:20. Hundreds of reporters, tourism friends, and some zealous citizens were already waiting there. In 15 minutes, we took the little train up to the mountain. It was slow and we could enjoy the beautiful autumn night with the spreading lights of
Peach Blossom River
. Many people after us were waiting for another little train.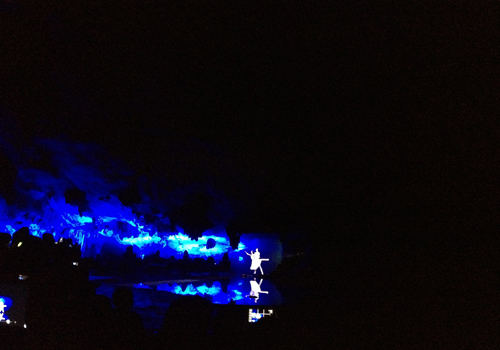 Got off the train and stepped into the Crystal Palace, after all the people got seated, I thought there were over 200 persons in the hall. The conference started at 20:00. At first, the sales manager gave a speech introducing how the Reed Flute Cave was called China State Guests Cave and why they designed this visual show, and the development and contents of the visual show, etc. I got to know that the attraction had received over 50 million tourists since 1962 when the Reed Flute Cave officially opened, among whom there are 300 important leads from home and abroad, such as Deng Xiaoping, Jiang Zeming, Li Peng, Zhu Rongji, Li Ruihuan, Hu Jingtao, Wu Bangguo, etc., former president of the U.S., Richard Nixon, Jimmy Carter; former General Secretary of the UN, Javier Perez de Cuillar; Canadian former premier, Pierre Elliot Trudeau, and so on. From the original filament lamp to colored lantern and today's laser lights, scientific development witnessed the advance of Reed Flute Cave.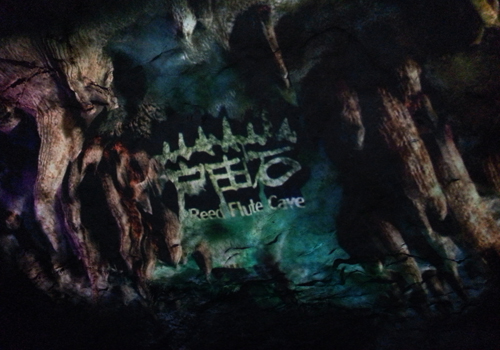 After the manager's speech, the visual show got started. 10 minutes' show presented us with the fantastic scenes of the ice age, crust movement, recovery of all things, process of stalactite growth, etc. It was so real that the dragons on the cave top, the falling rocks, fishes and shrimps, and the green jungle just made us adults breathless and the kids creaming. When the show ended and the white lamp lighted the cave, I was still reflecting those amazing pictures. We humans are really smart species! That will definitely bring the tourists with more different experiences.
Stepping out of the cave, it's like went through the time and space and came back to reality. We left the breaming crystal palace, and made our visual show journey a perfect ending.
Comment