A spring visit to local villages in Lingchuan, Guilin: Part I
2012-02-24Life in Guilin
The bothersome freezing winter in
Guilin
passed finally and here is now the season of spring rains. In spite of the unpleasant weather, the weekend trip of our team still went on schedule at Saturday last week. A 40 minutes drive by bus in the morning brought from the square of Guilin International Conference and Exhibition Center to the gate of Guilin University of Electronic Technology (GUET), from which our hiking to countryside of Lingchuan County normally started. Our scheduled hiking route is: Xi'an Village (西岸村) – Dong'an Village (东岸村) – upper Wuma Village (上午马村) – lower Wuma Village (下五马村) – Wumaling Ancient Path – Nanji Village – Xiong Village – back to Guilin by bus.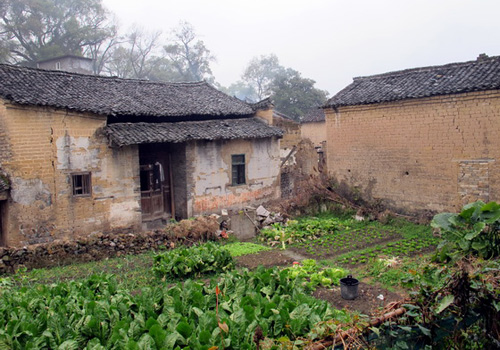 (Photo: It is common to see vegetable gardens in front or behind houses. The Vegetables are usually for both self-sufficiency and sale.)
Located at the northern suburb of Guilin, the first two villages we visited are under the jurisdiction of Lingchuan County, with a long history of more than one thousand years. The two is separated by the Hua River, hence the name: Xi'an Village (the village on the western bank of the river), Dong'an Village (the village on the eastern bank of the river). According to the County Annals of Lingchuan, Xi'an Vilalge was once a place famous for being hometown of five successful candidates in the highest imperial examinations between 1133 and 1275.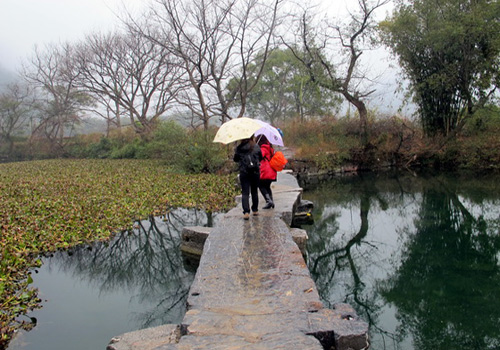 (Photo: The bridge connecting Xi'an and Dong'an are made from several boulder strips. The Hua River is crystal and this place would be much more beautiful when new buds appear on the trees on the banks.)
Today at the villages there still exist many traditional earthen houses, which are really old but in a sensible overall arrangement. When it rains, water flows along the drainage ditch in front of the houses and inflows the river. Surprisingly, the local were very friendly and said hello to us before we did it, which made us think about it again that why people living in cities seldom say a word to each other, even if they live next door. Although the university has set up its new campus nearby in recent years and the traffic condition has been improved, most of the local still continue the simple ancestral farming life.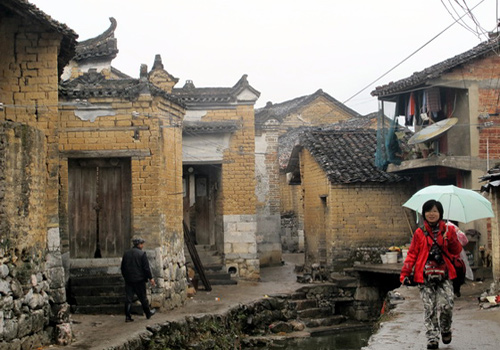 (Photo: Local traditional earthen houses)
Our hiking continued and it took approximately half an hour to walk on the rugged mountain paths from Dong'an Village to Upper Wuma Village. When walking through the village, we saw some villagers constructing new a house, on the ground where their old house stood. On the wall of another collapsed house, an old portrait of Chairman Mao is still preserved there. The village's neighbor Lower Wuma Village is some ten minutes' walk away. At the entrance of it there is a big camphor tree, which is said to have been several hundred years old. Due to its similar appearance to Upper Wuma Village, we did not have a deeper exploration of this village and left for the Wumaling Ancient Path directly.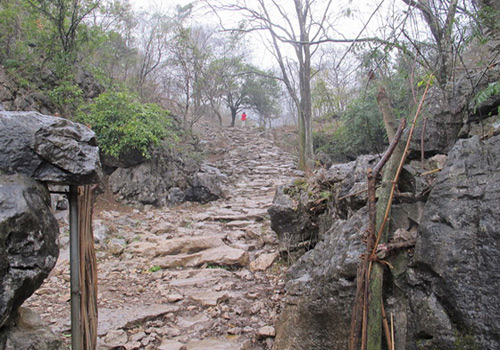 (Photo: Wumaling Ancient Path)
Wumaling Ancient Path is in fact the southern section of the ancient Xiang-Gui (short for "Hunan-Guangxi") Commercial Path. Far away from the national political and economic center in ancient China, Guangxi's waterway was once blocked because of the damage of Lingqu Canal. Due to this reason a commercial path starting from the upper stream of Xiang River in Hunan Province was developed stretching through Quanzhou, Xing'an and Lingchuan of Guilin. This path used to be prosperous for more than 500 years and has been over 1000 years to this day. Daxu, a famous ancient town of Guilin, is one of the towns benefiting from this ancient path during the time.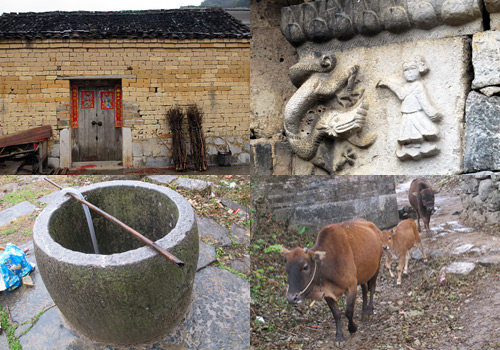 (Photos: 1. Red door-gods and couplets are pasted on the wooden door of a local house. 2. There is a dragon and a female carved on a brick. 3. This is not a vat neither a flowerpot but the mouth of a well, from which people got water by a hanging barrel in the past and now by a mini water pump. 4. A family of three cattle is on their way to look for pasture and will go back to their home on their own at dusk. How to tell if the family stays with a herd of friends? Don't worry, the bells made of bamboo hanging on their necks proclaim well who they are.)
This is only a half of the trip, but there had been too many simple, unsophisticated but fresh things for our eyes to deal with. The drizzle was still falling, and so was our march.
--- Lu Yaoyun (VisitOurChina)
Comments
Comment